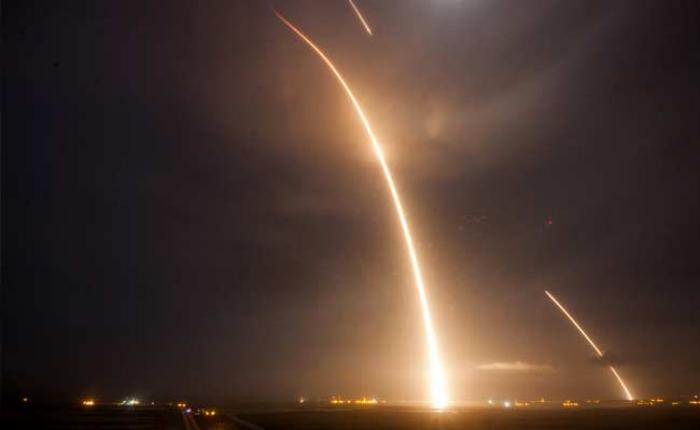 Elon Musk's Space Exploration Technologies Corporation (SpaceX) just created history with the successful launch and landing of the powerful Falcon 9 rocket. The rocket landed in a upright position on 21 December, a historic first in the company's bid to make rockets reusable as airplanes.
"The Falcon has landed," a commentator said above the screams and cheers of people gathered at SpaceX headquarters in Hawthorne, California.
The SpaceX images on its webcast showed the first stage of the rocket landing down at Cape Canaveral, Florida.
Historic Landing of Falcon 9 First Stage at Landing Zone 1
As the white part of the rocket glided back to Earth, the bright orange light of the engine glowed against the dark sky.
"The Falcon first stage landing is confirmed," SpaceX wrote on Twitter.
Long exposure of launch, re-entry, and landing burns pic.twitter.com/Vw1ZJAtvhy

- SpaceX (@SpaceX) December 22, 2015
Just as the darling of the commercial space industry created history, here are the key facts you must know about SpaceX:
SpaceX was founded in 2002 by former PayPal entrepreneur and Tesla Motors CEO Elon Musk.
SpaceX is working towards revolutionising the rocket industry. The rocket industry currently loses millions of dollars jettisoned machinery and sophisticated rocket components after every launch.

The Dragon Spacecraft was flown in to the orbit by Falcon 9 to launch vehicle to supply the International Space Station (ISS) with cargo. A manned version of Dragon is under development.

SpaceX is the first private company to deliver cargo to the International Space Station (ISS) in 2012.

NASA awarded the SpaceX with a Commercial Orbital Transportation Services (COTS) contract in 2006, to design and demonstrate a launch system to resupply cargo to the ISS.
Tech biggies around the world congratulated Musk and his company on the feat. The Twitter was flooded with congratulatory tweets from Mark Zuckerberg, Jeff Bezos, NASA and many others. Here's what they tweeted: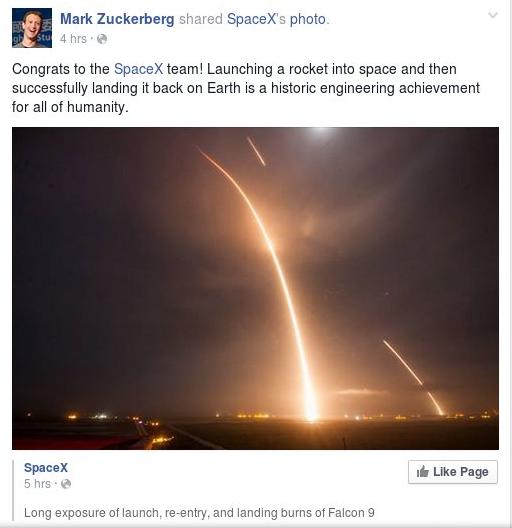 Jeff Bezos tweeted:
Congrats @SpaceX on landing Falcon's suborbital booster stage. Welcome to the club!

- Jeff Bezos (@JeffBezos) December 22, 2015
Here's what NASA said:
Congratulations @SpaceX on your successful vertical landing of the first stage back on Earth! https://t.co/Zw3LR8fPTI

- NASA (@NASA) December 22, 2015