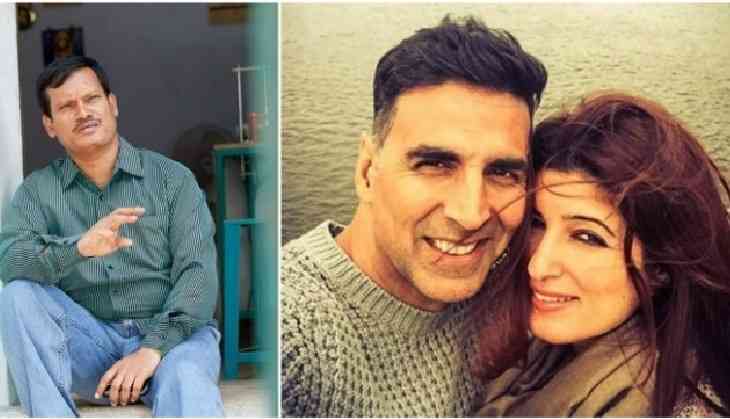 Pic 1 : Arunachalam Murugunathan, Pic 2 : Akshay Kumar and Twinkle Khanna
It's widely known that Bollywood actress-turned-writer Twinkle Khanna is making a film under her maiden film production banner, Mrs Funnybones. The film titled, Padman is based on the life of Arunachalam Murugunathan, a social entrepreneur from Coimbatore, Tamil Nadu. Twinkle Khanna's husband and Bollywood actor Akshay Kumar plays the reel Padman in the film, to be directed by R Balki.
On Tuesday afternoon, Arunachalam Murugunathan revealed that Twinkle Khanna and R Balki visited his house to discuss the story based on him. He also stated that Twinkle's humble nature is the main secret behind her husband Akshay Kumar's great success. Arunachalam Murugunathan took to his Facebook page to share few photos as well.
He was quoted as saying;
"The Humble Twinkle Khanna is the secret of Akshay Kumar's great success. To hear the full story of "Menstrual Man' both Twinkle and the director R.Balkii visited Murugunathan's small house at Pappanaicken Pudur, Coimbatore, Tamil Nadu and had their lunch on Banana leaf. Spent her time with Muruga's family to take every detail, points she want to know from Muruga. Whomever coming to Muruga, dont hesitate to take a visit to his small home because 'Its not important where you are living, it's important what you are doing'. The story shared with director and Twinkle on multiple visits."
Arunachalam Murugunathan is the inventor of a low-cost sanitary pad making machine and has innovated grass-roots mechanisms for generating awareness about traditional unhygienic practices around menstruation in rural India. His mini-machines, which can manufacture sanitary pads for less than a third of the cost of commercial pads, have been installed in 23 of the 29 states of India. He is currently planning to expand the production of these machines to 106 nations.
Directed by R Balki, Padman stars Radhika Apte and Sonam Kapoor along with Akshay Kumar.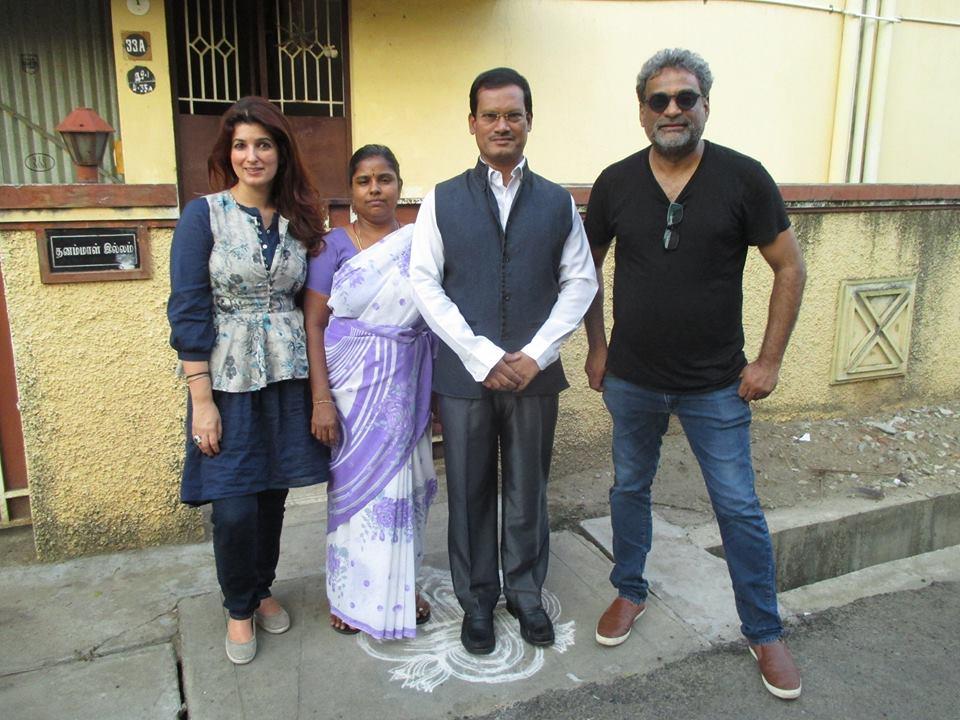 Twinkle Khanna and R Balki with Arunachalam Muruganantham family