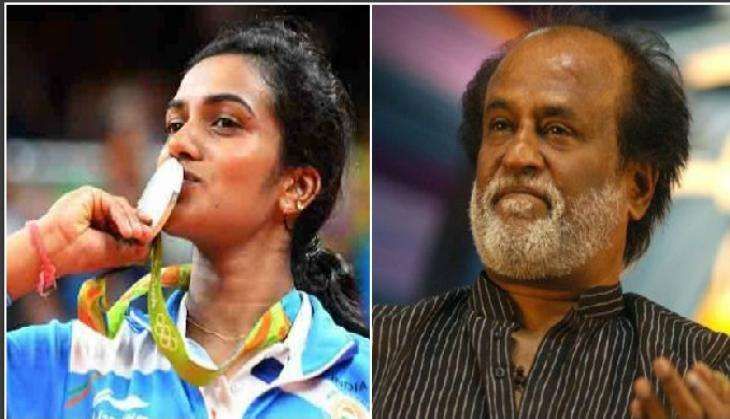 Gifts and accolades have been pouring in for ace shuttler PV Sindhu, who won India its first ever silver medal in badminton at the recently-concluded Rio Olympics 2016.
Her performance has garnered praise from across the nation - including from several celebrities like Amitabh Bachchan, Kamal Haasan, Rajinikanth, Mohanlal, Mammootty, Salman Khan and Akshay Kumar, to name a few.
Superstar Rajinikanth took to his Twitter account to congratulate PV Sindhu for her amazing performance against world number 1 Carolina Marin. The Thalaivar also tweeted that he was a big Sindhu fan after her power-packed game at the Olympics final.His tweet went viral on the micro-blogging site and has raked in over 21,000 re-tweets and 47,000 likes.
In response, Sindhu took to Twitter to respond to the wishes. She said that being congratulated by the 'Thalaivar' made her day.
Here is the tweet:
@superstarrajini sir thank u so much sir ...I have no words 🙏🏻🙏🏻🙏🏻it made my day 😊😊....I have no words to express

— Pvsindhu (@Pvsindhu1) August 24, 2016
Sindhu has been given cash awards of Rs 5 crore and Rs 3 crore by the Telangana and Andhra Pradesh governments, respectively. Both governments have also offered her a Grade-1 government job - should it interest her. Cricket legend Sachin Tendulkar handed over a BMW car worth Rs 2 crore for making India proud with her silver medal recognition.