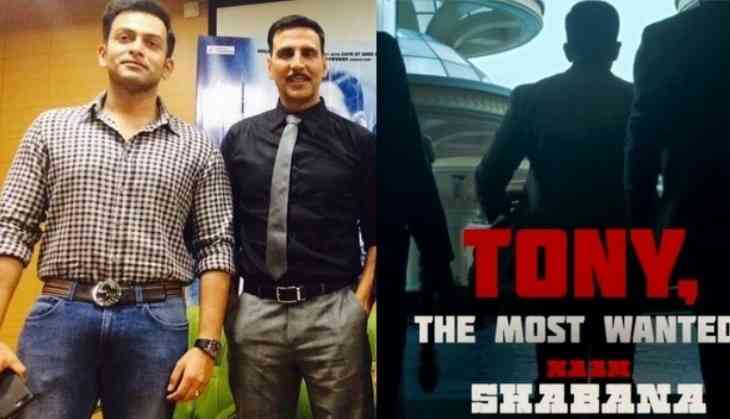 Pic : Prithviraj and Akshay Kumar at Naam Shabana press meet
Neeraj Pandey's upcoming production venture Naam Shabana is slated to be released soon. Directed by Shivam Nair, the film a spin-off to the 2015 film Baby stars Taapsee Pannu, Manoj Bajpayee and Malayalam actor Prithviraj Sukumaran. The film also stars Bollywood superstar Akshay Kumar in an extended cameo along with Anupam Kher and Danny Denzongpa.
In a recent interview, Prithviraj had revealed that Akshay Kumar's risk-taking skill is the main reason behind making Naam Shabana. The young Malayalam superstar also appreciated Akshay Kumar for making Naam Shabana by underplaying himself in an extended camoe.
The Ennu Ninde Moideen actor was quoted as saying;
The Hindi film I'm doing is called Naam Shabana. It's a spin-off of the big hit, Baby. Akshay Kumar is producing the film partly. Neeraj Pandey, the director of Baby is the writer and producer of this film too. Like Akshay recently said, Naam Shabana is mostly about the making of a spy. If you have seen Baby, you know what Taapsee's character is. The film is about how she gets into the agency and how she became a spy. I really liked the idea behind the project of designing a film with a female lead as main protagonist. And then big star like Akshay actually playing character roles in it. I really liked the idea. I think I wish something that happens in Malayalam cinema.
I play the main villain in the film. That's pretty much all I can tell right now about the film. All of us play what's essentially an extended cameos in the film. All of us as in Akshay, myself, Mr.Manoj Bajpayee, Mr. Anupam Kher and Mr. Danny Denzongpa. When Neeraj spoke to me about the film, this is what I really loved about the project design that ok you design a film with main lead being a girl and these big actors, big stars are in the film and playing character roles. Hats off to Akshay Kumar. He shown the guts to back a film like Naam Shabana. He has actually shown the guts to invest what is one of his most loved characters from Baby into what is a supporting cameo into this film and that takes some guts. That's the kind of conviction Akshay has in this film because he is so convinced about it that he has taken the risk of affecting the Baby franchise if it doesn't do well. So Hats off to Akshay Kumar.
I was shooting for my Malayalam film Ezra and one day I got a call from Neeraj and he said he would like to meet me. He narrated the story and he said he need me only for few days, but he really wanted me to this role in Naam Shabana. Most of the film has been shot in Malaysia with few interior hospital sequences in Delhi."
Naam Shabana
also marks the third Bollywood outing of Prithviraj after
Ayya
and
Aurangzeb
. The action-thriller is scheduled to hit the screens on
31 March 2017
.