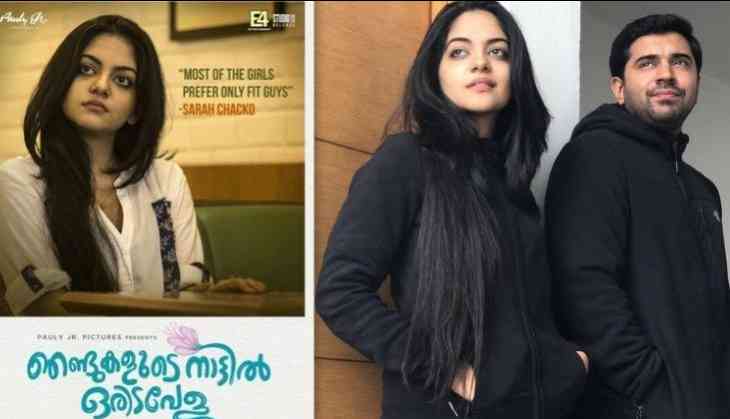 Pic: Ahaana Krishna and Nivin Pauly
One of the most awaited Malayalam films of the year, Njandukalude Nattil Oridavela is slated to release on September 1 on the auspicious Onam weekend. The film, which marks the second production venture of Nivin Pauly after Action Hero Biju, also marks the directorial debut of Premam and Sakhavu actor Althal Salim. Jointly written by Althaf Salim and George Kora, Njandu will see the acting debut of model Aishwarya Lekshmi. The film also boasts of an ensemble cast including Nivin Pauly, Lal, Shanti Krishna, Srinda and the Premam actors Siju Wilson, Sharaf U Dheen and Krishna Shankar.
Pic: Njandukalude Nattil Oridavela poster
The music of the film has been composed by Justin Varghese. The makers of recent Malayalam hits Ezra and Godha, E4 Entertainment are distributing the film along with Studio 11 Release.
Apart from Nivin Pauly, another reason to watch this family entertainer will be the second outing of Ahaana Krishna, who made a good debut with national award winner and cinematographer Raajeev Ravi's directorial debut Njan Steve Lopez. The actress, who is also the daughter of popular actor Krishnakumar will be seen portraying the role of Sarah Chacko in the film.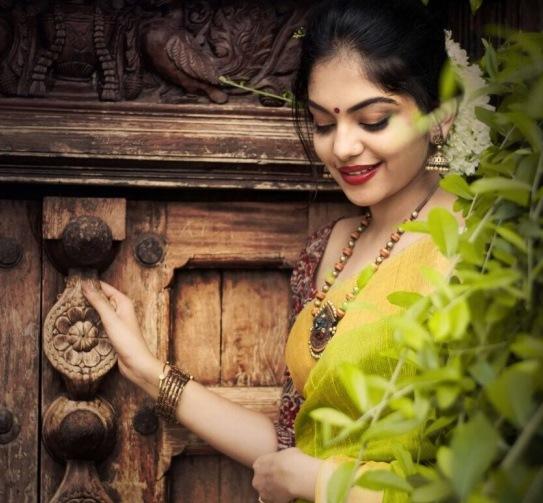 Pic: Ahaana Krishna
While Njandukalude Nattil Oridavela is one-week away for its theatrical release, Ahaana Krishna had an exclusive talk with Catch.
Excerpts
1) Your debut film, Njan Steve Lopez was released in 2014. Why did you wait for 3 years to sign your second project?
I was studying for my bachelors degree first year, when I did Njan Steve Lopez. Frankly speaking I wanted to finish my studies before signing any films. At the same time I have made a decision that If I have to miss any of my classes, then the film should be worth for the same. I feel myself lucky to start my acting career as a female lead in Rajeev Ravi sir's film. Post the release of Njan Steve Lopez, I was offered few films as well. But like I said, I was waiting for a good project to continue my acting career. And I don't regret because like any other teenagers, I got this beautiful time called 'campus life' to enjoy in those 3 years.
2) Tell us about Njandukalude Nattil Oridavela?
Njandukalude Nattil Oridavela is a family drama. In fact a different family film. After the release of first look poster, many audience are comparing Njandu with Vineeth Sreenivasan's Jacobinte Swargarajyam. It was family film with an emotional connect. But Njadu is a different film. It's a light-hearted family drama. All actors have equal roles in the film. It's a film about everyone. That's why the makers released character posters of all actors from Njandu.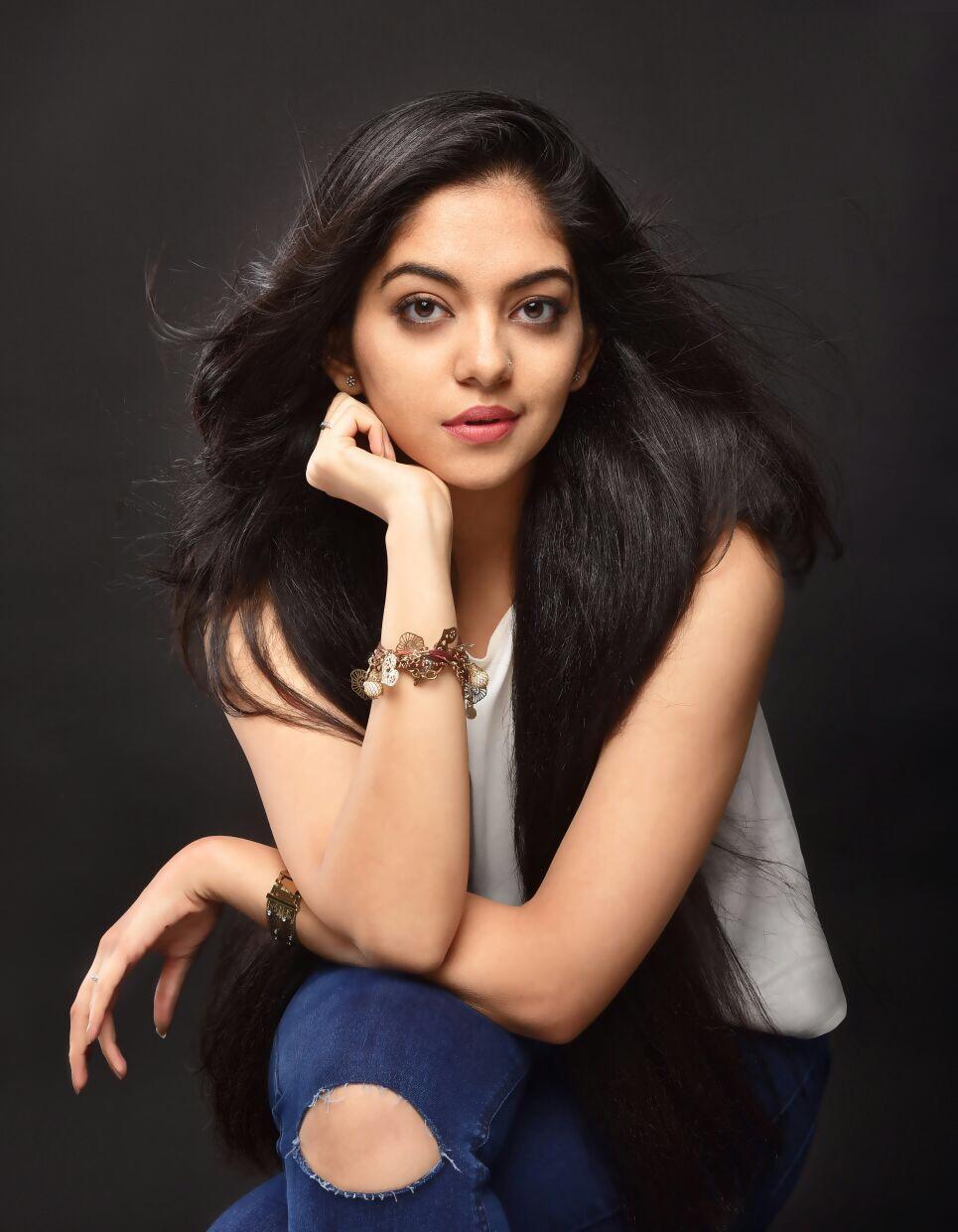 Pic: Ahaana Krishna
3) Tell us about your role in Njandu?
I'm playing Sarah Chacko. She portrays the role of younger sister to twins, played by Nivin Pauly and Srinda. She controls her emotions and don't reveal it outside. She is pretty like much a current teenager who's always busy with her mobile phone and her friends.
4) Is there any similarities with Sarah Chacko and Ahaana Krishnakumar?
Both are entirely different. Like I said Sarah Chacko controls her emotions whereas the real me is cool to show emotions.
5) The character poster of Sarah Chacko featured with a tagline, 'Most of the girls prefer only fit guys'? Is this your demand in real life as well?
Appearance is secondary. What I look out in a person the most will be, of course his character. It's more important. What's the use of having a fit body with a bad character. But yes, I'm very health conscious and I will go for a guy with both the good qualities, rather than just having a fit body.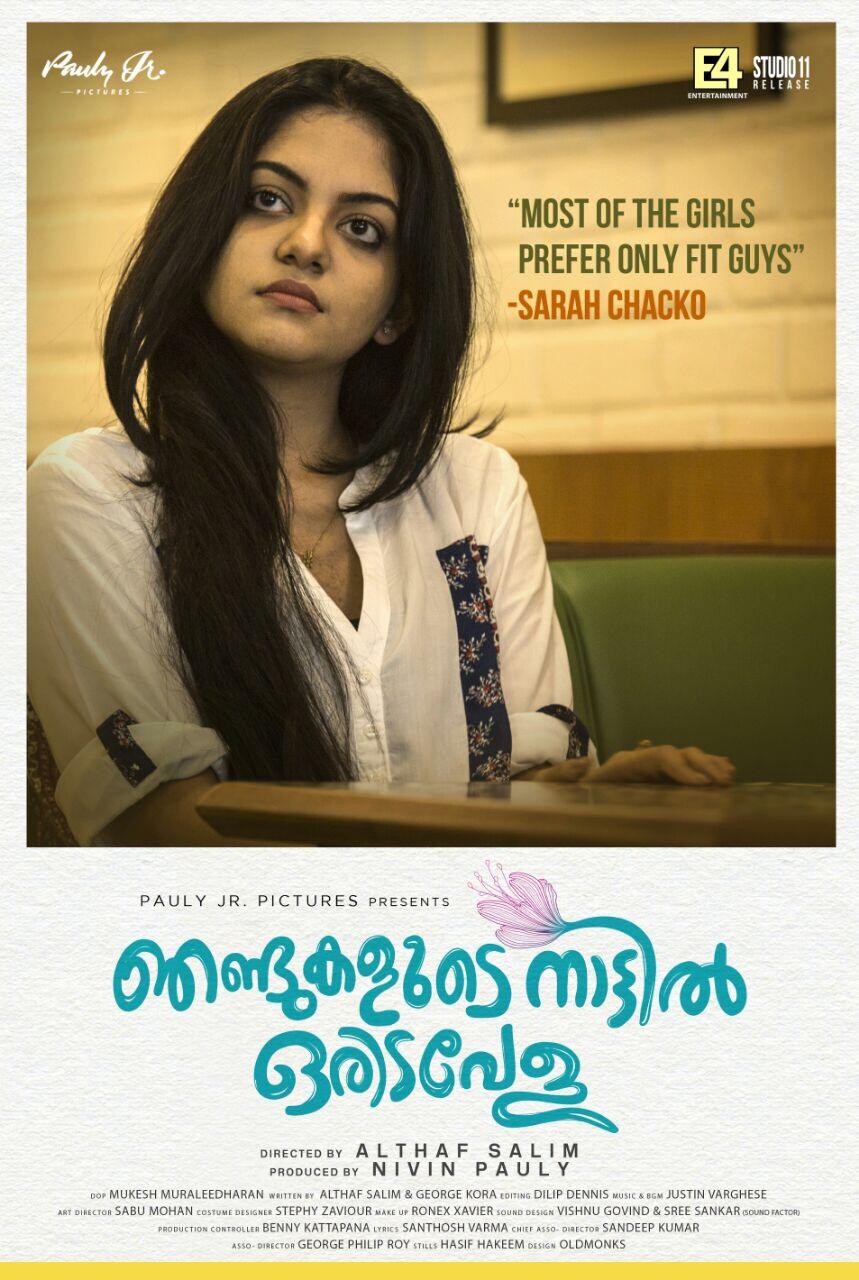 Pic: Ahaana Krishna in Njandukalude Nattil Oridavela
6) Do you have any male lead opposite you in the film?
The writer of Njandu, George Kora essays my love interest in the film. And there's little bit of romance as well in the film.
7) How you actually bagged this film?
Initially, I was unaware about the real reason behind casting me in the film. But during the shoot, George Kora had revealed me that the makers were looking out for a fresh face to cast as Sarah Chacko in the film. He also told me that they have decided to cast me in the film after watching my debut film, Njan Steve Lopez. So I can say, because of Anajli, the role I portrayed in Njan Steve Lopez, I got this film.
8) Nivin Pauly, Prithviraj, Dulquer Salmaan, Unni Mukundan, Fahadh Faasil, Asif Alif and Tovino Thomas are considered as the current heartthrobs of Malayalam cinema. So, what was your first reaction when you heard your film is a Nivin Pauly film?
Nivin Pauly is a huge star, not just in Malayalam cinema. His fan base is solid in Tamil Nadu as well. I remember watching his film Premam in a crowded cinema in Chennai. If, I'm not wrong, Premam ran over 200 theatrical days in Chennai. And Njandu also features his Premam co-actors, Siju Wilson, Sharaf U Dheen and Krishna Shankar. I was so excited when I came to know that Njandu is a Nivin Pauly film. At the same time I was actually praying that my role should be good and have credibility as well. And thankfully, it is. I'm very much excited. i'm waiting for it's theatrical release to know the audience response.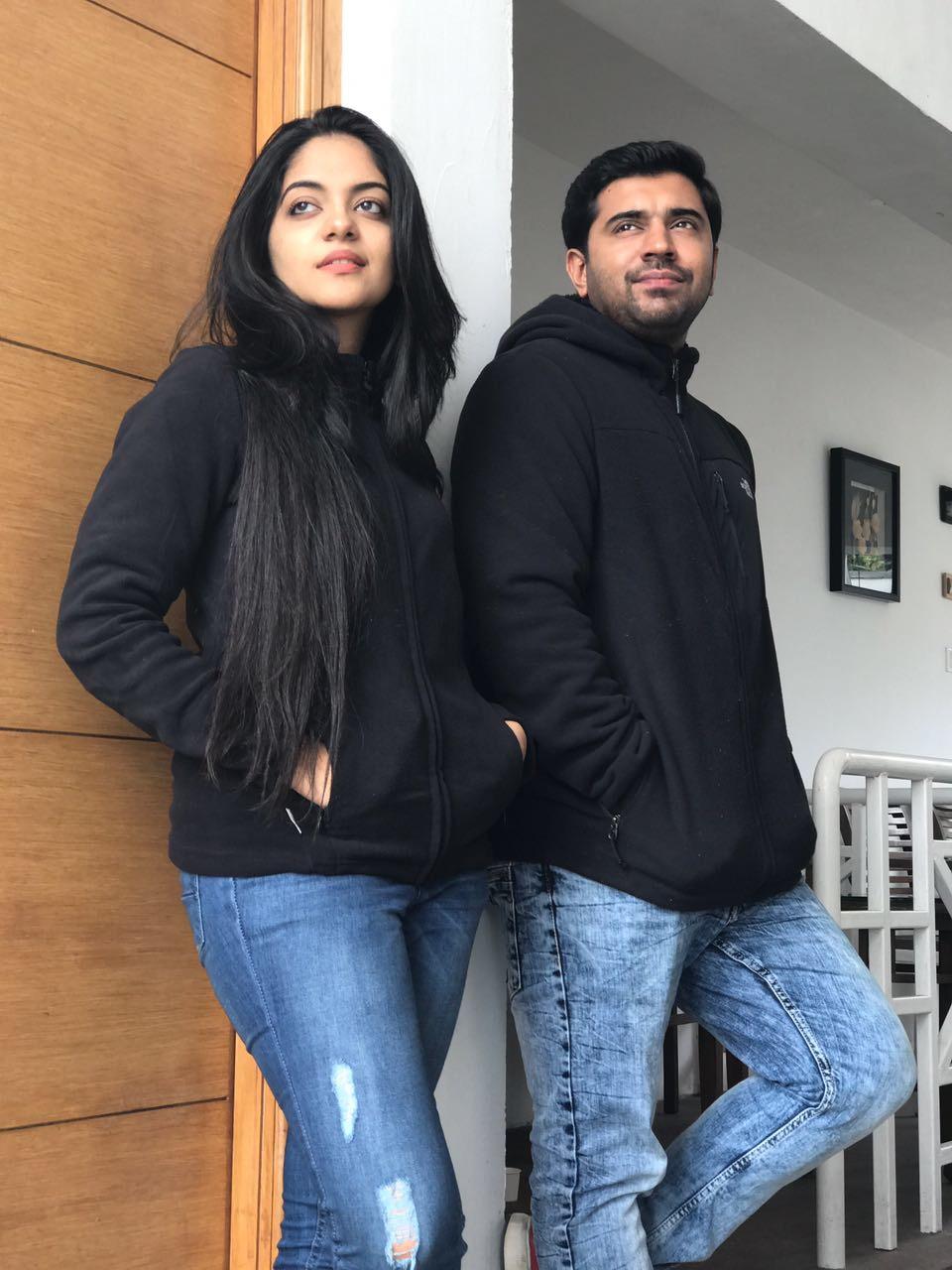 Pic: Ahaana Krishna and Nivin Pauly
9) Njandu also marks the acting comeback of one of the most celebrated Malayalam actresses of 1980-1990's, Shanthi Krishna after 22-long-year gap. And you are playing as her daughter. How was the experience?
My mother have always been a fan of Shanti Madam. She told me that my father had done a Tele-serial with her when I was 7-8 months old. I was supposed to be a part of that serial, but my mother told me that because of my non-stop crying nature, the makers had tough time to shoot my glimpses as a baby artist and eventually dropped the plan of featuring me in the same. And recently, when my mother met Shanti Madam on the sets of Njandu, she asked my mom that she looks familiar to her. Then my mother revealed her the entire story, which eventually helped me to get a good rapport with her. She was very sweet and caring to me. Not just professional, personal as well. She is not all serious like she looks and was very funny and jolly throughout the shoot. I'm happy that I got the chance to know her really well, not just within the films. She was like a mother to me on the sets and I felt it as genuine care.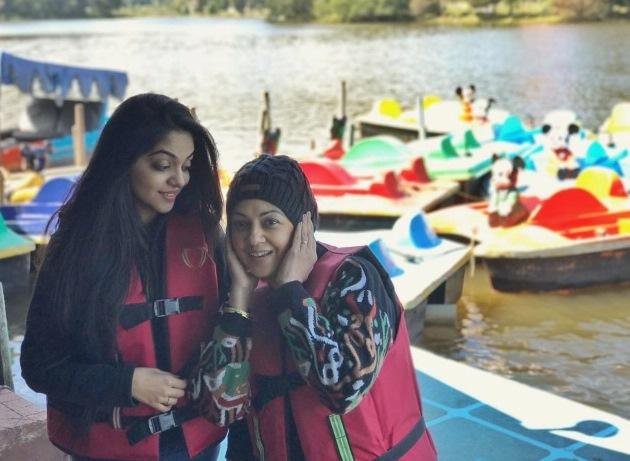 Pic: Ahaana Krishna and Shanti Krishna
10) Tell us about the debut director Althaf?
Althaf is an interesting director to work with. He is very silent and a calm person, yet spontaneously very funny. He always teases me. To be honest I was unaware about his identity when I was offered Njandu. I spoke to him over the phone and I though he was very young. I recognized his face and realized that he was the same actor who played Anupama's friend in Premam and Nivin Pauly's second fiddle in Sakhavu. But I never knew he had so much talent in him. As a director he is exceptional. He is soft spoken and at the same time a man of good words.
11) Which is your favorite character? Anjali or Sarah Chacko?
I'm just two films old and it's too early to categorize. Even though I had just 14-days shoot in Njan Steve Lopez, I'm here because of that film. And I got Njandu thanks to Njan Steve Lopez as well. But now, I'm excited about Sarah Chacko. So I can say my current favorite is Sarah Chacko.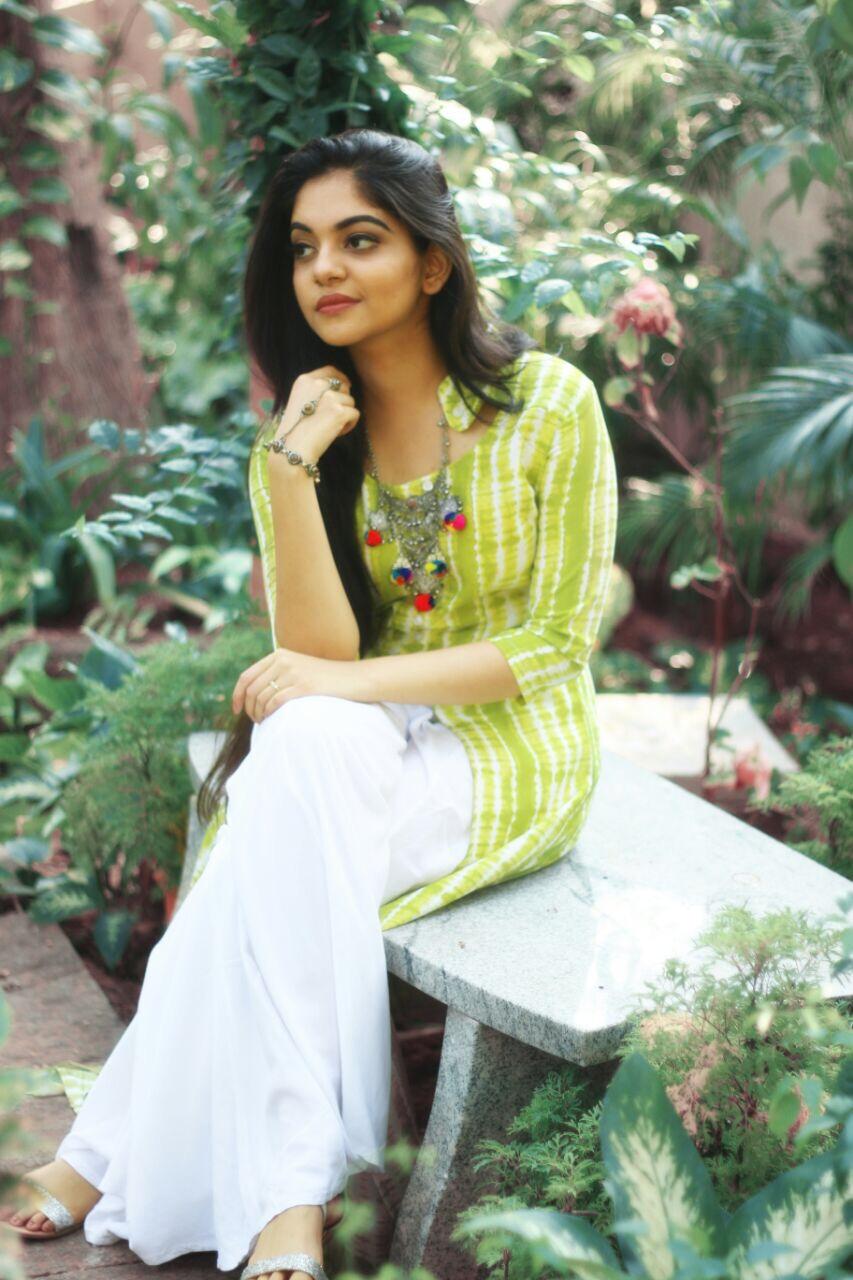 Pic: Ahaana Krishna
12) What was your reaction when you heard the news of recent actress abduction incident?
Molestatin and rape are global issues. Such things happens irrespective of girls age and profession. And there is no denying the fact that these abnormal things happened in normal situations. Even during the films shoots, we had traveled at nights to avoid the traffic. I too traveled at night. The incident was scary and I was scared as well. It can happen to anyone.
13) When was the first time you have thought about becoming a film star?
Like very other school kids, I too had silly dreams about becoming an actress when I was in 5th or 6th std. But after the first three days shoot of Njan Steve Lopez, I realized that I should be an actress. Frankly speaking, being an actor's daughter was not helpful for me. But yes, emotional support from my parents were always there. I didn't waste these 3-year-gap as I was learning cinema those days.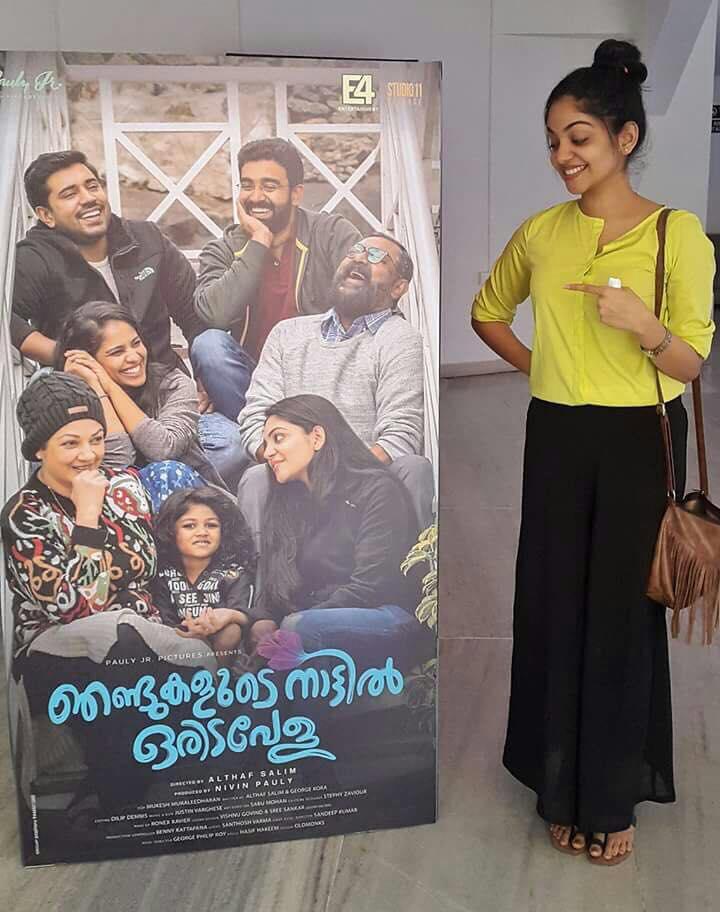 Pic: Ahaana Krishna
14) Any plans to join Tamil/Telugu/Bollywood films?
If your are a good actor, then you shouldn't worry about language barrier. I myself see as an Indian actor, not just want to restrict in Malayalam. I'm a confident girl and I have good grip over other languages as well. I studied in Chennai, so I'm fluent in Tamil. During my childhood I always used to watch Bollywood films. I have a feeling that in Malayalam cinema, our makers are selecting either a debut actress or an established actress to portrays the female lead in films. Unfortunately, they fails to utilize the full potential of the new actresses. But in Tamil, if a new actress comes, her acting potentials will be utilized.
15) Have you signed any new films?
I was offered two good projects. One in Malayalam and other in Tamil. Talks are on.
16) If you are offered a heroine oriented film from Malayalam and a big offer to star in a Tamil superstar film, which one will you say yes?
It's a hypothetical situation. If the character is good for me in Malayalam, then I will chose for Malayalam. I can't blindly sign a Tamil film just because it's a superstar film. I can't sign any films just because I have two songs in it. But yes, if both roles are good, I will opt for Tamil film.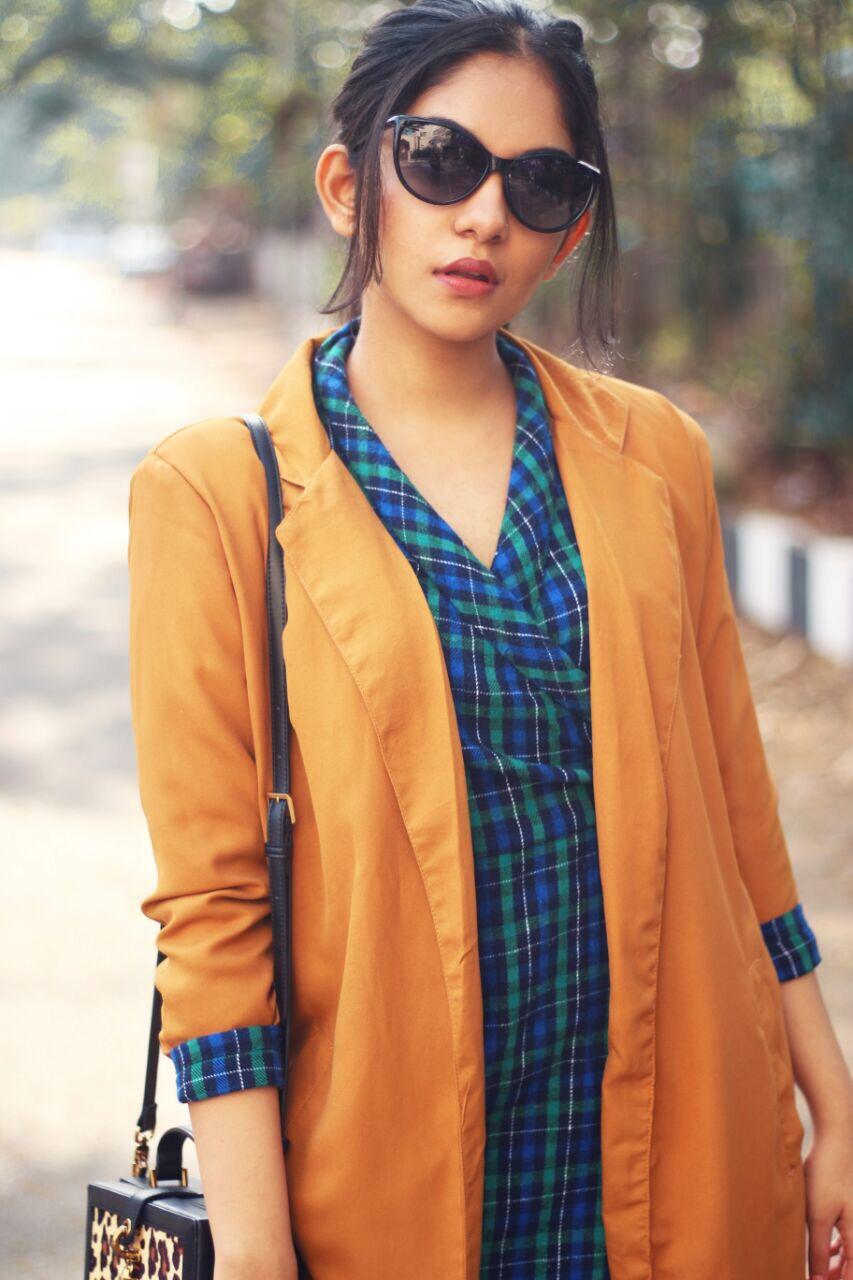 Pic: Ahaana Krishna
17) How do you react to social media trolls?
I don't react much . If it's a good humor, I will enjoy it.
18) Your recent singing video was received well among the audience. Any plans for singing career?
Thanks for the compliment. I'm glad people are liking my singing skills. All credits must goes to one of my close friend, named Ritika. She was the first one recognized my singing skills. And she's a singer as well. I'm not taking it as a career. I would like to be known as a better actress or better dancer.
19)Your father Krishnakumar was touted as one of the good looking actors in the early 1990's. How was your experience in schools to known as the daughter of handsome actor?
It was awesome. He is still fit and handsome. It's awesome when people tells your dad is handsome.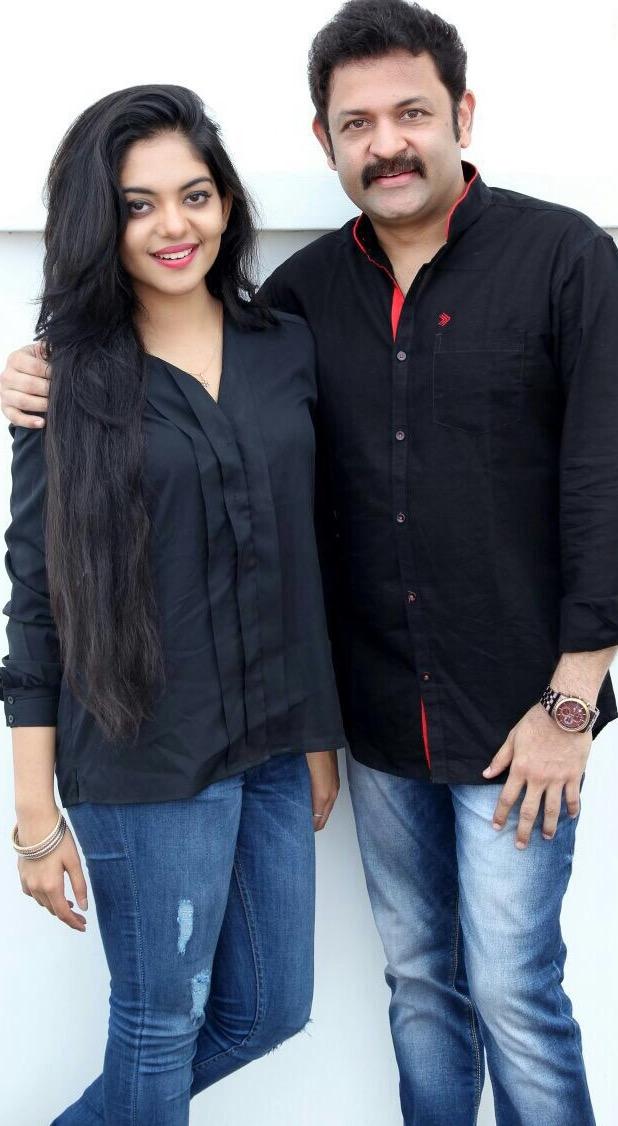 Pic: Ahaana Krishna and Krishnakumar
20) Your favorite film stars?
21) You film Njandu is clashing with 4 other Onam releases including Mohanlal's Velipadinte Pusthakam, Mammootty starrer Pullikaran Staara and Prithviraj's Adam Joan? Are you nervous about the Box Office clash?
Cinema has evolved in lot of way. If we invest money, we have to bring business as well. Cinema is a huge money laundry group. As an audience, I must say all films should be watched in theaters. If 5 films are releasing on same day, it will do good only. All are Onam releases and there are holidays ahead. Audience will feel excited. I'm not nervous. In fact I feel lucky to see my second film releasing with Mohanlal starrer and Mammootty film at the Box Office. I'm seeing it as a blessing. I don't want to see it in a negative aspect. And Velipadinte Pusthakam also stars my dad as well. So it's a daughter vs father competition in my house.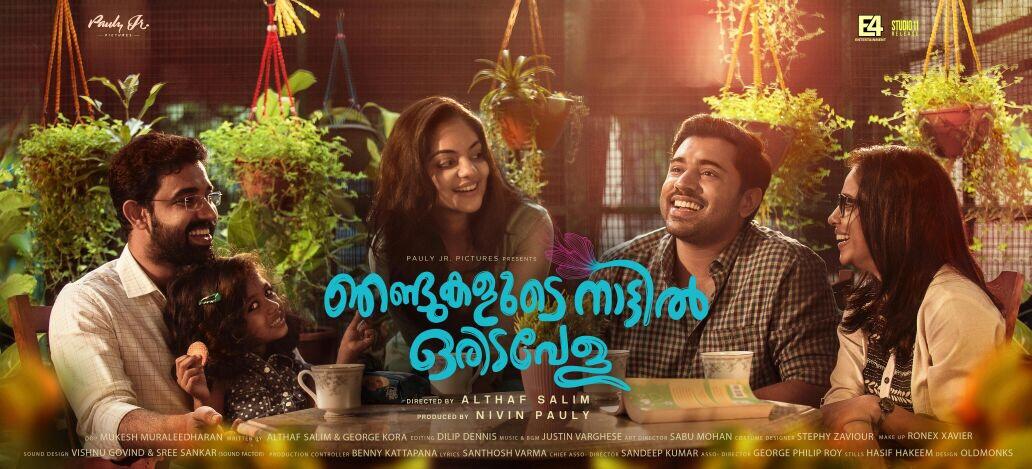 Pic: Njandukalude Nattil Oridavela poster
22) What are your future plans?
If I'm successful in films, then I will continue my acting. Else, I will opt to go for Masters degree.