Yeddyurappa runs away from floor test. Will Vajubhai now call Kumaraswami?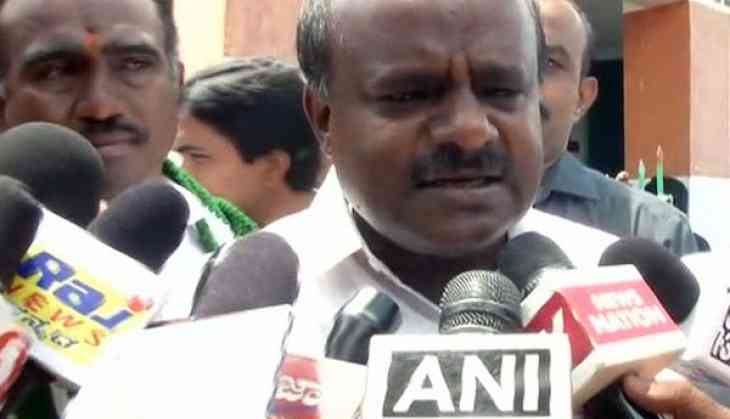 Bookanakere Siddalingappa Yeddyurappa rose on the floor of Bengaluru's majestic Vidhana Saudha Saturday afternoon after all newly elected members were sworn in. But instead of seeking the support of the majority of those members, the chief minister of Karnataka launched a melodramatic speech. By the time it was 4 pm -- when the House to vote -- he had given up on the fight, the first such instance in a long time from the safforn camp.
The Bharatiya Janata Party tried to hardsell Yeddyurappa's move as an elegant one. But the fact is that it just lost a crucial battle after announcing to everyone who cared to hear that the party would win it handsomely. Controversial Governor Vajubhai Vala now doesn't seem to have much option than to invite Janata Dal (Secular) leader HD Kumaraswamy to govern the state.
The way his party as well as the Indian National Congress have been able to guard their MLAs, Kumaraswamy seems to be in comfortable position to sail through a trust vote. He has put a very condifent image forward ever since Vala invited Yeddyurappa, and not him, to form government.
The former CM and son of former prime minister HD Deve Gowda consistently maientained that all non-BJP MLAs were united and there were no cases of defection. In fact he went a step further and threatened to poach two of the BJP's MLAs if it tried to take one from his party.
Legislators of both parties had a tough time in the last two days, after Vala Thursday backed his old party BJP, shifting from a resort to Hyderabad and back. Two Congress MLAs reportedly remained untraceable until Saturday and there were several allegations that the BJP was trying to buy its way into governing a state in South India, where it governs none.
That alone has made Karnataka an important fight for BJP President Amit Shah, who has delivered state after state to the saffron party's kitty. Not only did he fail in his Mission 150, but the tally of 104 seats was way lower than the "at least 130" he had vowed to get even on the last day of campaigning. This despite Prime Minister Narendra Modi's extensive campaign in all regions of Karnataka.
A friendly governor still ensured them pole position but a spirited fight by the Congress-JD(S) camp -- getting the Supreme Court to open its gates past midnight -- negated everything.
After the results, in fact, the fight gradually spread out from Karnataka to attract other regional parties as well. Mayawati's Bahujan Samaj Party is anyway a partner in the coalition, supported also by Asaduddin Owaisi. West Bengal Chief Minister Mamata Banerjee vocally advocated a Congress-JD(S) tie-up.
Her Kerala counterpart Pinarayi Vijayan's tourism department offered to house the MLAs of the combine. When Kumaraswamy reached out to Andhra CM Chandrababu Naidu, he reportedly offered three places for the MLAs to camp. Eventually the choice was Hyderabad where K Chandrasekhara Rao's police kept them protected.
In Bihar, Tejashwi Yadav raised the demand that if Yeddyurappa could be CM for leading the single-largest party, his Rashtriya Janata Dal should be allowed to do the same. Communist Party of India (Marxist) General Secretary Sitaram Yechury and Jammu and Kashmir National Conference leader Omar Abdullah castigated the BJP for its strong-arm tactics.
Basically, not only the BJP failed to manage the numbers, it also brought the Opposition together. Also, none of its ally came out in support. With General Elections a year away, that doesn't augur well at all for the BJP.
This doesn't mean that work is over for the Congress and JD(S). It, in fact, has just begun. They are yet to form the government. If and when it does, all eyes will be on them. The slightest of missteps, may that be in governance or in cooperation, will be harshly judged. Still, they have landed a chance to take on the formidable BJP-RSS machinery. Several parties across the country will be watching them closely as will do the people of Karnataka.