With an eye on possibly joining BJP and Maha Cabinet, Narayan Rane quits Congress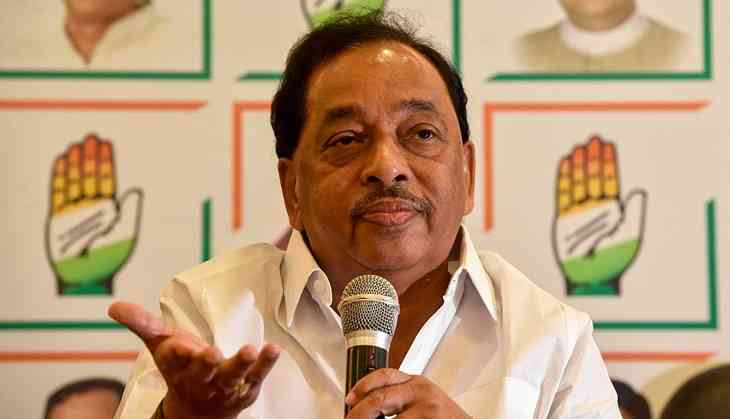 (Kunal Patil/Hindustan Times/Getty Images)
The much awaited resignation of senior Maharashtra Congress leader Narayan Rane finally came through on Thursday amid speculation that he may join the BJP and possibly even be inducted as a cabinet minister.
While Rane and his elder son, Congress MP Nilesh Rane, resigned from primary membership of Congress, his younger son Nitesh Rane is still with the party.
However, Rane has not joined the BJP as of now. Rane has publicly praised BJP leaders in the past, including Chief Minister Devendra Fadnavis and Prime Minister Narendra Modi. This is despite the fact that several BJP leaders have dropped hints that he would welcome to join.
The rumours of his shifting the BJP have been making the rounds ever since he met BJP president Amit Shah along with Chief Minister Devendra Fadanvis in Ahmedabad in April.
But some of the conditions Rane has has a few leaders worried.
"We know that he will need to be given cabinet berth if he joins us. But it would have been difficult for the party to accommodate his highly arrogant sons as it would be a major issue for the cadre as well as the leaders," said a senior BJP leader.
A senior BJP leader said, "Making him chief minister is completely out of question. This will pose a grave threat to our reputation among people. The decision to induct Rane and his son in party has kept in abeyance as of now because we want to consider all the probabilities if his demands were met even partially. The public behaviour of his sons could prove dear for the party and its reputation."
Rane has instead announced a state tour to meet people and supporters before taking any decision.
An ambitious run
Rane, who has been ambitious throughout his career and unafraid to be vocal about it, is parting ways with the Congress after 12 years. In 2005, he had quit the Shiv Sena over alleged disputes with Uddhav Thackeray. At the time, Thackeray was readying himself to step onto his father's shoes and lead the party.
While resigning from Congress, he cited differences with the state party leadership Congress as the reason behind his taking such an extreme step.
But on both occasions, it has been Rane's oft-stated ambition to become chief minister of the state that has been behind his disputes with both parties. In 2005, Rane stepped away after realising that he would not become the CM even if the BJP-Shiv Sena alliance had won the majority of votes in 2007.
Rane was chief minister of the state during 1 February 1999 to 17 October 1999 during the NDA rule in Maharashtra.
Parting shots
Addressing the media in Mumbai to announce his resignation, Rane blamed state leaders of the party for the downfall of Congress. He alleged that state unit chief and MP Ashok Chavan did nothing for the growth of the party. He says he joined the Congress with the hope of fulfilling his dream of becoming chief minister. He claimed that party leadership did not keep the word and he was denied the post four times while the Congress was in power.
The last nail was hit last week when Chavan dissolved the Sindhudurg District Congress Committee. The committee was dominated by Rane confidantes and reacting to the decision, Rane alleged that if Chavan continued to have his way, Congress would be finished in Maharashtra.
Rane served as revenue and industries minister in the Congress–Nationalist Congress Party (NCP) government in Maharashtra from 2007 to 2014. However, he lost the 2014 Assembly elections to the Shiv Sena candidate from Kudal, his bastion. He tried his luck in the Assembly bypolls from Bandra in Mumbai, but again lost to Shiv Sena candidate.