Will Gorkhaland demand help Trinamool win municipal polls in North Bengal?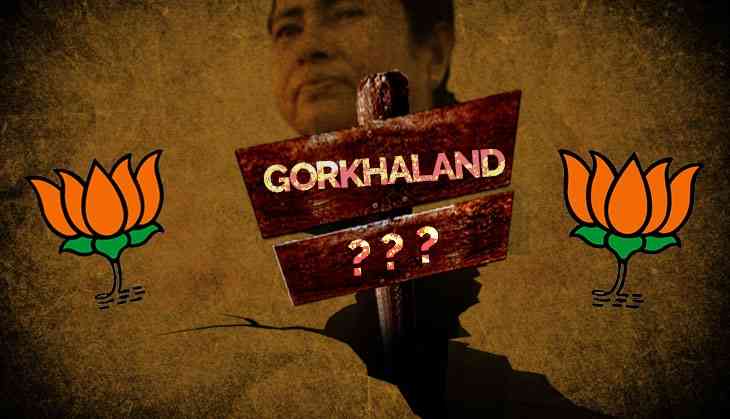 The big winner to emerge from the internal feud between the Central BJP leadership and West Bengal BJP leadership over the formation of a separate state of Gorkhaland is likely to be state Chief Minister Mamata Banerjee's All India Trinamool Congress (AITC) in the upcoming municipal election.
Lijely to be held on 14 May, the notification for polls in Darjeeling, Kalimpong, Kurseong, Mirik, Raiganj (North Dinajpur), Domkal (Murshidabad) and Pujali (South 24 Paraganas) will be issued on 17 April.
Trinamool's bid for the hills
AITC is yet to make its dent in the hills - Darjeeling, Kalimpong and Siliguri - although they have captured all other civic bodies in North Bengal.
In the upcoming municipal election, the main opposition party for the Trinamool Congress will be the BJP. The former is going try and highlight how the BJP has fanned communal tension to create religious polarisation in Bengal.
On 28 March, Banerjee, while at a public meeting in Jalpaiguri, strongly condemned BJP's style of communal politics and urged the people to stay united against such odds.
The Gorkhaland angle
While the state BJP claims that they do not support the cause of Gorkhaland, the Gorkha Janamukti Morcha (GJM) has already appealed to Prime Minister Narendra Modi to form a committee to consider the demand. Modi then assured them that positive steps would be taken in this regard.
Roshan Giri, GJM's general secretary said, "We are hopeful that PM Modi will help in forming the separate state of Gorkhaland."
Sources in the hills said that BJP's internal feud is likely to put pressure on GJM's demand for separate state of Gorkhaland and if the demands are put on the back seat, then votes are likely to shift towards AITC.
The state BJP has said time and again that they do not support the idea of a separate state for only 25 lakh Gorkhas.
State BJP president Dilip Ghosh said, "We are not in favour of a separate state of Gorkhaland and will urge the central leadership to look at this aspect before considering the demands of GJM."
AITC leaders on the other hand are possibly considering that the creation of a separate districts of Mirik and Kalimpong, as well as formation of Boards for various hill communities, are steps that will help Banerjee to get a foothold in the hills.
A senior Trinamool Congress leader said, "We are confident of winning the Darjeeling muncipality in the upcoming elections. The demands of the poor hill communities will also be addressed after CM Banerjee comes to power."