Why the West Bengal Panchayat elections are proving to be one of the bloodiest ever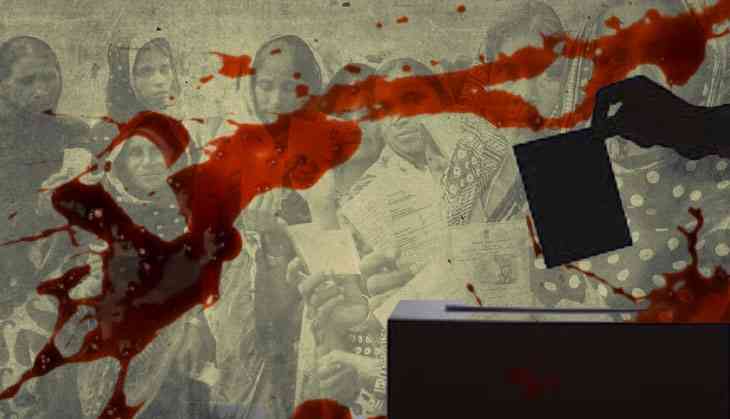 The West Bengal Panchayat polls are proving to be a bloody affair with there being reports of clashes on Wednesday between workers of the All India Trinamool Congress (AITC) and Opposition parties, particularly the Bharatiya Janata Party.
The BJP has decided to move the Supreme Court on Thursday, urging that central forces be deployed during filing of nominations.
"We have moved the Supreme Court and urged for deployment of Central forces during filing of nominations as our party workers could not file nominations peacefully," said BJP leader Mukul Roy, who was earlier a key lieutenant of AITC supremo Mamata Banerjee.
The AITC on its part is accusing the BJP of instigating the violence.
On Wednesday, fresh violence occurred at Raigunj where some pistol-wielding goons fired blank shots.
A clash broke out between BJP and Trinamool workers during the filing of nominations.
Amol Acharya, a Trinamool district in-charge, said "We have already informed the police that the BJP has hired goons who are trying to create an atmosphere of terror in the area and we have urged the state election commission to conduct an inquiry on the violence in Raigunj."
State Parliamentary Affairs Minister Partha Chatterjee said, "State BJP president Dilip Ghosh is creating an environment of terror by saying that least 70-80 people will be sent to cremation ground in this Panchyat election".
According to Chatterjee, an AITC delegation will meet State Election Commissioner Amarendra Kumar Singh on Thursday and urge him take action against Ghosh for his threat.
A BJP delegation, too, met Singh to urge him to deploy central forces for the elections.
On Wednesday, the State Election Commissioner met Governor KN Tripathi who is said to have instructed him to provide a detailed report of the security provisions that will be there during the Panchayat elections.
Sources in the Raj Bhavan said that the duo also spoke about the need for deployment of Central forces after violence continued unabated state during the filing of nominations.
To counter the BJP's charge that the party is not being allowed to file nominations, Partha Chatterjee provided data stating, "AITC has filed 1,614 nominations, BJP 1,143, CPI(M) 351, Congress 127 and Independents 200. A total of 1821 Opposition candidates filed nominations, but still Opposition parties are saying that they were not allowed to file nominations".
The AITC is also accusing the BJP of using the Governor's office to create confusion in the state.
Besides Ranigunj, violence also took place on Wednesday at Nayagram in Jhargram, Purulia and Mayureshwar in Birbhum. In Murshidabad, AITC and Congress workers clashed after the ruling party's workers allegedly prevented the latter's candidate from filing his nomination.
At Khanakul in Hooghly, a clash took place between two AITC groups when one group went to file their nomination.
On Tuesday, clashes are said to have taken place in Malda, Bankura, Murshidabad, Hooghly and Birbhum districts. On Monday, too there were stray instances of violence in Midnapore, Behrampore and Burdwan.
CPI(M) leaders alleged that their candidates were not allowed to file their nomination papers at Sutahata, Panskura, Khejuri-1 and Khejuri –II of East Midnapore as the ruling AITC dragged them out of the election offices and beat them up.
The BJP has accused AITC of thrashing it's cadres at the Sutahata block office.
Sporadic violence also occoured at various block development offices at Burdwan East and Bankura.
In Malda's Kaliachak, one AITC worker, Nizamur Rahman was killed by his own party workers as a result of the internal feud .
According to political analyst Amol Mukherjee, "What is different this time is that this time it isn't just the ruling party, but also the BJP that responsible for violence".
Analysts also point out that usually violence takes place close to polling day, but this time it has started from the filing of nominations itself.