Why Sharad Yadav is emerging as the fulcrum of a national level anti-BJP alliance
Catch Team
| Updated on: 21 August 2017, 18:57 IST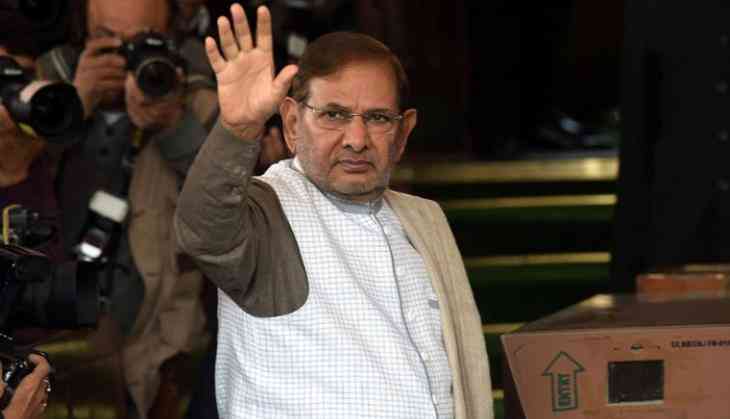 Veteran socialist leader Sharad Yadav appears to be emerging as the fulcrum of a national level anti-BJP alliance. This comes barely a few days after the success of his Sanjhi Virasat Bachao (Save our composite heritage) programme last week, that was attended by representatives of 14 parties, including senior Opposition figures like former Prime Minister Dr Manmohan Singh, Congress Vice-President Rahul Gandhi, Leader of Opposition in the Rajya Sabha Ghulam Nabi Azad and CPI(M) general secretary Sitaram Yechury, among others.
It is now being speculated that Yadav will formally be appointed as the convenor of a committee to coordinate the campaign against BJP across India. According to a report in Economic Times, "Senior opposition leaders including Ahmed Patel, Ghulam Nabi Azad, Sitaram Yechuri and Yadav are learnt to have held talks over the weekend to constitute the joint committee".
The report says that, "Their plan is to hold meetings in several parts of the country on the lines of the 'Sanjhi Virasat Bachao event held in Delhi last Thursday. An announcement on the formation of the committee is expected within two days, sources in the know of the discussions said".
However, Catch spoke to several senior Congress leaders, all of whom said that as of now there has been no official communication within the party regarding this committee.
Of course, Congress leaders said that if such a committee led by Yadav is formed, it is likely to get the party' support.
A veteran parliamentarian, Yadav shares a good equation with senior Congress leaders like Azad and Ahmed Patel. In fact, Patel is said to have played a critical role in convincing Yadav to stay within the Opposition ranks after Janata Dal (United) president and Bihar chief minister Nitish Kumar decided to switch loyalties to the NDA camp.
The bonhomie between Patel and Yadav was evident even by the manner in which the former thanked the socialist leader for helping him winning the closely fought election to the Rajya Sabha from Gujarat. It is said that the sole JD(U) legislator in Gujarat Chhotubhai Vasava defied the party whip and voted for Patel, enabling his victory.
If indeed such a committee is formed under Yadav with the Congress' backing, it would also mean that Patel will continue to wield considerable influence within the Grand Old Party.
Of late, Yadav had also developed a cordial working relationship with Rahul Gandhi which was evident in their joint protest in Mandsaur, Madhya Pradesh in solidarity with the agitating farmers there.
Another crucial player in the united Opposition effort is CPI(M) general secretary Sitaram Yechury, who also enjoys a good rapport with Yadav. They have collaborated as Parliamentarians and Opposition leaders both under UPA-2 as well as the present Modi regime.
Yadav is uniquely placed to coordinate such an Opposition alliance. He is a senior national leader, who enjoys acceptability across the political spectrum. And unlike the Congress, Left or TMC, he isn't in competition with any of the other Opposition parties.
Meanwhile, Nitish Kumar and BJP are busy trying to scuttle Yadav's efforts. Kumar is said to have threatened to take action against Yadav if he attends the rally organised by RJD chief Lalu Prasad. The JD(U) leadership has apparently said that this would amount to being involved in anti-party activities and Yadav could potentially lose his Rajya Sabha seat.
But JD(U) is in two minds as taking away his Rajya Sabha seat would mean giving him a perfect opportunity to play the martyr card. And Yadav might return to the Upper House anyway with the help of the RJD and Congress.
There is a difference of opinion in the Opposition camp as well. While most Opposition parties say they are committed to saving India's 'composite heritage' from the Sangh Parivar, there are some leaders who believe that this cannot be the only issue.
"Fighting for India's secularism and pluralism is important, but it should not become an exercise which helps BJP consolidate the majority community. We need to raise economic issues as well. The two key fronts in which the government has failed is employment and agriculture. Only issues like unemployment and agrarian distress can puncture the Modi balloon," a senior Samajwadi Party leader told Catch.