Why Modi's Rs 80,000 crore package is of little use to J&K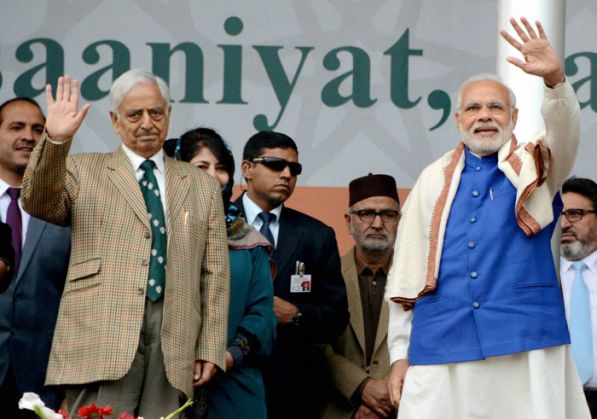 The package
Prime Minister Narendra Modi has announced a Rs 80,000 crore package for Jammu and Kashmir
Out of this Rs 60,000 crore will be spent on new infrastructure projects
The obstacles
The aim is to generate jobs through public works. But it might not work
Jammu and Kashmir lacks the institutional capacity to absorb such a package
More in the story
Why the funds might go down a black hole
What does Jammu and Kashmir actually need?
Prime Minister Narendra Modi's has announced a Rs 80,000 crore financial package for Jammu and Kashmir. The components of the package have not yet been revealed. The nature of the package can only be gleaned by sifting through Modi's speech and a very brief overview of the package provided by Jammu and Kashmir Finance Minister Haseeb Drabu.
Modi stated that Rs 34,000 crore would be spent on the Jammu-Srinagar Highway and sectors such as handicrafts and tourism. He also said that the state would spend on sectors like education and health.
IN PICTURES - Wider angle: what Kashmir had to endure for Modi's rally
Drabu said that around Rs 60,000 crore has been earmarked for new infrastructure projects and Rs 7,000 crore for ongoing projects. He further stated that the economic package announced by the Prime Minister is to be spent over the next 5 years and it would not only rejuvenate the flood-hit state economy but also create huge job opportunities as well.
The premise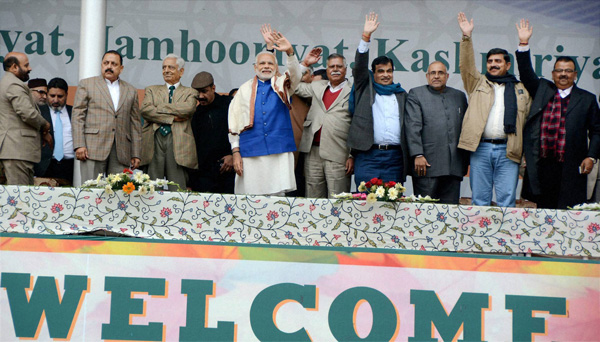 It is clear that the main focus of the package is on infrastructure development and public works. It seems that the package is aimed at generating what John Maynard Keynes called Aggregate Demand. The assumption is that if other things remain constant or equal, this would lead to increased employment.
The logic behind this is alluringly simple: public works expenditure would have a cumulative impact on the state's income through what has been termed as the multiplier. This would lead to the creation of new savings, increase tax revenues and reduction of expenditure on benefits.
The significance of public works is amplified by the multiplier effect. But the problem with this approach is that increasing Aggregate Demand through the multiplier warrants an expansionary fiscal policy.
J&K doesn't have the capacity to absorb such a package. It will end up going down a black hole
There is higher government spending and lower taxation to stimulate aggregate demand. This often leads to an increase in the size of the government's budget deficit. There is higher spending and more borrowing.
The major problem afflicting the state of Jammu and Kashmir is underinvestment. The natural consequences of underinvestment are lower incomes and stagnant demand. Stimulating Aggregate Demand and hoping for the multiplier to work its magic does not always work.
Bad economics
There are many others issues that go against the economic package and the premises behind it.
These pertain to project management problems in the state: cost overruns, delays in project execution and implementation, overhangs and assorted bottlenecks, delays in acquisition of land.
The package seems to be the product of bad economics.
There are, however, structural and institutional problems with the package as well. It assumes a governance architecture and state capacity that will absorb the package seamlessly. This is a serious error.
Also read - #PMVisit: Mufti desperately needs Modi to do a Vajpayee. Will he oblige?
Just to digress a little, Harvard academic Lant Pritchet called India a 'flailing state'. To use the analogy of the human body, it is a state in which the head remains sound but it is no longer connected seamlessly to its own limbs.
If India is a flailing state, then Jammu and Kashmir is in a worse position given that has been devastated by conflict. It cannot even be categorised as post-conflict.
What J&K actually needs
The real need is to rebuild the capacity and capability of the state. The physical, human and social capital of Jammu and Kashmir has to be built almost from scratch.
Unless that happens, the state cannot effectively focus on providing services like health and education.
Only a comprehensive policy reform and revival of non-functioning institutions can prepare the ground for robust growth in Jammu and Kashmir.
What is needed is an effective and efficient state, the hallmarks of good governance.
Around Rs 60,000 crore have been earmarked for new infrastructure projects alone
Without sound institutions and effective public policy, the money being pumped into the state is likely to disappear into what have been called black holes' or 'sinks'. The benefits will reach only a limited few.
Modi's financial package, though, might meet the same fate.
It is unlikely to have an impact unless there is a comprehensive revamp of the state and its institutions.
This may well be impossible in a state like Jammu and Kashmir, which suffers from serious structural and political problems.
So Modi, like Sisyphus, might end up rolling a heavy stone up the hill only to watch it roll back on account of its own weight.
READ MORE - Some voices are spreading hate, but we must take along whoever matters in Delhi: PDP minister
20 easy steps Modi can take to make Kashmiris feel better