Why is Mehbooba cracking down on the pro-Azaadi camp?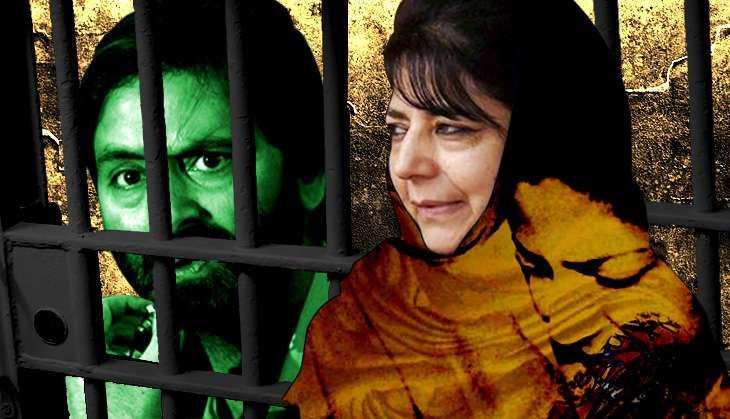 Why the crackdown
J&K government is against the pro-azaadi groups in Jammu and Kashmir
The government does not want them to unite in resistance
What does the crackdown entail?
Pro-Azaadi leaders have been barred from Friday prayers, delivering religious sermons and holding protest rallies
Leaders such as Yasin Malik, Syed Ali Geelani, Nayeem Khan have been repeatedly detained
More in the story
What are the separatist leaders rallying for?
Why is PDP-BJP coming down on them so hard?
Mehbooba Mufti's government has cracked the whip against both factions of the All Parties Hurriyat Conferenceas as well as the Jammu and Kashmir Liberation Front (JKLF).
The pro-Azadi camp has recently moved to reunite against controversial government proposals such as settling migrant Kashmiri Pandits in "composite townships" or "transit accommodations".
It is, however, not clear why the Peoples Democratic Party (PDP)-Bharatiya Janata Party (BJP) government has cracked down on activities of the pro-Azaadi camp and imposed restrictions on the movements of resistance leaders.
Also read: Post Mufti, PDP-BJP coalition is a sinking ship. Can Mehbooba rescue it?
The crackdown includes barring them from Friday prayers, delivering religious sermons, holding protest rallies, etc.
Speaking out
Last Sunday, as a rare 'breather', the government allowed the united resistance camp to organise a joint seminar in Srinagar. There, Hurriyat leaders vowed to fight all alleged "attempts of New Delhi to change Jammu and Kashmir's demography by constructing 'Sainik Colonies' for ex-soldiers, separate townships for Pandits, and settling non-locals in the Kashmir Valley".
"We [the pro-freedom leadership] are united. Now it is time for the people of Kashmir to resist conspiracies aimed at changing Jammu & Kashmir's demography and Muslim-majority character," veteran pro-Pakistan leader Syed Ali Shah Geelani said, while addressing a seminar titled "Proposed Separate Colonies and Ambiguous Policies of the Government" held at his Hyderpora residence.
Politics of invasion
Mirwaiz Umar Farooq and various civil society leaders, human rights defenders, social activists, columnists and lawyers spoke at the seminar. They all underscored the point that "Kashmir faced 'politics of invasion' from the Hindu nationalist BJP-led government in New Delhi".
Geelani and the Mirwaiz head two different factions of the Hurriyat.
Various speakers in the seminar feared that there was a visible danger to "Kashmiri Muslim identity" and "Kashmiri Nationalism".
Some of them accused the PDP of acting as "New Delhi's stooge" and being "remote-controlled by the Rashtriyaswayam Sevak Sangh (RSS)".
Opposition lawmakers such as Engineer Sheikh Abdur Rashid, CPI (M) legislator from south Kashmir's Kulgam constituency M Yusuf Tarigami and another MLA from Ganderbal, Ishfaq Jabbar, voiced their reservation against the government's move to settle Pandits in "transit accommodations" while speaking at the legislative Assembly.
Tarigami urged the government to create "an atmosphere for Pandits to live in harmony in their native places". According to Rashid, the "Hurriyat should be consulted on the issue of return of Pandits".
Crackdown against Azaadi Camp
Soon after taking the initiative to reunite the pro-Azaadi camp, JKLF Chairman Mohammad Yasin Malik was arrested on 25 May.

He was released on the evening of 3 June, rearrested the same day and released again on 12 June.In the process, he missed Sunday's rally.

Also read: Separatist leader Yasin Malik under preventive detention, Mirwaiz Umar Farooq under house arrest

"On the same day (3 June) around 11:30 pm the special task force personnel of J&K police raided my house to rearrest me. They misbehaved with the women, including my mother and sister, ransacked our house, and also fired teargas shells inside neighbouring houses in Maisuma," Malik told Catch at his Abi Guzar office in Srinagar after his release on 12 June.

That arrest

was related to a 29-year old case when Malik was a student activist. A TADA court charged him of "raising anti-state slogans" in 1987.

There is an impression that Malik has appeared as "the lone face of resistance on Kashmir's streets" since the PDP-BJP government assumed power in March 2015 he was perhaps being "pushed to the wall" and also punished for his recent unity efforts.

After his 12 June release, Malik was arrested again on Tuesday, 14 June, from his residence and detained through Wednesday. On Friday (17 June), he was detained again ahead of a poll boycott rall in Anantnag, according to media reports.

Police also arrested JKLF deputy chief organiser Sirajuddin Mir and its district presidents Muhammad Ishaaq Ganaie and Bashir Ahmad Boya, preventing them from going to the protest demonstration at Lal Chowk on Wednesday.
Power play
Siddiq Wahid Radhu, a historian, political commentator and former vice-chancellor of the Islamic University of Science and Technology (IUST), believes that the state deploys its powers and "drums up charges" to create fear.
"Obviously, New Delhi will feel threatened as these guys (Hurriyat & JKLF leaders) have started to talk and think together. It will not be a surprise if the government's crackdown on the resistance leadership, like drumming up old charges and accusations, is meant to scuttle the recent unity efforts of the resistance camp," Radhu told Catch.
According to Radhu that's what the state will do and "you'll have to live with it", but "it is up to the Hurriyat and JKLF to devise new means to fight".
After Malik, Geelani and Nayeem
After granting bail to Malik in the 1987 case, a local court in Srinagar issued non-bailable arrest warrants against Geelani and senior resistance leader Nayeem Khan, who heads Jammu and Kashmir National Front (JKNF) in the same case on 11 June.
"Let Syed Ali Shah Geelani and Nayeem Ahmad Khan be called afresh through non-bailable warrants which shall be executed through SSP Srinagar, the Court of Additional District and Sessions Judge TADA/POTA," SK Bhagat said in an order which was widely reported by the local media.
Commenting on the crackdown against pro-Azaadi leaders in Kashmir, Jammu-based executive editor of the state's oldest English daily Kashmir Times Anuradha Bhasin wondered over the capacity of the state government to have a major say in security-related matters: "I wonder how much capacity does the state government actually has on security related issues in Jammu and Kashmir. That said, it is quite possible that the recent crackdown on the Hurriyats and JKLF is aimed at spoiling their unity move as the PDP fears losing its space in the valley," she said.
Also read: JKLF chairman Yasin Malik detained ahead of Amanullah Khan's funeral