Why has Sharad Yadav's expulsion from Rajya Sabha been welcomed by eerie silence in the Opposition?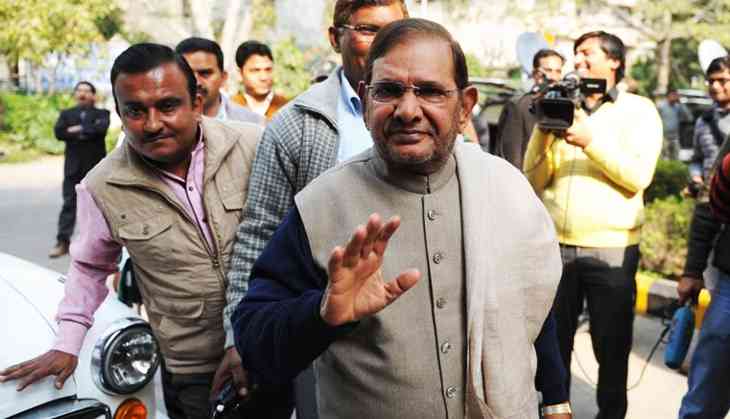 Vice-President and Rajya Sabha Chairman Venkaiah Naidu's decision to disqualify Sharad Yadav and Ali Anwar Ansari from the Rajya Sabha appears to have shocked the Opposition. The announcement has been welcomed by an eerie silence across the political spectrum.
In a late-night official communication, Naidu's office announced on 4 December that it was "crystal clear" that Yadav had "voluntarily given up his membership" of the Janata Dal (United). This is the ground for disqualification mentioned in paragraph 2 (1)(a) of the 10th Schedule of the Constitution.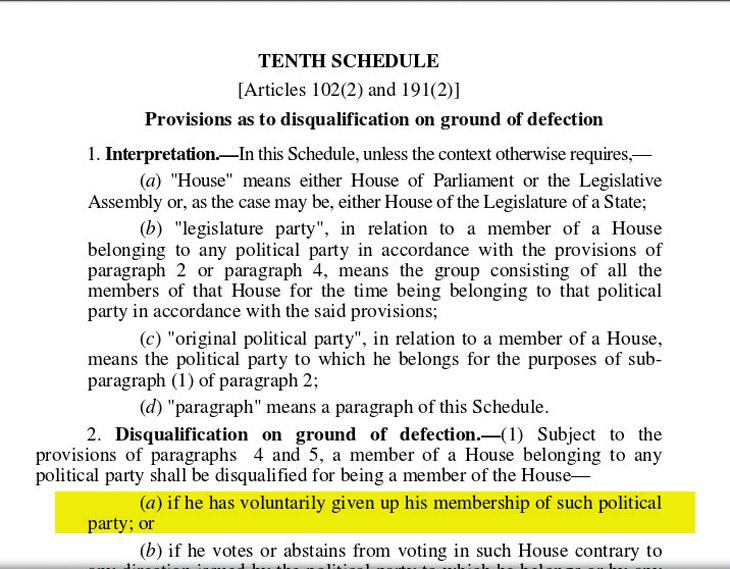 Responding to the announcement, Yadav said if he had been disqualified for speaking against "undemocratic style" of certain leaders, this will not deter him from fighting "to save democracy".
I am disqualified from Rajya Sabha as Mahagathbandan which was formed to defeat NDA in Bihar & after 18 months to break it & joining NDA to remain in power & if to speak against this undemocratic style is my fault I will continue to fight to save democracy.

— SHARAD YADAV (@SharadYadavMP) December 5, 2017
If I am disqualified from Rajya Sabha because I respect democratic values, follow d party constitution & respect d mandate given by 11 crore people of Bihar for Mahagathbandan then I will continue to do so not only for d people of Bihar but d country as a whole.

— SHARAD YADAV (@SharadYadavMP) December 5, 2017
JD(U) leaders welcomed the development, proclaiming that institutions are above individuals.
The disqualification of Sh. Sharad Yadav Ji and Sh Ali Anwar Ji frm Rajya Sabha only reiterates that institutions, including political parties, always tower over individuals...however tall the stature! Sharing dias in @laluprasadrjd's rally, he had anyway parted ways with JD(U).

— Sanjay Kumar Jha (@SanjayJhaBihar) December 5, 2017
From the Opposition, CPI (M) Secretary-General Sitaram Yechury was the only one who issued a statement, saying the development "casts a shadow".
Like Ceasar's wife, the Rajya Sabha Chairman's decisions must be above questioning. But
the disqualification of Rajya Sabha MPs Sharad Yadav and Ali Anwer casts a shadow.

— Sitaram Yechury (@SitaramYechury) December 5, 2017
He also pointed out that the speed at which the decision was taken showed that "political affiliation was the only thing that matters".
The petition was filed on September 2 and the decision is out on December 4. The speed is mind-boggling. Similar cases are pending in Lok Sabha for over a year. So political affiliation is the only thing that matters?

— Sitaram Yechury (@SitaramYechury) December 5, 2017
AAP's Nagendar Sharma was of a similar opinion.
Rajya Sabha chairman disqualifies Sharad Yadav and Ansari within three months of petition having been filed. Quick decision indeed !
But similar petitions against three MPs who defected to NDA from YSR Cong pending for over an year in Lok Sabha! Party affiliation matters ??

— Nagendar Sharma (@sharmanagendar) December 5, 2017
However, conspicuous by their absence were statements from the Congress and Lalu Prasad Yadav's Rashtriya Janata Dal (RJD). It was for attending RJD's rally that the JD (U) had petitioned Naidu against Sharad Yadav.
As for the Congress, the party had expressed full solidarity with the now disqualified leader in the days after his rebellion against JD(U) chief Nitish Kumar.
Yadav had refused to accept Kumar's decision to dump the Grand Alliance with Congress and RJD in Bihar and shake hands with the BJP. Kumar had resigned as CM, leading to the fall of the JD(U)-RJD-Congress government. He then accepted the BJP's support to become CM again.
Yadav and a few other JD(U) leaders close to him protested against this decision and organised seminars across the country, titled "Sanjhi Virasat Bachao". Yechury and other leaders of the Left parties attended these seminars, as did Congress Vice-president Rahul Gandhi, former Prime Minister Manmohan Singh and Leader of Opposition in Rajya Sabha Ghulam Nabi Azad.
Neither Gandhi nor Singh nor Azad have issued any statement so far.
This silence is surprising also because it appears to be on a weak footing. Sharad Yadav and his colleagues simply refused to toe the line that their party chief was asking them to. They protested and rallied to apply moral pressure on Nitish Kumar and his camp to reverse the decision, but did everything within the party-fold.
They never quit the party. If the party was unhappy with Yadav and other MPs in his camp, it should have expelled them for breach of discipline or anti-party conduct.
However, JD(U) took recourse to petition the Rajya Sabha Chairman to expel them from the House, because expulsion from the party would have allowed them to continue as MPs. The party, on the other hand, would have been poorer by at least two seats.
The Chairman ought to have exercised greater caution in handling the situation. By quickly deciding in favour of JD(U)'s request, Naidu has put the reputation of his chair as a bipartisan arbiter at stake. He has only validated the speculations that had arisen in September that Sharad Yadav's disqualification was imminent because it was part of the deal struck between BJP and JD(U) that made the two parties join hands to form the government in Bihar.
It is yet to be seen if Yadav will move court against his disqualification. If that indeed happens, that will be a case worth watching.