Why Congress is on the backfoot in strongman Ahmed Patel's home turf of Bharuch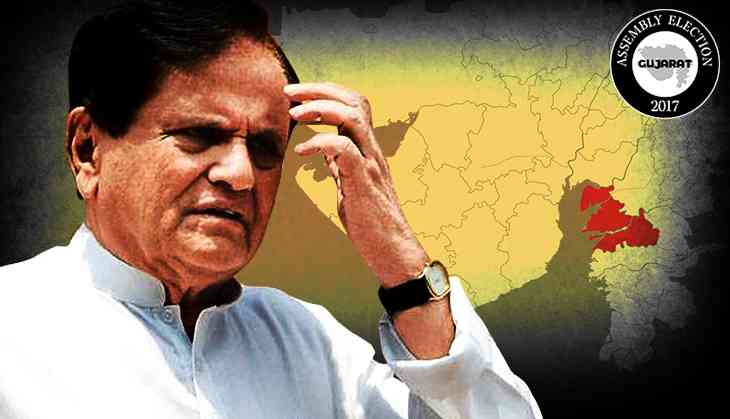 Ahmed Patel is one of the most powerful leaders in the Congress. But when it comes to his home turf of Bharuch in Gujarat, the leader and the party remain on the backfoot in the district.
Across the state, the Congress' energy was renewed when Ahmed Patel won his victory in the Rajya Sabha polls. But whether that can translate into wresting away seats from the BJP in the district remains to be seen.
More so, tribal strongman Chhotu Vasava, who voted from Patel as a JD(U) MLA and clinched the senior Congressman's victory, also fights from Bharuch from his constituency of Jhagadiya where he has been MLA six times in a row.
Bharuch's troubles
In all, there are five assembly constituents in Bharuch: Bharuch, Ankleshwar, Vagra, Jambusar and Jhagadiya. Of these, Jhagadiya is reserved for Scheduled Tribes and this was the only one in 2012 that did not go into BJP's kitty.
The most interesting aspect of the various constituencies in the district is that despite the caste and community equations being in favour of the Congress it has been the BJP that has had an upper hand. The communal narrative has often played a role in this district, particularly in the constituency of Bharuch. One can come across scores of locals who talk about links of former Mumbai dons Haji Mastan and Abu Salem to this area. The arrest of an accused in the Ahmedabad tiffin bomb blasts from the area also forms a part of the communal narrative.
This time, BJP and Congress have fielded Dushyant Patel and Jayesh Patel respectively. Dushyant Patel had won this seat last time with a margin of 37,190 votes. Other Backward Castes (OBC) voters dominate in this constituency with 54,000 voters followed by Muslims 39,000 votes, Kolis with 29,000 votes and Patels with 16,000 votes.
"This constituency has maintained a 'pro Hindu' character over the years. Prior to 1995, this was a city where communal riots and curfews were frequent. But things have remained under control since then and people attribute their peace and prosperity to this," says senior political analyst Harish Joshi.
He narrates a popular saying 'Bhargeyu bhargeyu toh e Bharuch' (despite being scarred, Bharuch has survived).
"Bharuch was an important port in the pre-independence era. It has a reputation of being looted by everyone whether it was Marathas, Mughals or the British. It is ironical that even today, despite being located on the banks of the Narmada, there is scarcity of potable water. Because of the Sardar Sarovar Dam, the flow to the estuary is less and it is saline water that enters during high tide. This has created the problem of salinity ingress," Joshi says.
The Hindu religious sentiment also plays out in this area as at least one lakh people undertake the Narmada parikrama every year and are usually left annoyed with the scarcity of water.
'Jobless growth'
Vagra again is a constituency with a minority voter base of over 59,000 and Scheduled Castes and Scheduled Tribes accounting for over 46,000 voters followed by Patels and Rajputs with over 25,000 votes.
This time around, Congress has fielded a local, Suleiman Patel, against Arunsinh Rana, a loyalist of BJP's national president Amit Shah who heads the Bharuch District Cooperative Bank having a turnover of over Rs 400 crore annually.
This constituency also encapsulates Dahej, an area that has been high on the BJP's development narrative of Gujarat. A recent 'Ro-Ro' ferry service was started to Ghogha in Bhavnagar from here on the eve of the announcement of the Model Code of Conduct for the polls.
Dahej has 96 industries employing around 40,000 people but this seen by many as 'jobless growth' as unemployment of the locals is a major issue.
The farmers too are unhappy over the zoning done by the state government for developing the much-hyped Petro-Chemical and Petroleum Investment Region (PCPIR) Authority. The zoning restricts rights of local land owners to sell their land other than to farmers or specific industrial buyers thus restricting their market. Last time the BJP had won this seat with a margin of 12,000 votes.
The communal nature of Bharuch
In the area, the communal bent of the narrative isn't exactly new. Recently, a Muslim Congress leader had gone viral in which he had asked his community members to "work hard for few days and then we shall rule and teach 'them' a lesson in the coming five years."
Ankleshwar has been represented by Ishwarsinh Patel of BJP for the last four terms, who is also the vice-chairman of Gujarat Sugar Federation. The Congress has vacated this seat for Bharatiya Tribal Party (BTP) candidate Anil Bhagat, who is a close confidante of tribal leader Chhotu Vasava.
Bhagat is contesting on a Congress symbol. Unemployment remains a key concern here despite housing one of the largest industrial estates of Ankleshwar-Panoli. This estate has 1,200 industries of which 900 are operational.
"Environmental pollution is also a key issue in the constituency that is the home of Congress stalwart Ahmed Patel. The Congress was never strong here and has gifted the seat to Chhotu to make him happy," pointed out a social activist Naresh Pujara.
In Jhagadiya, Chhotu is fighting to get elected for a seventh term. But Jhagadiya is the seat that the BJP wants the most as it was Chhotu's vote that had ensured Ahmed Patel's victory by one vote in the Rajya Sabha polls held in July. The party has fielded Chhotu's one time lieutenant Ravji Vasava on its ticket. It has also got its ally Janata Dal (United) to field Chhotu's namesake on its symbol to confuse the illiterate voters as Chhotu had won the last polls on a JD (U) symbol.
The Jambusar seat is the best bet for the Congress as it is where the party candidate Sanjay Solanki is contesting against BJP's Chhatrasinh Mori. Things might become difficult for the BJP candidate because of last-minute entry of former BJP minister Khumansinh Vasiya as an independent. Solanki's grandfather Magan Solanki had been a minister in 1970s. Mori is contesting this seat for the fourth consecutive term. He managed to get the party ticket this time despite resentment from within his own party.
Observers say that Ahmed Patel has not developed a second rung of leadership of the party here because of which the Congress remains on the backfoot here.
"By entering the top echelons of the Congress, he has got disconnected with the masses. A local resident would obviously not call up Ahmed Patel for a small civic issue. His situation is paradoxical. The locals respect him a lot for a number of personal favours. But call it the Congress culture or his own independent nature, he has never tried to use this personal goodwill politically," says a senior political analyst.