Who cares about Modi's model village scheme? Not even his ministers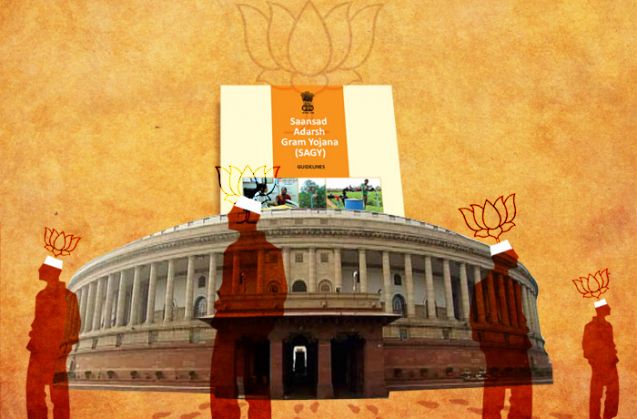 Model village
Modi started the Adarsh Gram Yojana with fanfare
But the scheme hasn\'t gone anywhere
Resistant MPs
Each MP was supposed to develop a village by 2016
Many, including BJP MPs, have shown reluctance about the scheme
More in the story
Why are MPs not interested?
What will happen to the 2nd phase of the scheme?
On 11 October, 2014 Prime Minister Narendra Modi launched the Adarsh Gram Yojana with much pomp. Symbolically, the inauguration was on socialist icon Jai Prakash Narayan's birth anniversary.
However, there seems to be little change in the fortune of villages selected under the first phase of the scheme. Even Modi's own ministers and several BJP parliamentarians have apparently distanced themselves.
Read: In Narendra Modi's model village, development has a caste
The idea behind the initiative was to change the face of around 2,500 villages across India by 2019. Each of the 793 parliamentarians were asked to take the responsibility of a village in their respective constituencies. They were supposed to personally monitor the process in their adopted village and turn it into a model of development by 2016.
Modi's move was hailed as 68.84% of India's population lives in 6,38,365 villages, half of which lack roads and around 11% don't have drinking water facilities.
In the second phase of the scheme, starting 2017, MPs were to adopt two more villages. But now there are serious doubts whether the government will be able to launch another phase.
Work undertaken in the first phase is way behind schedule in most villages. Most parliamentarians are trying to fulfil their target and none have adopted a second village yet.
Cold response
The first phase of the scheme is far from being a success. More than 50 members of the Lok Sabha and 57 of the Rajya Sabha have shown no interest in developing their adopted villages.
In West Bengal, particularly, the scheme has been a damp squib. As many as 38 MPs from the state have not even bothered to adopt a village though there have been exceptions such as Trinamool Congress's Sultan Ahmed and Bijoy Chandra Barman.
Some illustrious leaders of the ruling Bharatiya Janata Party (BJP) have also been been lackadaisical towards the scheme. Case in point: Defence Minister Manohar Parrikar and senior party leader Tarun Vijay. Both are yet to chose a village despite repeated reminders by the Rural Development Ministry.
Also read: All you need to know about PM Modi's three gold related schemes
For the second phase, more than 90% BJP MPs are yet to choose a village, though the deadline went past last month. According to sources, they feel the scheme pays no political dividend. Also, there are other practical reasons for the cold response.
"We face a lot of difficulties. There is no separate fund for the scheme, forcing us to divert funds from other places to meet targets. This causes discontent among people," a BJP MP, who did not wish to be named, said.
The apathy prompted Rural Development Minister Birender Singh to write twice to MPs to name their adopted villages for the second phase. Only 28 Lok Sabha members and seven from the Rajya Sabha have responded.
A Cabinet minister summed up the MPs' dilemma: "It is proving impossible to meet the expectations of people in the adopted villages. Diverting funds for the model village makes it difficult for us to face people from other villages. They complain that though they all have elected us, only one village is getting preference."
Many fear that they will have to face the consequence of this resentment during the next elections. Several feel that Modi needs to better understand the complications involved.
Unhappy PMO
Sources reveal the Prime Ministers' Office (PMO) is upset at the implementation of the Adarsh Gram Yojana. Though the rural development ministry is the nodal agency for the scheme, it is directly monitored by the PMO.
Read more- Swachh Bharat: why Modi's toilet trouble won't end anytime soon
A review report prepared by PMO officials noted that most MPs did not visit their adopted village more than once in the past year. The report admitted that most model villages have not undergone the development expected.
Most have failed to meet the benchmark in development of basic infrastructure such as roads, electricity, water, schools, hospitals, libraries and community centers. They also lagged in parameters such as e-governance, e-literacy, time-bound public service and environmental-friendly development.
The Model village fact file
Adarsh Gram Yojana was launched on 11 October - birth anniversary of socialist icon Jai Prakash Narayan - in 2014
The scheme: every member of Parliament to turn one village into a model of development until 2016
PM Narendra Modi wanted to develop 800 villages in the the first phase
The aims is to transform around 2,500 villages by 2019
There are 793 parliamentarians in India: 543 in Lok Sabha; 250 in Rajya Sabha
50% villages lack access to roads
Another 11% don't have drinking water facilities
There are approximately 6,38,365 villages in India
68.84% of India's population resides in villages
More in Catch: