'Who all did you inform about demonetisation before hand?' Kejriwal asks Modi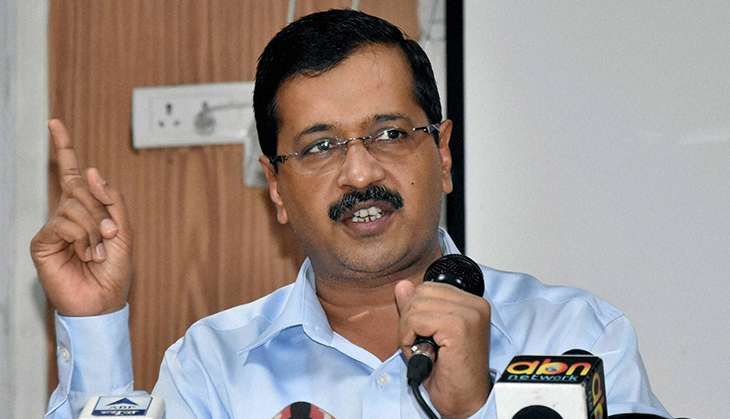 The Aam Aadmi Party was conspicuously silent the day after Prime Minister Narendra Modi's announcement of the sudden demonetisation.
Late to the party
AAP came out with its first comments only by late evening, nearly 24 hours after the announcement. Its leader and Delhi Chief Minister Arvind Kejriwal's strong comments that came on 12 November have partly made up for that initial delay.
The 9 November response was on expected lines, denouncing the measures as a "Tughlaqi Farmaan that will only cause inconvenience to the common man", instead of unearthing black money.
Also read - Demonetisation: Tax raids, low cash flow hurts small traders for 3rd day
But by then, others in the opposition had already taken the lead. Congress spokesperson Manish Tiwari had become the first to make the Tughlaq reference, on Twitter, and West Bengal CM Mamata Banerjee had slammed it as a draconian decision.
The question on everybody's mind was: where is the man who built his party and political career on the issues of black money and corruption - Arvind Kejriwal?
The AAP chief clearly avoided a quick response and waited for the entire day to watch the fallout of the move and how public opinion was shaping up. But his strong response today has partly compensated for the delay.
Spurt in bank deposits proves this is a scam
In a strongly worded attack on the BJP and the Union government, Kejriwal unequivocally asserted that the demonetisation exercise was a scam.
Although he did not present any new evidence of his own that would irrefutably prove his allegation, he lashed out against the move convincingly using analysis of reports already available.
He referred to a CNBC TV18 report that has pointed out that there was a smart jump in deposits growth of several banks in July to September quarter. Kejriwal endorsed the question that the report had raised whether some people perhaps knew about demonetisation and were already pushing in hoarded cash into the banking systems.
He then talked about a photograph put up on Twitter by Sanjeev Kamboj, who identifies himself as state co-convener of BJP's legal affairs department in Punjab. In the tweet dated 6 November, Kamboj had posted images of the yet-to-be-relased Rs 2,000 note.
Reserve Bank #RBI to issue Rs 2000 currency note in India soon pic.twitter.com/sTOMR5Um6I

— Sanjeev Kamboj (@kambojOffice) November 6, 2016
Kejriwal asked how is it that a BJP office bearer knew of this even before the prime minister announced about it two days later. All of this, Kejriwal alleged, proved only one thing that the PM alerted his party and all his friends of the impending demonetisation beforehand. He added that some will say that the spurt in bank deposits could have been because of the income disclosure scheme.
However, he sought to clarify that money thus declared would have gone directly to the government's treasury and not bank deposits.
Merely redistribution of black money
The Delhi CM declared that the entire exercise will lead to only redistribution of black money where unaccounted wealth will only change hands, instead of coming into the system. He pointed out that people are buying gold and dollars in huge amounts as well as property and their prices had doubled in the black market.
He also alleged that announcement of the Rs 2.5 lakh cap on deposits beyond the scope of probe by Income Tax officials was a signal to all cash-hoarders not to disclose their money. In fact, this crisis has been deliberately created so that people rush to touts.
Kejriwal also hit out at the misplaced notion behind the measure that it was an action against black money. He asked the PM and BJP who did they think were the black money holders, those with Rs 2.5 lakh or those with Rs 2,500 crore?
"Who has black money- Adani, Ambani, Sharad Pawar, Badals, Subhash Chandra Or housewife, grocery shop, labourer, farmer", he asked. He went on to ask the PM to declare the names of all those who were informed beforehand and all those who were earning commission by accepting the demonetised notes.
Mismanagement, lack of planning
Kejriwal also aired concerns over reports that the new currency notes were incompatible with old ATMs, indicating the bad planning behind the move. Referring to the long daily queues outside bank branches and ATMs, he asked was it fair that the average citizen was forced to spend time in queues instead of making a living and taking care of family.
He cautioned that all this will make people lose their faith in the system and that will be a dangerous scenario. He said the salt-shortage rumour was an evidence of this loss of faith in the system. Cautioning that demonetisation will wreck the economy, Kejriwal demanded that it should be rolled back.
Kejriwal's response came late but has made an impact. Finance Minister Arun Jaitley responded to the argument about spurt in bank deposits soon after the AAP chief's press briefing. Jaitley said it was only a marginal hike only in September and its reason was the release of 7th Pay Commission's salary arrears.
Marginal hike in bank deposits was only for September 2016, reason being the release of Pay Commission's salary arrears: Arun Jaitley

— ANI (@ANI_news) November 12, 2016
The doubts still remain. It has already been reported that a bank account of BJP in Kolkata saw deposit of Rs 1,000 notes worth Rs 3 crore before the PM's fateful announcement on 8 November.
AAP has now hit the streets in Delhi, with Kejriwal and other top leaders visiting public places and meeting harassed average citizens and small traders. A new agitation could be on the anvil.
Edited by Aleesha Matharu
More in Catch - Rahul Gandhi casually visits an SBI branch, while citizens click Rs 2,000 note selfies
Gujarat's old bag of tricks to turn black money into white comes into play