Weapons on Ram Navami: police files non-bailable case against Bengal BJP chief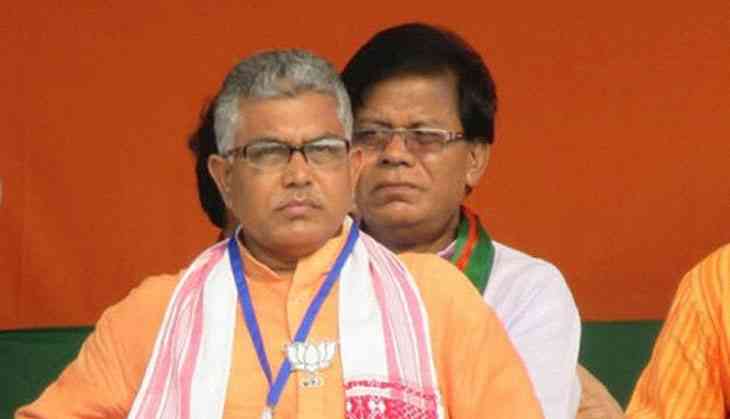 On Wednesday, 5 April, children were observed carrying sharp-edged weapons at a Ram Navami procession in Kharagpur. Present at the occasion was West Bengal BJP president Dilip Ghosh.
A day later, the police has filed a case against Ghosh. What's more, the case has been filed under a non-bailable section of the Arms Act.
Moreover, the police has also slapped suo motu cases against organisers of processions at Entally, Posta and Bhowanipore in Kolkata. They were reportedly carrying weapons more than nine inches long.
Anuj Sharma, ADG law and order, confirmed: "We have filed a case against Ghosh based on the complaint of a person at Kharagpur town, and he has been booked under Arms Act, 1962, for carrying weapons above nine inches (in length) during the procession of Ram Navami."
According to the Arms Act, 1962 if anybody takes part in a rally with a weapon longer than nine inches, he/she is punishable with imprisonment between three and 10 years.
Supratim Sarkar, Joint Commissioner of the Kolkata Police, said: "We have slapped cases under the Arms Act, 1962, against the organisers of the rallies, because people who participated in the processions came out with sharp-edged weapons, especially at Posta, Entally and Bhowanipore."
Sources in the state police said that the processions that were carried out on Wednesday were aimed mainly at "showcasing and spreading the ideological foundations of a particular party", rather than being a religious procession.
On Thursday, Chief Minister Mamata Banerjee said her administration did "not support religious polarisation, and strict action will be taken against those who brandished sharp-edged weapons during Ram Navami celebration."
BJP's defence
Responding to the cases, BJP's national secretary and senior Bengal leader Rahul Sinha said: "Children were carrying toy weapons in their hands. They were not real weapons."
On his part, Ghosh said: "The law will take its own course. I am not afraid that a complaint has been lodged against me."
But, in what seemed to be an attempt to give the development a political and communal colour, he added: "I have seen how Trinamool Congress supporters had taken guns in their hands during the Muharram procession. The chairman of the Kharagpur municipality (Pradip Sarkar of the Trinamool Congress) had also participated in the (Ram Navami) procession along with me, so the police should also file a case against him."