"Don't get so hyper on this anti-national business": Ex-RAW chief AS Dulat on JNU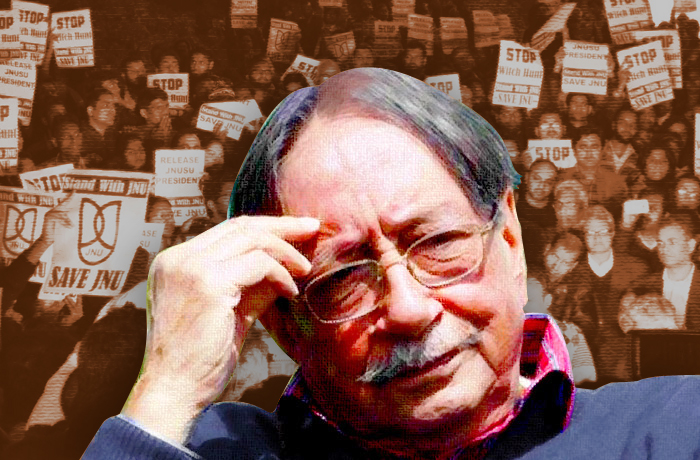 Delhi's Jawaharlal Nehru University (JNU) seems to have divided public opinion down the middle. While #CleanUpJNU trends top on Twitter, an aggregation of liberal voices have also highlighted the high-handedness of the police and criticised the way the university administration handled the situation.
It all started on 9 January when a group of students held a protest meet against the hanging of Afzal Guru. Allegedly, some of those present there raised anti-India slogans, but they couldn't be identified. Soon, the matter snowballed out of the campus and Union Home Minister called for sedition charges being levelled against students.
Read- Prakash Karat: "Police action in JNU is a planned move by RSS & BJP"
Eventually, JNU Student's Union President Kanhaiya Kumar was arrested by the police, drawing a lot of flak on the varsity administration, Delhi Police as well as the Centre.
Catch spoke to AS Dulat, a former director of the Intelligence Bureau as well as a former chief of the Research and Analytical Wing, on whether JNU is really anti-national.
Here are excerpts from the interview:
How do you respond to what's happening in JNU?
It's very unfortunate. The whole issue has become so politicised. This is not good for the university. Very simply, so many big dads shouldn't get into the act. If some student did something offensive, go ahead and haul him up, but let the university take action. It has enough disciplinary powers.
While some of the slogans shouted were indeed offensive, how do you respond to Rajnath Singh and Smriti Irani's statements that "Mother India has been insulted and this cannot be tolerated"?
I think our country is very big and large-hearted. It can absorb a lot. We value plurality as a core value and freedom to dissent is a part of that. One has to evaluate the significance of the provocation. Is there a real threat? Responses should be proportionate, not go overboard.
Of course, freedom does not mean complete license. As I said, if some students have crossed the line, they can be suspended or thrown out. But bringing the police into universities is not good. Slapping sedition charges also seems excessive.
Delhi sees itself as supreme India that can't be challenged. But the view from the states is different
As for 'Mother India', this country is much bigger than what most people seem to understand. They have her as Durga riding a tiger; well, then she can't be injured so easily.
It all depends on how you look at it. We are a great country. We exist as a nation despite our tremendous diversity. That is our strength. India is the most liberal and free democracy in the world. We should be proud of that.
I'm a bit nutty so people might see what I am saying as an extension of that. But my own feeling is we don't need to be so hyper about this whole 'anti-national' business. Nationalism and patriotism are things that run deeper than this.
Also read- BJP is acting like a Parivar. It'll have a chilling effect on campuses: Mukul Kesavan
You have been involved in the affairs of Kashmir for a long time. There are student protests to mark Afzal Guru's death every year in some campuses. Do you see this as an alarming sign for India as a nation state?
No, there is no great sentiment around this. In 2014, soon after Afzal Guru was hung, there was a large voter turnout both in the Assembly and general election. The Valley was fine.
Afzal Guru has just become a symbol of Kashmiri frustration. The date of his hanging being so close to the date Maqbool Bhatt was hung decades earlier was a bad coincidence.
Responses from authorities should be proportionate, not overboard
But, overall, things are in a better place. The media gets very excited about all this talk of ISIS, but there is no ISIS in Kashmir. The Kashmiris are not anti-national. All this waving of green flags and black flags is just a sign of Kashmiri frustration and anger with India. It is not a real expression of a desire to merge with Pakistan or join the ISIS jihad. They are not pro-Pakistani.
As Nandita Haksar, who got SAR Geelani out of jail and defended Guru in court, says: India should focus on reviving and revving up the idea of 'Kashmiriyat'. If we are able to do that, Pakistan would become irrelevant.
If it had been left to you, in what framework would you have interpreted these protests?
Some of the slogans that were shouted are definitely disturbing. If they were shouted by students, I've already said it should be left to the university to take disciplinary action. If it was shouted by outsiders, then the police can take whatever action they want.
As for negative sentiments about the Indian state, one has to understand that in a country as large as India, there will always be a certain degree of parochialism.
I was at a literature festival in Chennai recently and spoke a couple of lines in Hindi. And N Ram, the editor of Hindu, immediately told me to stop and reminded me not everyone in the country speaks Hindi.
It's very unfortunate. The whole issue has become so politicised. This is not good for the university
In Delhi, that could be deemed anti-national. It sees itself as the supreme India that can never be challenged. But the view from the states is very different. Bengal, Assam, Odisha - they all have different ideas of India, and identify and criticise different aspects of it.
What binds us together is our plurality.
Edited by Joyjeet Das
More in Catch:
It's tragic that a law the British used to silence us is being used to silence ourselves: Antara Dev Sen
Battle Field Punjab: how the state's farmers are suddenly being wooed
Heart Attack: inside the crazy, colossal $19 billion Valentine's Day industry
#Justice4Babli: the unofficial spokesperson for goats in India speaks out