Watch this space: After Jio, Paytm, controversial Islamic business group issues ad with Modi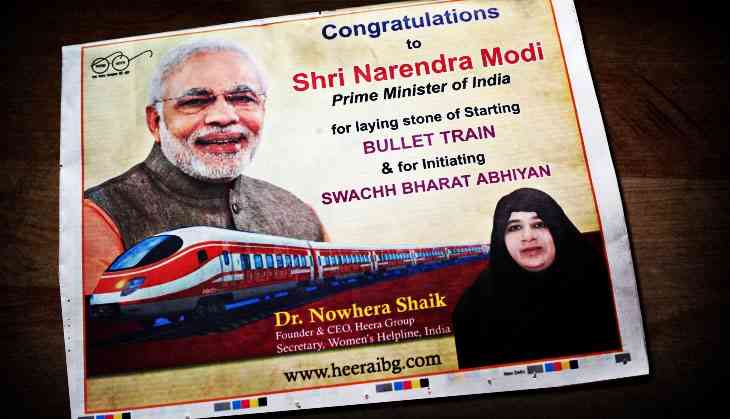 Prime Minister Narendra Modi appears to be developing a strange reputation for unknowingly inspiring unsolicited advertisements featuring him. Less than a year after the publication of ads by Reliance Jio and Paytm featuring his photograph, a similar ad has surfaced. However, this time the advertiser in question is not a company, but an individual.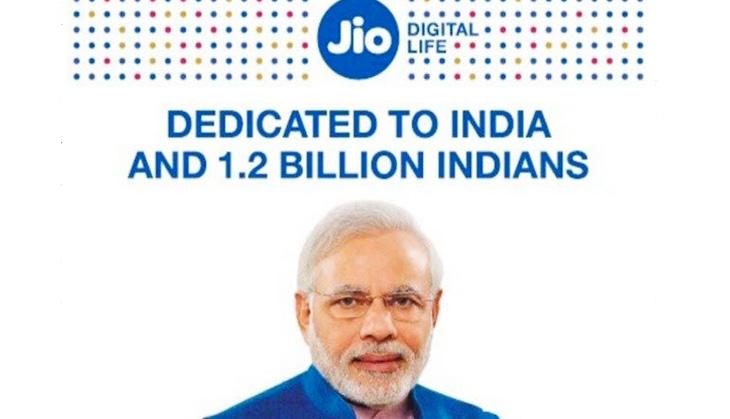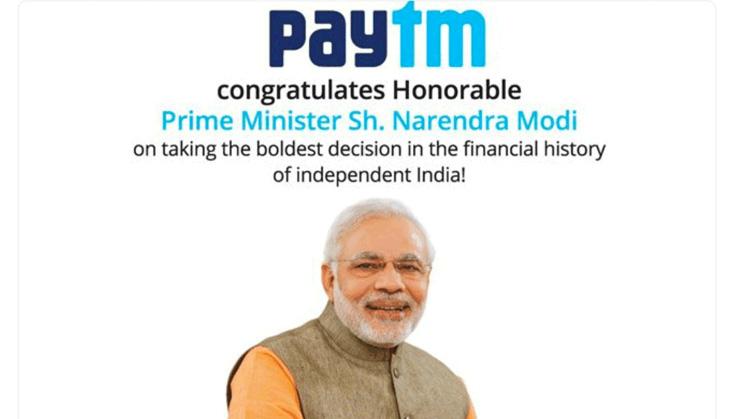 Readers of some leading dailies woke up on 20 September to their newspaper carrying a half-page display advertisement with Modi's face adorning it prominently. The message on the advertisement read: "Congratulations to Shri Narendra Modi, Prime Minister of India, for laying stone of Starting BULLET TRAIN & for initiating SWACHH BHARAT ABHIYAN."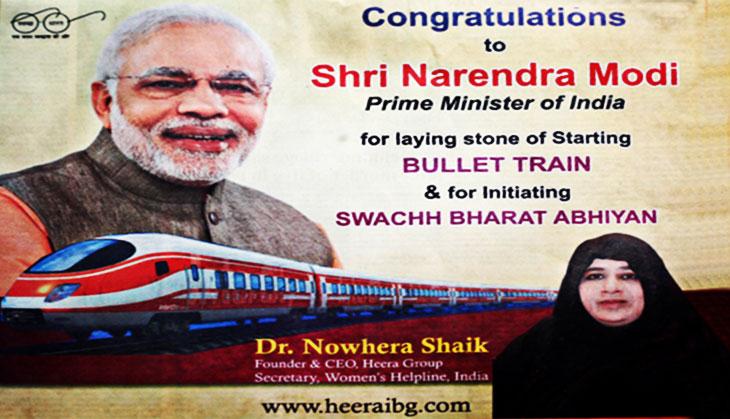 Newspaper ad
Below the message, on the right hand side, is the image of the issuer of the advertisement, Dr Nowhera Shaik. Shaik identifies herself as Founder and CEO of Heera Group and Secretary, Women's Helpline, India.
The advertisement also features an image of a Chinese bullet train and the Swachh Bharat programme's insignia on the top left.
By the first look, you could be forgiven to believe that it is a government advertisement. However, Shaik has been honest enough to mention the name of her group, making it clear that this is a private advertisement that is using the PM's face.
So, who is Nowhera Shaik and what is this Heera Group all about?
Its website, https://www.heeraibg.com/, identifies the Heera Group as a Hyderabad-based "Fortune Global Company with business in the commodity as well as educational chain". It claims to be "a pioneer in gold trading business", with branches all over India, UAE, China, Africa and Canada. It also claims to be running 19 companies in multiple sectors like gold trading, "textiles, jewellery, mineral water, granite, tours & travels, real estate, electronics, Hajj & Umrah services and so on".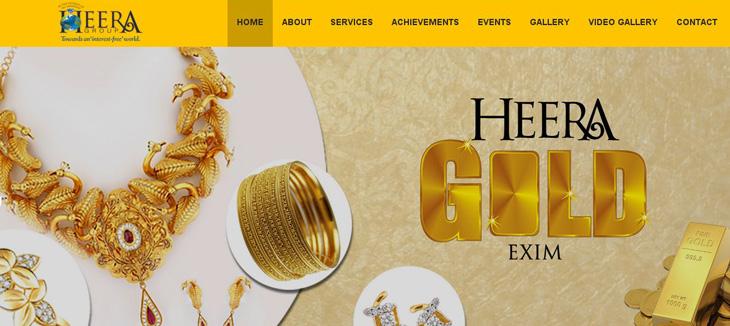 According to filings with the Ministry of Corporate Affairs, Shaik is listed as a director with as many as 14 companies.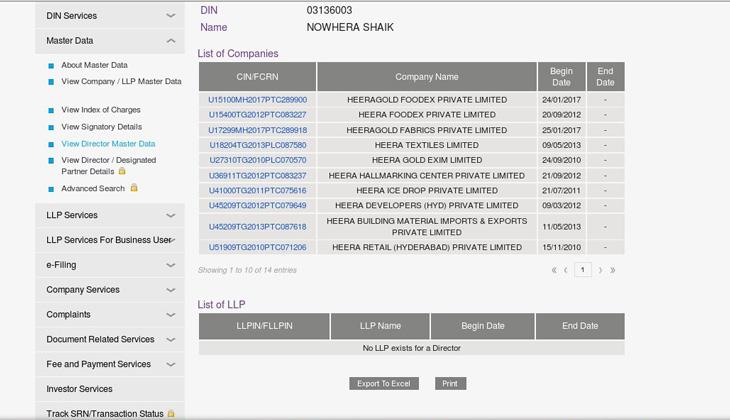 However, it appears that Shaik and her firm have been in the news for all the wrong reasons for at least the last five years.
She hit headlines in 2012 when Hyderabad MP Asaduddin Owaisi lodged a complaint against her for allegedly cheating a large number of investors. Owaisi claimed in his complaint that Shaik's businesses were mere "castles in the air", and that she had cheated several investors.
Shaik claimed that the case was eventually closed because no evidence was found to support the allegations against her. However, the case is reportedly still under investigation, according to a probe done by the website The Ken.
Interestingly, Heera Group comes up in a complaint posted on the consumer complaints forum website www.consumercomplaints.in.
The post claims that Heera Gold and Heera Export ran away with investments and there is no response on the contact numbers and the email addresses provided by the company.
In 2013, Shaik courted controversy over allegations of irregularities in the construction of an Islamic University on the outskirts of Tirupati, which identified her as its Chairperson.
In May 2014, Hyderabad Police named her as prime accused in a hawala case, in which cash worth Rs 84.75 lakh was seized from six men who were arrested. Two of them, Shaik Mohammed Ashraf and P Reddy Kumar, were identified as employees of Heera Group.
Subsequently, the Enforcement Directorate also registered a case of FEMA violation against the group and conducted searches at its offices.
Shaik runs a YouTube channel that she uses for publicising the activities of her business group as well as for airing her views on subjects like triple talaq and the several cases against her. The channel has a little over 13,000 followers and a large number of videos.
The Ken's detailed report on her also said that one of her offices had displayed a photograph of her with Foreign Minister Sushma Swaraj, which the website claimed to be photo-shopped. The report also mentions that none of the Heera Group companies are authorised to solicit public funds, and that Heera Gold Exports & Imports is not registered with Sebi and it appears to be lacking the license to pursue most of the businesses that it claims to be in.
It is not clear what Shaik intends to achieve by putting out advertisements featuring the PM in national dailies. The last time other companies did it, they were forced to apologise after the government served them a notice.
Will the government take note this time as well?
Edited by Jhinuk Sen