Village evacuations put Akali-BJP combine on the back foot in Punjab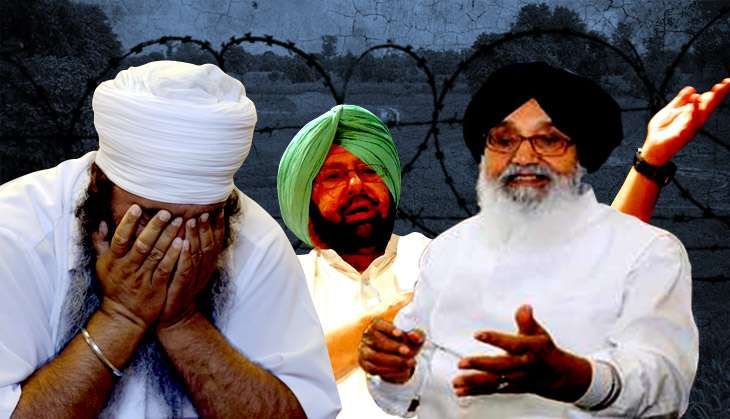 In the aftermath of the surgical attacks by India, the evacuation of villages 10 km inside the International Border (IB) in Punjab may have been ordered on account of security concerns. But, the move has been politically counter productive for the Parkash Singh Badal-led Shiromani Akali Dal (SAD)-BJP combine government in the state that is heading for an assembly poll in a few months.
On one hand, the government has agitated farmers to contend with as they are more concerned about their crops that are maturing for harvest. On the other, the opposition parties, Congress and Aam Aadmi Party (AAP), have started launching blistering attacks questioning the motive behind ordering the evacuation from border villages.
Observers say that in the past whenever there was a build up of tension along the IB, the political parties just fell in line supporting the government decisions to boost the morale of the forces.
This was visible on the day when India carried out surgical strikes across the Line of Control (LoC) and Punjab government ordered the evacuations.
But since then, the scenario reversed as the parties started questioning the motives of the government once they saw that the evacuation had only been ordered in only Punjab whereas other states too share long borders with Pakistan.
Readying the ranks
Parkash Singh Badal too has gone on the defensive over the last three days. He has started touring the border villages assuring villagers that they can carry out harvesting crops on one side and on the other work on raising the pitch for more recruitments, from the state, in the defence forces.
It has been the Punjab Congress president, Captain Amarinder Singh, who has been carrying out most scathing attacks both on Badal as well as the Narendra Modi-led central government for drumming up war hysteria.
Mincing no words, he has said that the BJP-led NDA government at the Centre is creating unnecessary war hysteria and tension along Punjab borders with an eye on Uttar Pradesh elections.
He has appealed to the villagers not to leave telling them he will soon be joining them to stay put in their respective homes.
Pointing that there are no signs of war, as of now that would necessitate their relocation or evacuation to safer areas,Amarinder said, "Punjabis are known for valour, courage and bravery and they will love to fight alongside their army rather than runaway - which the BJP is trying to make them do - and which they will never do. They have the courage and confidence to guard and protect others risking their own lives."
"Our army is staying in peace time zones and our villages are being uprooted," he said while adding that Punjabis are being made scapegoats for the Uttar Pradesh polls as BJP has been unable to establish any foothold there so far.
Justifying his opposition to evacuation he said there has been no movement of the army across the border. "When there are not even remote signs of war why to uproot poor farmers and that too at a time when their crops are ready for harvest?" he asked.
He has also raised the issue of evacuation directions coming from the Home Ministry and not the Defence Ministry. He said Badal should have taken a stand against evacuation which is totally uncalled for, pointing out that there was no mass evacuation in 1965 or 2002 during Operation Parakram.
Even former Congress leader Jagmeet Brar, who is now heading Pehlan Punjab Lok Hit Abhiyan has come out saying, "People are confused and scared. I saw thousands of trolleys and small trucks piled with belongings heading to camps where there is little arrangement and no information. This is leading to panic and fear among locals."
The head of AAP's ex-servicemen wing Captain Bikramjeet Singh Pahuwindia handed over a memorandum to Badal on Sunday sharing his concern about the displaced people.
Retaliation
The Akalis have not taken Amarinder's barbs lying low saying that his statement is aimed at creating mistrust between the Indian Army and the people of the country in general, and Punjab in particular.
SAD general secretary Dr Daljit Singh Cheema said that Amarinder should immediately apologise and withdraw his statement that is totally baseless, false, devoid of merit and is aimed at playing petty politics over a highly sensitive issue of national security.
Cheema said, "As a former officer of the Indian Army one expects that leaders like Amarinder will advise the people of the border state to cooperate with the army as well as Border Security Force (BSF) and follow their directions. But it is unfortunate that despite understanding the gravity of the situation he has gone too low to create suspicion among the minds of people in the matter of directions given by the home ministry of India."
Countering it
The Congress leaders have hit back at Cheema asking him to learn his lessons in defence and soldiering before trying to lecture others. Senior MLAs Rana Gurmeet Singh Sodhi, Sukhjinder Singh Randhawa, Tript Rajinder Singh Bajwa, Aruna Chaudhry, Sukh Sarkaria and Parminder Singh Pinky have reminded Cheema that Badal had to face the public wrath in the border villages as the people did not want to move out. "Better ask your leader as how he was treated by the angry villagers in several villages," they advised Cheema.
They added that Badal is gladly following BJP diktats deliberately as he desperately needed an excuse to wriggle out of the problem of procurement as he has no money to pay to the paddy growers.
"But your bluff has already been called and you stand exposed in public as for what purpose you are forcing poor villagers to leave their home and hearth," they said.
Ground reality?
Badal, on the other hand, has started reaching out to the villagers amid reports of their refusal to move out of their homes and shoddy arrangements for evacuation.
Having assured the farmers that they would be allowed to harvest their ripe crop, he has now come out with an announcement saying that special officers will be deputed for ensuring prompt and hassle free procurement and lifting of paddy from the region.
During his visit to border villages in Taran Taran and Amritsar along with is cabinet minister Bikram Majithia, he said that keeping in view the escalating tension at the border the state government is duty-bound to lift each and every single grain of the farmers.
He has also asked the central government to start a special recruitment drive for enabling the youth of border areas to join Indian Army and paramilitary forces. He said the youth of this region were blessed by the indomitable spirit of courage and self-sacrifice, so efforts must be made to channelise this energy for the country. Badal said that he will soon raise this issue with the Union government and seek its early resolution.
He also disclosed that his government would also approach the Defence Ministry for widening the bridges on defence drains in the region to facilitate the people and avoid any sort of untoward incident, adding that the Centre has also allowed the farmers having their land across the fence to reap and lift their crops.
Edited by Jhinuk Sen
Also read: Punjab farmers suffer: Was evacuation of border villages avoidable?
Also read: Border tension: Nobody to evacuate on land, Gujarat remains vulnerable from the sea