UP polls: Development takes a backseat, the game's all about caste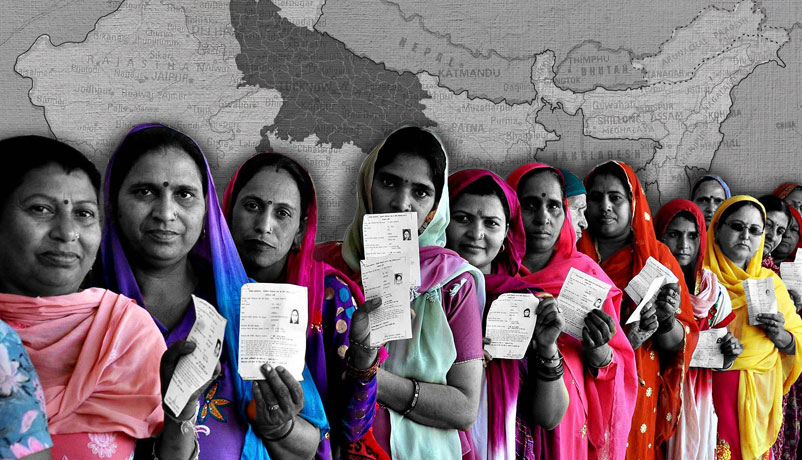 The 2017 Assembly election in Uttar Pradesh is becoming a carnival of castes. Every party is trying to strengthen its core vote bank as well as bring subsidiary caste groups into its fold.
People have already begun remarking, "Upar se vikas par, niche se jaat par muhar lagega (It may seem that people are voting for development, but actually they're voting for caste).
It is the reality of Indian politics that the popularity of political parties rests on caste mobilisation. Parties may claim to stand for values of justice, democracy and modernisation but the truth remains that they are deeply rooted in their own caste bases. Parties which lost their caste base were weakened and those that preserved it remained in the reckoning. This is true of regional as well as national parties. It is as true in West and South India as it is in the Hindi heartland.
Also read: Controversial Smriti, firebrand Yogi or motormouth Mahesh. Who'll be BJP's face in UP?
As UP gears up for elections, parties are working overtime to arrive at an unbeatable caste combination. Though it is highly possible that in the long run, communal polarisation may mess up the caste equations, this is not reflected in the present efforts of political parties. Here's what the major parties are up to.
All the 3 major parties - SP, BJP and BSP - are targeting Upper Caste votes in a big way
Samajwadi Party
Also read: Mayawati moves in, launches into battle mode for UP 2017
Core vote bank: Yadavs and Muslims
Targets: Most Backward Castes (MBCs), Upper Castes
Tactics
Reiterated its stand on the inclusion of the 17 MBCs in the list of Scheduled Castes
SP chief Mulayam Singh Yadav has assigned mining minister Gayatri Prasad Prajapati the task of conducting the "Samajik Nyaya Adhikar Rath Yatra". The Yatra aims to propagate the party's efforts to enlist the 17 most backward castes in the SC category.

The party has demanded that Dalit Muslims and Dalit Christians be included in the SC list.

Mulayam has promised to constitute an Upper Caste Commission.
BSP
Core vote bank: Dalits and some Muslims
Targets: Upper Castes, expanding support among Muslims
Also read: Amit Shah's CM conundrum in Uttar Pradesh
Tactics
It is holding grassroot level meetings with the Dalits and Muslims to create a strong bond between the 2 communities.
BSP leader Munqad Ali is trying to strengthen the party's organisation at the polling booth level.

Bhaichara (brotherhood) committees are being formed to bring together people of different communities.

BSP supremo Mayawati has more faith in caste alliances than political alliances. Therefore BSP is also trying to win back its savarn (Upper Caste) vote.

Mayawati is organising jan sammelans to invoke caste identity and self respect of the masses.
BJP
Core vote bank: Upper Castes, urban middle class
Targets: Dalits and OBCs
Tactics
BJP president Amit Shah is trying hard to shun the party's "urban" image.
BJP fielded Dalit leader Laxman Acharya in the recent MLC elections in UP.

Prime Minister Narendra Modi has been invoking BR Ambedkar in his formal as well as informal public addresses.

BJP has inducted former DGP of UP Brij Lal, a Dalit, into its ranks. Brij Lal had earned the sobriquet of 'super cop' much like another lateral entrant into the BJP, Kiran Bedi.

The party is going to launch 8 rath yatras starting from Ambedkar's birth place, passing throughthe place where he embraced Buddhism, his karm sthali (work place) Baroda, Mumbai, finally culminating in Delhi.

BJP is also wooing OBCs, by propagating Modi's OBC credentials and his "chaiwala" image.

There is speculation that Amit Shah is also trying to get Anupriya Patel's Apna Dal to merge with the BJP. Apna Dal's core base is the Kurmi community.
Edited by Aditya Menon
Also read: BJP loses UP civic polls including Modi's Varanasi