UN report: PM Modi's housing scheme short-term, law for 'right to housing' needed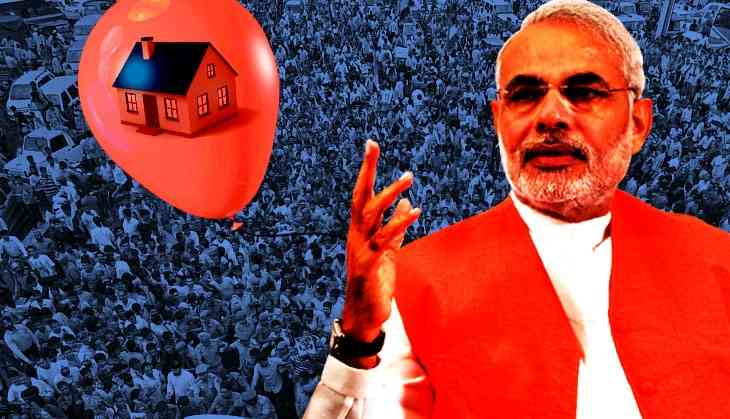 Successive governments have recognised the housing crisis in India but have done very little to address it, a United Nations study has concluded.
The report strongly recommends the enactment of a national legislation "with explicit recognition of the right to adequate housing without discrimination on any ground".
The United Nations' Special Rapporteur on adequate housing has said that over 58.6 million households in the country lack access to adequate housing and the problem needs a long-term plan.
It has been especially highlighted that the schedule castes and schedule tribes, homeless people, Muslims and manual scavengers comprise the worst hit among those who lack access to housing.
The UN report
The Rapporteur, Leilani Farha, visited India in April 2016, at the invitation of the union government. Farha toured New Delhi, Mumbai and Bengaluru and peri-urban and rural areas near these cities.
The National Alliance of People's Movements has pointed out that this number (58.6 million households) means that the need for housing has increased more than two-folds from 23.90 million in 1991.
This is in spite of the Supreme Court of India's emphasis in 1995 (in the Chameli Singh Vs. State of UP case) that the right to housing is a precursor to all rights.
Various urgent concerns
Significantly, Farha also evaluated the NDA government's 'Pradhan Mantari Awas Yojana' and found many concerns created by it.
The most important one, possibly, is that it will cater to the demand of one socio-economic section while ignoring the plight of millions of others. Additionally, there is little in it to solve the problems of millions who are homeless and millions of others who live in 'informal settlements'. Nearly 13.75 million households in the country reside in urban informal settlements.
In fact, in cities like Chennai, Hyderabad, Kolkata and Mumbai, over 50% of all households live in informal settlements. The homeless number 1.8 million, although many put the figure closer to 3 million.
In rural areas, 13% of households live in "one-room makeshift structures built of poor quality materials, without ventilation or sanitation facilities and which do not provide protection from rain, wind or dust".
Then there is the problem of emphasis on home-ownership in the Yojana and its rural counterpart and other tenure options, like rental housing or limited rights over land, are ruled out.
The affordability of the scheme for those living in informal settlements is also a concern. It needs to be ensured that they can access some of the credit-based subsidies.
Other recommendations include -
Address homelessness as a human rights priority with a view to eliminating it by 2030, in keeping with target 11.1 of the Sustainable Development Goals
Institute a national moratorium on forced evictions and demolitions of homes
Survey and provide legal recognition of all existing informal settlements
Ensure timely, adequate compensation or resettlement and/or alternative housing for persons who are affected by natural disasters
Enact legislation to curb all forms and practices of de facto housing discrimination against any individuals or groups
Ensure that all residents of informal settlements have access to the Housing for All scheme. Provide assistance with down payments for those unable to afford the scheme.
Ensure the right to adequate housing and curb rising prices due to speculation in real estate markets by ensuring that land stocks for constructing social housing are used immediately for the purpose for which they were acquired.
Introduce the national right to homestead bill of 2013 in Parliament to provide land for the poor, the landless and those without a homestead in urban areas
Regulate private entities and put in place measures to ensure that they are monitored and held accountable
Appoint Supreme Court Commissioners, as in the case of the right to food, to ensuring monitoring, redress and implementation of the right to housing
Edited by Aleesha Matharu