Trolling the BJP: Gujarat's Dalits take to social media after Una incident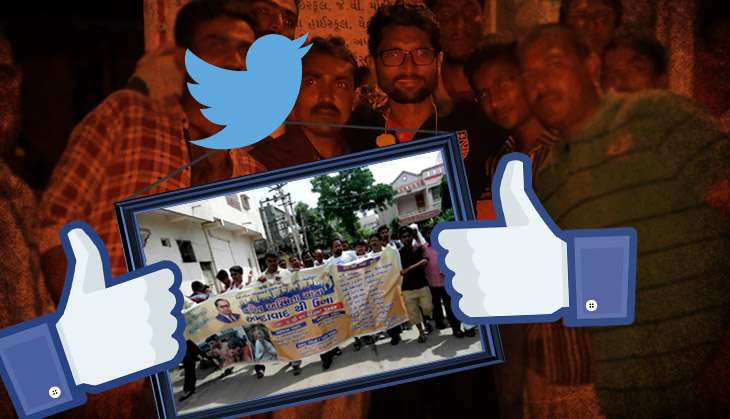 It all started with a video that was widely shared on WhatsApp of several youth being beaten. From 11 July onwards, Dalits were using social media to do what the mainstream media thus far hadn't - circulating the evidence of the Una atrocity.
But their use of the tool didn't end there.
It's an odd turn of events, particularly since so far, it has been Sangh Parivar organisations that made optimum use of social media to catapult Prime Minister Narendra Modi on to the national stage and sustain his image.
But over the past month, downtrodden Dalits from Modi's home state - who are fighting for their rights in state-wide protests - are effectively using the same medium to reach out to people not only in Gujarat, but also abroad.
Also read - Una flogging: As Dalits march for freedom in Gujarat, global support puts in
More so, their efforts have helped to galvanise support for the ongoing Dalit Asmita March from Ahmedabad to Una in Gir Somnath district of the state.
The new age of protest
Accessibility to the internet has obviously been the game changer in this situation.
"The use of mobiles, Whatsapp and Facebook have proved to be boosters for us. Dalits have always felt that justice has been denied to them and these tools have provided an outlet. They have been full of rhetoric against the major portion of traditional 'Manuvadi' mainstream media. With a mobile in hand, they feel empowered and are prompt in uploading videos, pictures and circulating them," says Jignesh Mevani, the face of the Una March initiative.
In fact, he says, anything that is put up on his Facebook wall sees hundreds of likes within an hour. "This could not have been possible earlier."
"It was the video of the Una flogging incident where Dalit youths were assaulted by cow vigilantes that went viral on the social media. And the result is for everyone to see in the form of the Dalits and Muslims coming together to assert for their rights. Similarly, when the pictures of the Dalit rally in Ahmedabad went viral, people not only in the state but even elsewhere got to know that something major was afoot in Gujarat," he told Catch.
Viewing mainstream media with suspicion
Dalits have always questioned the biases of the mainstream media when it comes to covering their events or issues. "They have seen how the papers came out in full support of the victim in the Nirbhaya case, but very few raise concern about 4.3 women being raped everyday across India," said Mevani.
Former journalist, theatre artist and trainer Mehul Mangubahen pointed out that events organised in Dalit areas are hardly covered in newspapers no matter how good they are and this leads to resentment against mainstream media.
"In Ahmedabad the coverage of events for the papers stops at Maninagar. Nobody bothers to go to Amraiwadi, Odhav and Narol. All this is done in the name of target readership or target audience," he says.
Mevani says even though a majority of Dalits in the state are semi-literate, they have been sharing posts about the Una incident and the march being reported on social media primarily because they "are enthusiastic about getting space".
BJP's game inverted
In Gujarat, the BJP has made the maximum use of social media to achieve its political ends. Twitter and Facebook were used to the hilt in the last Gujarat elections and parliamentary polls. Reports spoke of how fake Twitter accounts had been created to help him along the way to getting a million followers.
While the Hindutva forces were celebrating this achievement, reports pointed to the contrary. A report in one of India's leading dailies had pointed out on 27 October 2012, "According to an internet tool, Status People, launched by a group of engineers in London, Modi's account has 46% fake and 41% inactive users."
Even the way Modi's photoshopped images were pedalled on social media as an image building exercise became a widely known fact. There have also been allegations of the BJP having hired an army of internet enthusiasts to troll anyone who points a finger against Modi online.
Observers point out after the BJP, the Aam Aadmi Party (AAP) is now trying to find its feet in Gujarat and has also made effective use of the tool.
"If the right wing can take advantage of this tool, the Dalits too have used it effectively. With people like former IPS officer Rahul Sharma and Pratik Sinha with them, social media has proved to be very handy. Who can know better use of gadgets and internet than Rahul given the fact that it was the who had submitted the CDs pertaining to the mobile call records of Hindutva leaders when rioting was at its peak in 2002. Similarly, Pratik himself runs the website Truth of Gujarat that has been regularly exposing the right wing forces in the state," says senior political and social observer Sanjay Bhave.
Also read - Political awakening: Una may just change the lack of Dalit leadership in Gujarat
"It has become a matter of professional imperative for the vernacular media to give space to the ongoing movement. After all, the readers do ask why they are spending money on a newspaper which is not covering a major event that is splashed all over social media," he adds.
Putting the spotlight on
Bhave says that till now, media in Gujarat has primarily played a negative role when it comes to taking up Dalit issues. He said that there are academic papers that point at how Dalits were painted black during the anti reservation agitation under the regime of Madhavsinh Solanki in the state.
Similarly, Paresh Vyas, a poet, playwright and filmmaker, says, "The images of the Ahmedabad Dalit protest going viral had a big impact. Dalits in the villages saw them on WhatsApp and this gave them a lot of confidence and inspiration to join the march. Villagers are now turning out in huge numbers to listen to Rahul and Mevani. They identify them as the ones who gave a spontaneous call for the march and emerged as the face of the movement."
Both Bhave and Vyas had gone to Gadhada to join the marchers for a few hours. "It has been a great experience. In Dhasa village, what surprised me was that the pledge taking event to denounce carrying on with the task of skinning animals took place in a Patel Wadi (community centre of Patels)," he said.
Vyas recounted an instance that amused several visitors, "In Dhasa, the Dalit contingent from Punjab had organised a langar. They were also distributing bananas to all present. Just then, two cows strayed to the venue and everyone gave the fruit to cows, in effect mocking gau seva."
Observers point out that unlike the Patel agitation during which the state government had promptly banned internet services to stop things going viral, it has taken no such step this time. "But then it is more scared of Patels. It is not that much bothered if an agitation continues in the rural hinterland away from the media glare of the urban residents," says a political observer from Ahmedabad.
Edited by Aleesha Matharu
More in Catch - Una Dalit march: Meet the men taking on Gujarat's Hindutva brigade
Marching ahead: Dalits threaten to expose Modi's much promoted Gujarat model