Trinamool-BJP workers clash over desecration of SP Mookerjee's statue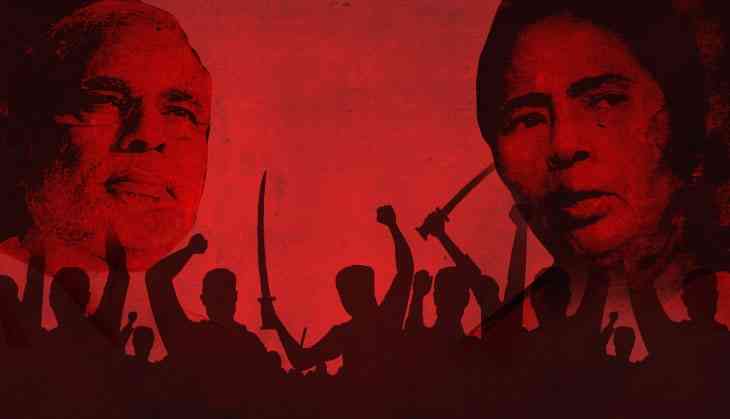 A clash took place between All India Trinamool Congress (AITC) supporters and BJP supporters on Thursday after BJP supporters went to Keoratala Park at Rashbehari for "purification" of a statue of Shyama Prasad Mookerjee. The statue had been allegedly vandalised on Wednesday by a group of students from Jadavpur University belonging to CPI(Maoist).
According to the police, around 15 BJP supporters were injured in the clash. Soon after the BJP procession entered Rashbehari, they were stopped by the police and a barricade was placed. The BJP supporters tried to break the barricade and tried to enter the arena where Shyama Prasad Mookerjee was placed . The AITC supporters are alleged to have attacked the BJP supporters and prevented them from enterinz the area .
Baisakhi Das, a BJP worker, said " It was our pre-decided program and we have come here to show our respect to Mookerjee by organising a purification program. Not only did they prevent us from touching the statue, they even beat up some of our members who were silently standing in a queue .
In retaliation , BJP has decided to organise a state-wide agitation on Friday and it will place Mookerjee's photo on street corners and put garlands on it.
According to West Bengal BJP president Dilip Ghosh, "I was leading the BJP rally. Suddenly I saw that the police put up a barricade on the main Rashbehari Road and did not allow us to enter the area. I requested the police officer but he did not relent. Suddenly around 15 Trinamool workers attacked our supporters and beat them up mercilessly. Some of them received injuries in their hand and head .As a result of such an incident we have decided to organise a state-wide agitation on Friday their violence".
Uttam Dutta, an AITC worker from Kalighat said, "We had received orders not to let anyone touch Mookerjee's statue as it's the duty of the Kolkata Muncipal Corporation to restore the vandalised statue. In the name of purification , the BJP supporters tried to create communal tensions. We won't allow anybody to create any disturbance in the area."
Hours after the incident, Chief Minister Mamata Banerjee said at a rally on International Women's Day, "Trinamool Congress will uproot BJP from the country in 2019. Come 2019, BJP will be finished".
"TDP is deserting BJP because of communal politics and in Bengal we won't let BJP create any communal disturbance. Women need to unite to fight BJP ," she said.
According to Banerjee "Some people (BJP) are blaming the state government after some students belonging to CPI (Maoist) vandalised the statute of Shyama Prasad Mookerjee. We have already said that we do not support vandalism and at the same time we won't give anybody a chance to create any communal disturbance through the issue."