The real political significance of Beni's 'ghar wapsi' to SP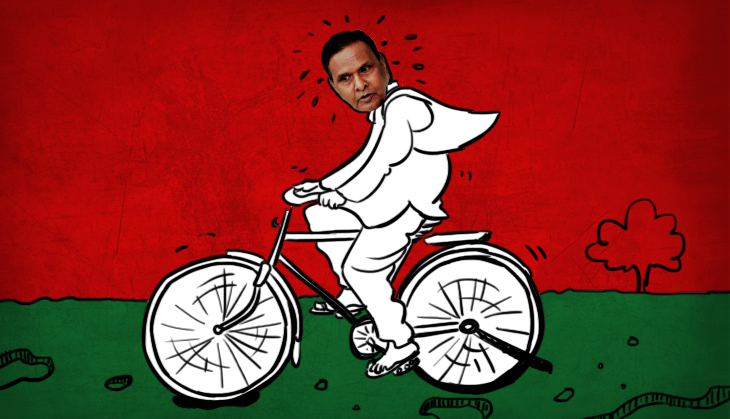 The return
Beni Prasad Verma had left the Samajwadi Party in 2007, and went on to become a Congress Union minister
Now, he has returned to Mulayam Singh Yadav\'s party ahead of the 2017 UP Assembly polls
The caste factor
Beni belongs to the Kurmi caste, which makes up 5% of the total population of UP
Nitish Kumar wants to make a mark in UP and then on the national stage, by consolidating the Kurmi vote around himself
More in the story
Why Mulayam\'s nepotism is no longer a factor for Beni
What Beni is expecting out of this reunion
Beni Prasad Verma has quit the Congress to rejoin the Samajwadi Party after almost a decade. The 75-year-old leader announced his decision just as Bihar Chief Minister Nitish Kumar was addressing a rally in Varanasi.
Beni's return to the Samajwadi fold is being seen as an important development ahead of next year's Assembly elections. The move has the potential to influence the arithmetic of these elections. It also signifies the politics of dominance and reflects the bickering within the 'Janata Parivar'.
Both Nitish and Beni belong to the Kurmi community, one of the most prominent vote banks in Uttar Pradesh. However, Beni latter enjoys an edge over the Bihar Chief Minister as Uttar Pradesh is his home turf.
Nitish is gearing up to launch himself into the national political landscape. He has set his eyes not only on the UP Assembly elections, but also on the next general elections. Beni, on the other hand, is fighting for political survival. SP supremo Mulayam Singh Yadav has placed his bets on this old warhorse, as he believes he can be a game changer.
The question of family
Ironically, both while leaving the party and now, when he has returned, Beni used the same excuse to explain his change of heart.
In 2007, he had claimed that he helped build the party from scratch, but it had fallen into the hands of one family. Now, he claims that he wanted to come back to the party because he was one of its founder members.
In reality, Beni is fighting for his political survival. The desperation to stay relevant in state politics has drawn him back into Mulayam Singh Yadav's corner.
Beni had left the party accusing Mulayam of turning it into a family enterprise. He regretted that the party's socialist ideology had been reduced to a cow milked by the Yadav family. Other party leaders, he alleged, were only there to raise slogans and make up the numbers.
Ultimately, the Congress rewarded Beni's desertion by making him a Union Minister in 2011.
But when the Congress lost power in 2014, he feared fading into oblivion. Actually, Beni could never reconcile with the Congress's style of functioning. His loyalties were always with his own interests.
Now, he sees an opportunity in joining ranks with the Samajwadi Party. He is tipped to be among the frontrunners for Rajya Sabha nomination from Mulayam's party. Beni is also hoping that switching his allegiance could uplift the sagging political career of his son Rakesh Verma. It's another irony that someone who had left the party protesting against nepotism has rejoined it to further his own political dynasty.
Uniting against Nitish
In any case, there was hardly any role left for him in the Congress. The party leadership was not inclined to count on him anymore, as he had failed to deliver in successive electoral battles. His controversial statements were particularly a dampener for his prospects in a Rahul Gandhi-led Congress.
Mulayam, on the other hand, has enough reasons to rehabilitate Beni.
At the time of Beni's departure, the SP still had remnants of ideological conviction left. Although Mulayam was the undisputed leader, it had still not slipped completely into the clutches of nepotism.
Beni viewed himself as a leader of Mulayam's stature. He claims to represent a community that is argubly the second most dominant OBC caste in UP, after the Yadavs. Beni believed this would make him a leader equal to Mulayam within the party, if not taller.
However, this did not happen, as Mulayam's clan took complete control of the party's affairs. Akhilesh Yadav, who learnt the basics of politics from Beni, is now the Chief Minister of the state.
Beni is no longer a challenger to Mulayam's position in the Samajwadi Party. All he is seeking now is a plum post.
Gone are the days when Beni thought SP would falter without him. Now, he is concerned about keeping his political career intact. Far from being Mulayam's competitor, he is just another leader who could be used for political gains.
Beni's relevance stems from the fact that Nitish has turned his attention towards UP. It does not bode well for Mulayam. The Bihar Chief Minister's plans to forge a grand alliance in UP is nothing short of challenging Mulayam in his own citadel.
Kurmis constitute around 5% of the total population of state. They are in a position to influence election outcome in pockets of their dominance. The SP hopes Beni would be able to counterbalance Nitish's appeal in these regions.
In fact, it is against Beni's own interests to see the emergence of a rival Kurmi leader in the state. It is necessary for him to stop Nitish in his tracks. He could not have countered Nitish by remaining in the Congress, but the SP gives him a chance to declare himself the leader of the clan.
Both Mulayam and Beni want to be each other's support system as their political fortunes dwindle. Next year will decide whether this happens or not.
Translated by Deepak Sharma