The PDP-BJP coalition is here to stay: Naeem Akhter
Catch Team
| Updated on: 14 February 2017, 5:14 IST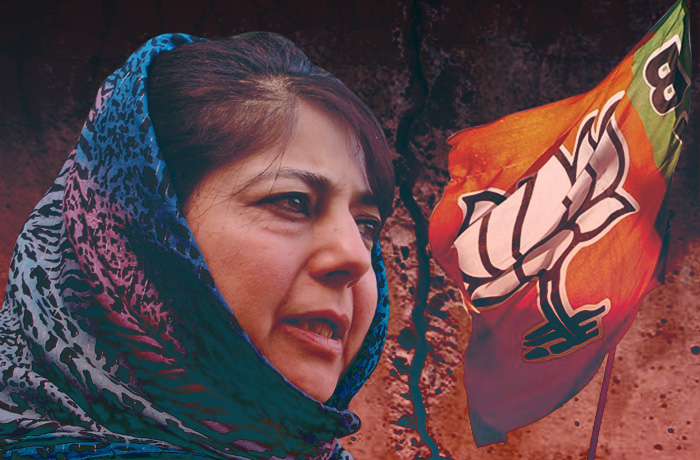 Alliance politics
Jammu and Kashmir has been without a CM since Mufti Sayeed\'s death
Mehbooba Mufti is billed to be the next chief minister
However, she has been delaying the oath-taking ceremony
More in the story
Is J&K headed for a constitutional crisis?
Is the PDP-BJP alliance in trouble?
Will there be rotational CMs in the state?
The delay in Mehbooba Mufti's oath-taking as Jammu and Kashmir's chief minister has generated suspense around government formation, with rumours about a possible break-up of the PDP-BJP coalition. But the fact is that the alliance seems to be here to stay and may only grow stronger.
"Reports about a possible break-up of the coalition are wild speculations ," senior People's Democratic Party (PDP) leader and Jammu and Kashmir government's spokesman Naeem Akhter said. "And how can we break a coalition sanctioned by Mufti Sahib for no reason?Will it not mean that Mufti Sahib was wrong?"
Also read - Meet Mehbooba Mufti, the likely new Chief Minister of J&K. Cold sweat, BJP?
Akhter said the coalition has so far gone according to expectations. "Our Agenda of Alliance is an achievement. In this we have been successful to get the BJP to address our core concerns about the state," Akhter said.
"The BJP has made some important concessions by stalling its agenda on Article 370, west Pakistan Refugees and other issues. On India-Pakistan dialogue, too, they have come around to our policy. Prime Minister Narendra Modi has not broken off engagement with Islamabad despite the Pathankot attack, " he pointed out.
Ever since Chief Minister Mufti Mohammad Sayeed's demise on Thursday, Mehbooba has been in mourning, refusing to meet anyone except very important visitors and some close associates. She refused to rush into the swearing-in ceremony, ignoring warnings of a consequent constitutional crisis mandating Governor's rule.
The alliance, Akhter said, will continue as "it has done well despite minor hiccups". The opinion is shared across the PDP leadership, including even by Muzaffar Beigh, former deputy CM who has been a vocal critic of the functioning of the coalition.
Earlier, Finance Minister Haseeb Drabu voiced his satisfaction at the functioning of the coalition. "Operationally, if you ask me, I am quite happy. Because BJP colleagues at the local level have so far been pragmatic and accommodating," he said in an interview. "And they are not petty-minded people like those in the Congress who would create a ruckus on every small issue. That used to be agonising."
Nitin Gadkari says Delhi will "work toward fulfilling all dreams" of Mufti about development & peace
The only senior PDP leader bitterly opposed to the coalition is parliamentarian Tariq Hameed Karra.
On Sunday, Mehbooba chaired a meeting of party legislators and leaders at her Gupkar residence after the end of congregational prayers for Mufti on his Chaharum. Mehbooba, who broke down through the meeting while recalling her father's contribution, was joined by her brother Mufti Tasaduq. PDP legislators unanimously supported Mehbooba as their leader.
Similarly, BJP also held a meeting in Jammu, jointly chaired by state vice president Colonel Uttam Singh and former state president and member of Parliament Jugal Kishore Sharma. The party unanimously decided to "continue alliance with the PDP and form the government with it again."
Senior BJP leader and Union Minister for Roads and Highways Nitin Gadkari visited Srinagar to offer his condolences to Mehbooba. He said New Delhi would "work towards fulfilling all dreams" of Mufti about development and peace in the state.
Significantly, Congress president Sonia Gandhi also visited the Fairview residence of the Muftis. She was accompanied by Rajya Sabha's Leader of the Opposition Ghulam Nabi Azad, Congress General Secretary Ambika Soni, state Congress chief GA Mir and party leader Saifuddin Soz.
This set off some buzz in Srinagar, but Azad promptly dispelled them: "We came here to offer condolence to Mehbooba Mufti. No politics should be read into it."
Akhter, on the other hand, brushed aside the reports that either his party or the BJP had laid down any fresh conditions or there was any demand from the BJP for a rotational Chief Minister. "These days have been about mourning. No politics was discussed. I don't know who is floating these rumours," Akhter said. "There is nothing wrong with the coalition. It will continue."
More in Catch - R.I.P #MuftiSayeed. What will the transfer to Mehbooba mean for J&K
What the J&K chief secy's resignation tells us about the PDP-BJP coalition
Doublespeak: why do Abdullahs & Muftis often sound like the Hurriyat