The man who won Punjab: breaking down Captain Amarinder's path to victory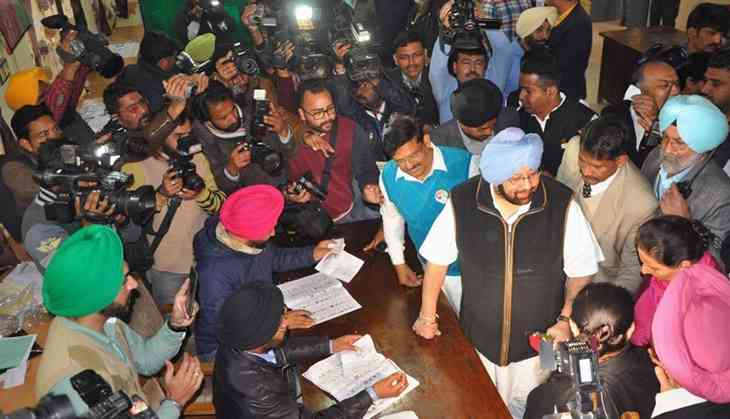 Announcing that Captain Amarinder Singh would be the chief ministerial candidate well ahead of the polls and marketing him as a brand worked very well for the Congress in Punjab.
Before him, bother Prime Minister Narendra Modi and Bihar Chief Minister Nitish Kumar used a similar tactic – of turning a man into a brand.
This strategy of fighting a political battle like a corporate war through intensive boardroom strategies seems to have found a place in Indian politics for now. Incidentally, it was Prashant Kishor's IPAC that was at work in all these states but the team suffered setbacks in Uttarakhand and Uttar Pradesh.
Ready, set, go
The first landmark event of the election season in Punjab was the Maghi Mela held in January 2016, which announced the dawn of Arvind Kejriwal led Aam Aadmi Party (AAP) as a force to reckon with in the state.
At the same time, 74-year-old Amarinder was written off as an old horse with his party displaying factionalism.
Two months later, the term 'Punjab Da Captain' cropped up, emphasising the fact that the entire campaign was to be centred on Amarinder. To make him more accessibile, the 'Maharaja' was presented as a 'Captain'.
In all, five elements were at play. The first was to spread the message of 'Brand Captain' via door-to-door campaigns.
The next target was the youth, for which the entire Congress came to together to try and take AAP on in their game of volunteer driven campaigning.
This was followed by the strategic political interventions: cricketer-turned-politician Navjot Singh Sidhu joining the Congress and Amarinder's announcement that he would fight from Lambi and his formal announcement as the chief ministerial candidate.
The strongman
The first campaign was 'Coffee with Captain' and the focus was on accessibility, Brand Captain, youth and volunteers. The concept was quite simple – the 'Captain' would meet a target audience over a cup of coffee and interact with them for over two hours answering questions and seeking suggestions.
Then there was the outreach campaign of 'Halke Vich Captain', where the element of governance was added to the focus area as it dealt with grievance redressal by Amarinder and aimed to establish a direct contact with the various stakeholders in Punjab.
During this campaign he covered up to two constituencies per day, engaging with multiple stakeholders including locals, those who influenced public opinion like sarpanchs, doctors, association heads, union leaders etc along with party workers, supporters and office bearers.
Instead of hearing collective problems, Amarinder was keen to meet the people and directly hear their personal concerns and issues. The Congress collected petitions from these people. This campaign was highly successful with 2,57,751 people attending and submitting 1,79,936 petitions.
'Brand Congress'
Once this was achieved, 'Punjab Congress Express' focused on displaying Congress unity and presenting 'Brand Congress'. To do so, 13 specially designed mini buses for each of the 13 parliamentary constituencies reached out with the slogan 'Congress Liyao, Punjab Bachao' (Bring Congress to save Punjab) with 40 top Congress leaders criss-crossing Punjab in 32 days.
Those who managed Amarinder's campaign through IPAC disclosed that the party managed to touch 1,11,5700 people as 857 corner meetings were held with the buses covering 4,420 km.
This initiative was followed by yet another farmer outreach campaign 'Karza Kurki Khatam Fasal Di Poori Rakam' (An end to debt and auction of land, full price for farm produce). The campaign entailed a door to-door drive with filling of proformances from targeted households on quantum of outstanding debt. A receipt was issued that would serve as an agreement guaranteeing debt waiver. A multiplier came in the form of a 'Captain's bus yatra' with Amarinder himself taking the message to the farmers.
Amarinder covered more than 500 km across eight districts in three days that were marked by meetings and roadshows. He visited 10 mandis and had 13 big meetings at pre-identified locations. The campaign saw filling of 34 lakh proformas. There are around 32,500 households in each of Punjab's 117 constituencies that cover more than 9,000 villages and 2.5 crore people.
Tech angle
Closer to the polls, the 'Captain Smart Connect Scheme' was launched with a focus on the youth, digital India and Brand Captain. Under it, Amarinder pledged to disburse 50 lakh smart phones with free data and calling facility to the youth of Punjab between the ages of 18 and 35 years.
Congress workers and IPAC volunteers reached out to the people in the areas where digital penetration is not very strong to ensure that maximum youth got the opportunity to register for the scheme. Registration desks were set up across urban and rural areas, and the 'Punjab Congress Express' served as a mobile registration desk.
More than 30 lakh people signed up. Ludhiana, Patiala, Amritsar and Bathinda reported maximum registrations. Of these, 83% of these registrations came from those between 18 and 25 years and 16% between 26 and 35 years.
This drive was topped with 'Har Ghar to Ikk Captain', the flagship programme for empowering the youth with the twin objective of providing them jobs and making them commit to staying drug free. It aimed at providing one job per household and giving an unemployment allowance of Rs 2,500 per month for up to 36 months till there is employment.
In return, the youth and their family must pledge to stay drug free. Over 40,00,000 youth registered for the programme through a "Berozgari Bhatta Card".
Tsunami campaigns
The final push came with more than 40 rallies for Amarinder alone that were strategically mapped around the periphery of Malwa region and in Doaba and Majha. It was then that the Sidhu rallies truly hit the ground and the Congress carpet-bombed the entire Malwa belt with star campaigners.
The last three days saw the unraveling of a yet another 'tsunami campaign' called 'Capt Nu Mat - ⅔ Bahumat', seeking two third victory in the name of Amarinder. This was marked by a massive shows of strength in the shape of bike rallies, roadshows, door to door exercises, mega rallies, street plays, pad yatras, and dhol bajas creating an atmosphere of an apparent victory. The slogan ' 2/3 Bahumat' was plastered all over with campaign song 'Chahunda Hai Punjab - Captain Di Sarkar' blaring. There were over 13,000 bikers who raced around the state with Congress flags. This apart, 400 dhol players and 1500 volunteers on ground were involved in door-to-door engagements. Simultaneously, 500 nukkad plays and sabhas were also conducted.
Apart from all this there was 'Captain' merchandise in the shape of mugs, bags, 'T' shirts that had been distributed across the state.
This may have been the first time that Punjab witnessed this sort of politics, where business like strategies are executed to achieve results by branding a person as the strongman. The trend is only expected to pick up.
Edited by Aleesha Matharu