The great PR heist: did Amit Shah really scold the BJP hotheads?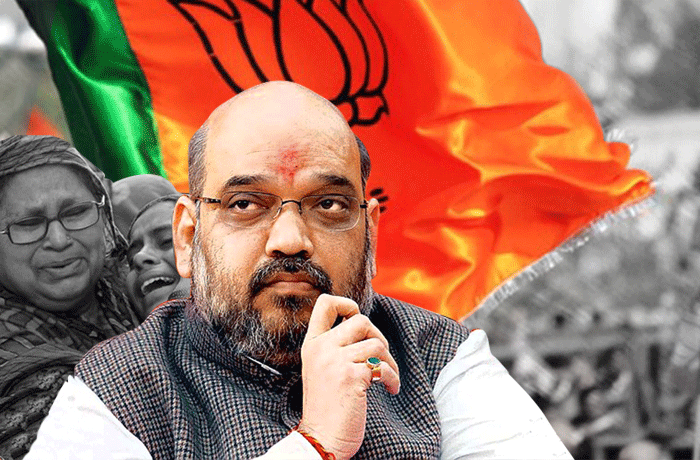 The news
Newspapers frontpaged Amit Shah\'s \'rebuke\' to BJP hotheads on Dadri and beef
All the stories were based on anonymous sources. There was not a single quote about what Shah really said
The reactions
Those rebuked hardly seemed to care. Example: Sakshi Maharaj who said he wasn\'t a child to be rebuked.
Offenders like Mahesh Sharma, Adityanath weren\'t even called
More in the story
Was it a rebuke? Or a PR exercise?
Does the BJP enough control over its leaders to rein them in?
Monday's biggest news was a front page heist pulled off by the BJP. Almost every newspaper prominently reported a meeting on Sunday in which party president Amit Shah supposedly scolded some of his 'hothead' ministers.
'Supposedly' - because none of the reports, which were all based on anonymous sources, actually quoted a single sentence from Shah's rebuke to his party members.
Shah called the meeting to discipline his juniors because Prime Minister Narendra Modi was "upset and distressed" by comments his colleagues recently made on the Dadri lynching, the media reported citing party sources. The four leaders summoned by Shah were Haryana Chief Minister ML Khattar; Sanjeev Balyan, a central minister of state; Unnao MP Sakshi Maharaj and Sangeet Som, the MLA from Sardhana, UP.
Among the interesting omissions were Union culture Minister Mahesh Sharma and Yogi Adityanath. Sharma represents Gautam Buddh Nagar (Noida) in Parliament. Dadri is part of the constituency. His speeches after the lynching led to a police case for inciting mob violence.
Many seats yet to vote in Bihar have strong Muslim presence. Is Amit Shah trying to salvage the polls?
Gorakhpur MP Adityanath offered guns to Dadri's Hindus to protect cows from 'cow eaters' and those "who molest our women".
All those called for the meeting, and some other BJP members, had incited violence - from threatening Muslims with more violence to actually offering guns - following the lynching of Mohammed Akhlaq in Dadri after he was rumoured to have slaughtered and eating a cow. The meeting was held almost a month after these leaders tried their best, and failed, to stoke a mass riot.
It could have been a good opportunity, and better news fodder, for the BJP to have revealed a couple of things that Shah or Modi actually said in the meeting, if indeed they did say anything. The party could have prevented an embarrassment of publicly admitting that their own associates almost stirred another Muzaffarnagar, and yet sent a message that their government wouldn't tolerate this brand of politics.
And yet the only nugget from the meeting fed to the reporters was that 'such controversies in a way derail the development agenda of the party as well as the Modi government.' Even anonymously BJP doesn't agree that distributing guns to Hindu extremists to kill Muslims, or defending those who killed Akhlaq was criminal and punishable in itself.
Such acts, the party sources say, are only bad for taking the sheen off Modi's 'development agenda', whatever that is.
And what a joke this disciplining session turned out to be. Minutes after the meeting, Sakshi Maharaj, who has openly called for the death of cow slaughterers, said: "I had taken action so there was a reaction." By playing on the infamous speech of Narendra Modi, quoting Newton's third law right after the communal violence in Gujarat in 2002, the MP dispelled all ideas of being tamed.
In an interview to a newspaper, he elaborated: "Amit Shahji is like our Chanakya. He knows very well who is right and who is wrong... Also, we are leaders in our own right, not children who can be scolded and asked to shut up."
Sakshi Maharaj wasn't alone to have come out of the meeting unchastised. Balyan and Som, both accused in the Muzaffarnagar riots, said they weren't summoned by Shah. Rather, it was they who had sought a routine meeting with the party president to discuss some issues.
This raises some key questions about what happened on Sunday and how it was reported.
First, since the media uniformly reported that Modi was "distressed" by the communal statements of his colleagues, clearly this was a line the party wanted to push. But should the media not have raised questions about what exactly was said by Shah in the meeting beyond the PR handout? How does the party plan to react if these four, and others continue to spit venom?
By not ascertaining what Shah actually said at the meeting, did the media lend themselves to BJP's propaganda?
Secondly, one has lost count of the number of times that leaders from the BJP or Sangh have said or done criminally inciteful things and their leaders have expressed concern without actually doing anything. So was this just one more round of the parivar playing good-cop-bad-cop?
BJP just doesn't have it in them to pull up its rabble-rousers. The hotheads clearly have the Sangh's backing
But there is one other interesting question this supposed chastisement and its defiant aftermath raises. The BJP clearly wanted to position Modi as "distressed". But after Shah's interaction, since all the hotheads who were called for the meeting immediately made it clear that nothing had changed, is one to deduce that Shah and Modi are no longer in iron control of their colleagues?
The point is, why did the BJP hold the pretence of such a meeting?
For two good reasons.
First, the Akalis: BJP's political partners for the 2017 Punjab Assembly elections have warned that communal politics over beef would eventually hurt their alliance.
Naresh Goyal, Shiromani Akali Dal's leader, said in an interview that what happened after the lynching incident in Uttar Pradesh "is damaging the NDA, the BJP and damaging the Prime Minister more than anybody else."
In a clear warning he said: "It is high time some action is taken against so that a strong message goes all the way in Sangh Parivar that this kind of nonsense will not be tolerated."
The other reason for the BJP to conduct such PR exercises is that the party, which doesn't seem to be in a commanding position at the end of two phases of election in Bihar, doesn't want to lose out on the Muslim vote either.
One reason why the BJP doesn't seem too confident in Bihar is that constituencies like Bhagalpur and Banka, with huge Muslim populations, went to polls at a time Adityanath was offering guns to Hindus. Mahesh Sharma and those called for the Sunday meeting didn't help BJP's cause in Bihar either.
In the fourth phase on November 1, again constituencies with sizeable Muslim votes like Champaran and Muzzafarpur will vote. If the BJP continues to come across as anti-Muslim, and the Grand Alliance continues to rake up Dadri and statements made by BJP leaders following it, they'll be looking at a complete wipe off in the fifth phase of elections, with most of the constituencies like - Kisangani, Purnia, Katihar, Madhepura, Saharsa and Darbhanga - being Muslim dominated.
In both cases, the BJP is likely to tie itself up in knots. Neither does the party have the authority to pull up its members nominated by the RSS, nor can it politically afford to seem rabidly anti-Muslim. So, for the time being, all Modi and Shah are likely to do is continue holding more such chai pe charchas.