The 9 lives of Amar Singh: Why has Mulayam taken him back into SP?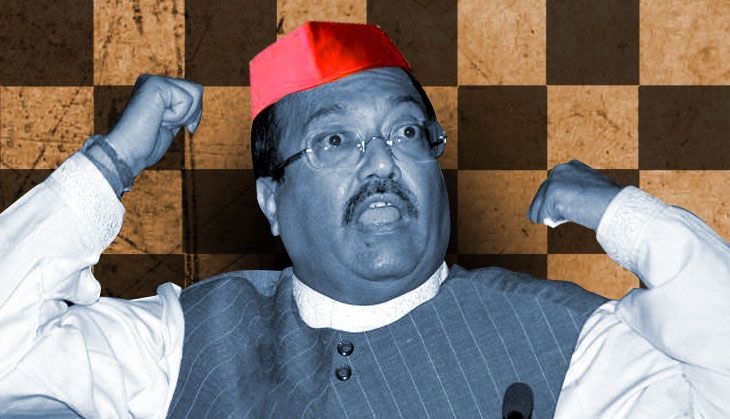 The homecoming
After Beni Prasad Verma, Amar Singh has returned to SP
The party has nominated him to the Rajya Sabha
The reason
Mulayam Singh Yadav needs a representative in New Delhi
No one can woo corporates and the glitterati like Amar Singh
More in the story
The rise and fall of Amar Singh
How Mulayam overruled opposition to Singh\'s return
There is an all out war in Mulayam Singh Yadav's family and Uttar Pradesh Chief Minister Akhilesh Yadav has blamed "outsiders" for creating divide within the family.
Who did Akhilesh mean as an 'outsider'? Well, Samajwadi Party national general secretary and Mulayam's cousin, Ramgopal Yadav, skirted the issue, saying it was about the general perception in the party.
Many party leaders have echoed similar sentiments and pointed fingers at 'wheeler-dealer' Amar Singh for creating a rift within the family, the party and government.
Having been recently inducted into the party after a hiatus of six years, Amar Singh is allegedly back at doing what he does best - scheming. Such is his proximity to Mulayam that he was given a Rajya Sabha seat within months of his induction.
Amar Singh was welcomed into the party last May, putting an end to all speculations that have been doing the rounds for the last few years. As expected, objections were raised by senior party leaders, especially Azam Khan and Ramgopal, but Mulayam seemed to have made up his mind on Amar Singh's return to SP.
Ever since he was expelled from the party in 2010, there have been rumours of the wily businessman-politician making a comeback. All those rumours were formally put to rest and Amar Singh was back and back with a bang.
Also read - After Beni Prasad Verma, Amar Singh returns to Samajwadi Party
Mulayam must have certainly been missing his silver-tongued spokesperson and resourceful friend Amar Singh, whose legendary backroom dealings and networking abilities had transformed Mulayam's otherwise rustic, dhartiputra (son-of-the-soil) image. Amar Singh's exit from the SP had created a void.
With Amar Singh by his side, Mulayam doesn't need a Prashant Kishor to market his image in the power corridors of Delhi. Howsoever controversial, Amar Singh is a man of immense possibilities who could hop in and out of political offices and boardrooms in Delhi and Mumbai and garner support of business houses. This must have been sorely missed by the SP chief who has election campaigns to run in 2017 and later in 2019.
What Amar Singh does, only Amar Singh can do
Mulayam Singh's cousin, Ramgopal Yadav, who played a crucial role in Amar Singh's ouster, has been trying to fit into the wily Thakur's shoes, but he has largely remained unsuccessful. 'Professor', as Ramgopal, is often addressed, neither has the gift of the gab nor the corporate czars and glamorous film-stars on his speed dial.
During their 15 year association, Amar Singh's greatest feat was his transformation of Mulayam's image. He turned this anti-English, anti-modern regional leader into a major player on the national stage. Amar Singh's lavish lifestyle may have been objectionable to Mulayam's Lohiaite ideology, but the SP supremo had to accept glamour-loving Singh as his most effective translator and intermediary in meetings with business tycoons, film stars and the media.
Since Amar Singh's exit, Mulayam has been his own public relation officer who must feel handicapped with his not so convincing oratory skills. "What Amar Singh does, only Amar Singh can do," summarised a senior SP leader who also repeated Rahul Gandhi's words and said, "He can sell combs to bald people and even convince them to use it".
With this comeback, Singh will soon start working out deals for the SP chief in party offices, corporate boardrooms and film sets. After all, Mulayam kept Amar Singh close even when SP veterans quit the party blaming the businessman-politician for their exit. Mulayam even ignored the pleas of the senior leadership about Amar Singh's arrogance and high-handedness. High on this heady cocktail of money and glamour, Mulayam's cloudy vision could see no wrong in the company of his friend with benefits.
Amar Singh too benefited immensely from his association with the wrestler-politician. It gave political legitimacy to this witty and wily businessman. When the two came together in the mid nineties, Mulayam felt handicapped as an outsider in Delhi's elitist power circle while Amar Singh was desperate craving for some political clout. As expected, Amar Singh became Mulayam Singh's mascot and the socialist leanings of the party were put on the back burner.
The SP chief was now hosting parties for Delhi and Mumbai's glitterati in five star hotels rubbing shoulders with Amitabh Bachchan, Anil Ambani, Sanjay Dutt, Parmeshwar Godrej, Subrata Roy of Sahara, Jaya Prada and many others.
At Amar Singh's beck and call, these people would often congregated in Lucknow to lend support to the SP chief. His ability to mix politics with glamour became his trump card and Yadav came to depend heavily on the industrialist-politician-celeb nexus to add that oomph-factor to his brand of politics. 'The joke doing the rounds in Lucknow in those days was that it's no longer a party of socialists, but that of socialites,' says a senior journalist and commentator known for his proximity to Shivpal Yadav.
Singh was considered the man closest to Mulayam, even closer than his immediate family. They developed a great camaraderie that became the envy of one and all. The two were inseparable and Mulayam hardly ever took a decision without Singh's approval.
During the peak of his career, Singh represented SP outside of UP and even Mulayam had to take a backseat to the rising clout of his trusted aide. In Delhi, Amar Singh became the face of the party. Moreover, he dislodged party veterans like Beni Prasad Verma, Raj Babbar, Azam Khan and several others, and Mulayam remained a mute spectator.
The expensive election campaigns and mass mobilisation of supporters demanded massive investments and for this Mulayam heavily relied on Singh. A darling of corporate czars, he sold the idea of a new UP to business houses where they could invest without bothering about the red tape. One call to his high-profile acquaintances ensured donations worth crores in SP's kitty.
If he was friendly with businessmen and filmstars, he was also the darling of the media. As the spokesperson of the party, Singh became an articulate promoter of the party's interests and charmed TV audiences and journalists with his witty one-liners. He would often quote an Urdu couplet or break into a song to sum up a particular situation and change the discourse of serious debates. He was, and remains, a magnet that attracted the media wherever he went. Even Mulayam was no match for his celebrity status.
His critics, however, insist that there was a method in his generosity and that his aid came with a price tag. Bailing out the high and mighty was an investment for this wily businessman who knew the rich dividends that would follow. "He knew if he bailed out Amitabh Bachchan from a financial crisis, the Bollywood's most successful star would always be at his disposal," says an SP leader who is trying hard to be the new Amar Singh of the party, but has failed miserably. This crass, loud mouthed, pan chewing politician is no match for the original backroom kingmaker.
From Kolkata small-timer to Lutyen's Delhi insider
From a small time Congress worker in West Bengal to one of the most powerful men in Lutyen's Delhi, Singh's ascendance in the universe of Indian politics, business, and film is almost unmatched. His powers of pursuation made even the shrewdest of politicians run circles around him. But his love for eternally being in the spotlight and trying to be a backroom player and a frontline politician simultaneously, led to his undoing.
His fetish for power and total subservience made him the victim of his own politics and his ascent to the corridors of power was as ephemeral as his decline. Amar Singh's rise from the dingy lanes of Kolkata to the UP secretariat was an indication of the evolution of India's politics that has now become synonymous with big money.
It was in the 'city of joy' that Singh grew up and first flirted with politics as a small time functionary in the West Bengal unit of the Congress party. In Kolkata, he polished his English speaking skills sending sleepless nights memorising popular phrases from the Statesman. Later in his political career, his mastery over spoken English that helped him cut ice with the educated city elite who found him particularly amusing. These skills that drew him closer to Mulayam.
Amar Singh was born to Harish Chandra Singh and Shail Kumari Singh on 27 January, 1956, in Aligarh, UP. The family later moved from Aligarh to Kolkata after Harish Chandra joined his father's hardware business. A young Amar spent his childhood in the congested lanes of Burrabazaar-a trade hub in north Kolkata. The family owned a shop at Manohardas Katra in Burrabazaar that sold locks under the brand name of Thunder Locks. The eldest of the two sons, Singh lived with his parents in their 500-square-feet flat at 202, Chittaranjan Avenue. This property remains in possession of the family till today.
Not the brightest of students, Singh did his schooling from a government-funded Khatri Vidyalaya in Kolkata since the family couldn't afford a private school. After finishing school, Singh found it extremely difficult to secure admission in a well reputed college. But he never gave up and his efforts finally paid off when St. Xaviers College, Kolkata, opened its doors to him. It was here that Singh polished his English skills and acquired his gift of the gab.
Singh got his first big break in politics in 1985 when he was assigned to look after UP chief minister Vir Bahadur Singh when he was in the city for a programme organised by the Thakurs of Kolkata. Singh's sharp wit left a lasting impression on the UP chief minister who invited him to Lucknow. Reportedly, Congress leader Madhavrao Scindia too couldn't resist Singh's irresistible charm and the duo forged a close bond.
Later, Singh moved in with his grandmother in Lucknow and called upon Vir Bahadur Singh to help in setting up his business. Vir Bahadur obliged and put him in touch with financial institutions that gave loans to 'first generation entrepreneurs' at a minimal interest rate of 1% payable after 10 years. Singh received Rs 15 lakh under the scheme and floated a small ethyl acetate manufacturing unit that kick-started his career as an 'industrialist'.
Later, Singh had become a well-known name in business circles and befriended several industrialists including late Lalit Suri and KK. Birla, among several others. While Vir Bahadur helped him in launching his business, it was HD. Deve Gowda who assisted him in setting up a 14 MW hydel power plant in Karnataka which is said to be the backbone of Amar Singh's business empire.
Having met Mulayam at Vir Bahadur's residence, Singh joined the SP in 1996. He was also given the responsibility of being the party's fund raiser and spokesperson in Delhi. On his role in the SP, Singh had himself claimed that it was Mulayam while referring to English told him, "Yeh gittar-pittar ki bhasha meri constituency nahin samajhti hai." (My constituency doesn't understand this mish-mash language.)
Within a few years, Amar Singh became the unofficial number two in the party. He was Mulayam's alter ego and his pointsman in Delhi. His proximity to the SP chief made him extremely arrogant and he would openly criticise senior leaders of the party openly. Even party cadres were openly criticising Amar Singh's lifestyle that was full of Bollywood celebrities, Page 3 parties and corporate honchos.
Mulayam went on to claim that every party should be grateful to have someone like Amar Singh. The SP chief gave legitimacy to his extravagant and controversial lifestyle and many believed that his friends in the corporate world and Bollywood to be the only reason for such unrestricted clout.
Wherever Amar Singh went, controversies followed which further irked the Yadav household, senior party leaders and cadres. Whether it was his alleged involvement in the 2008 cash for votes scam, for which he spent time at Tihar jail, or the several audio tapes that appeared mysteriously in public domain, Amar Singh could easily be labelled as one of the most controversial political figures of this generation. His public spat with Shah Rukh Khan, Bachchans, Ambanis, among others, led to his downfall. The last nail in the coffin was his decision to bring Kalyan Singh into the SP fold which backfired and led to his ouster.
Ever since he fell out with Yadav, Singh's political career has taken a serious beating. He tried to revive his career in 2012 when he floated his own party Rashtriya Lok Manch and fielded candidates in UP on 360 constituencies and held 270 meetings across the state. Despite his exhaustive campaign, RLM drew a blank.
Since then, he has been trying to make a comeback in political arena approaching party leaders including Sonia Gandhi and Rahul Gandhi but to no avail. He also contested the 2014 Lok Sabha elections from Fathepur Sikri from Rashtriya Lok Dal and failed miserably.
Despite being out of the game, Amar Singh still managed to find his pictures splashed in newspapers attending Page 3 parties sharing lighter moments with top politicians of Lutyen's Delhi.
And it is this camaraderie that makes Amar Singh a maverick with a golden touch. "Amar Singh might not be widely respected, but Amar Singh was widely accepted," is how a senior SP leader summed up his political career.
More in Catch - UP elections: Tension brewing in Samajwadi Party over Amar Singh's ticket
The real political significance of Beni's 'ghar wapsi' to SP