Tamil Nadu polls: PMK takes on Vijayakanth for entering its turf
S Murari
| Updated on: 10 February 2017, 1:50 IST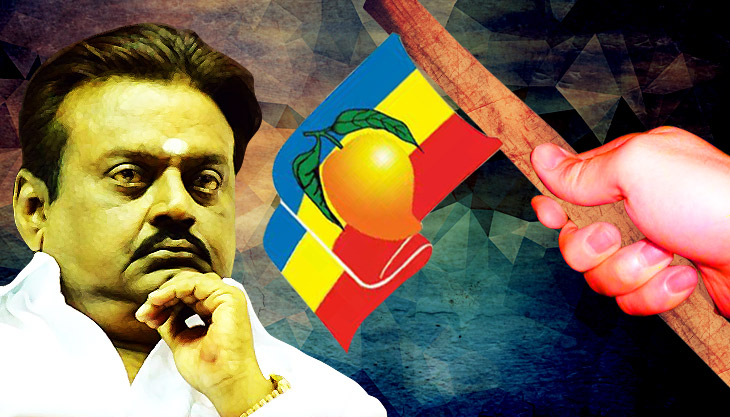 The Pattali Makkal Katchi is on a warpath against actor-turned-politician Vijayakanth for seeking to encroach upon its turf. PMK is strong in northern Tamil Nadu which is dominated by the most backward caste (MBC) Vanniyar community.
Vijayakanth, who is leading a 6-party alliance that projects itself as an alternative to DMK and AIADMK, has decided to contest from the Ulundurpet seat in the Vanniyar heartland. The predominantly rural constituency is located in Villupuram district and is a pit stop for truckers on the national highway.
Also read - This might be the last Karunanidhi vs Jayalalithaa battle Tamil Nadu witnesses
One reason Vijayakanth has chosen this seat is the comparatively less resistance he is likely to face from DMK and AIADMK. While DMK has left the seat for its smaller partner - Manitheneya Makkal Katchi, a Muslim outfit - the AIADMK is also putting up only a token fight.
Another reason is that Ulundurpet, though predominantly Vainniyar, has a sizable population of Dalits and Vijakanath reckons that his alliance with the Viduthalai Chiruthaigal Katchi (Dalit Panthers Party) will help him.
When Vijayakanth made his debut in the 2006 elections, he was the sole MLA from his party. He got elected from Vridhachalam in the same region. In the 2011 polls, he aligned with the AIADMK and won from Rishivandhiyam, again in the same region.
Captain's power play
Though Vijayakanth was ready to do business with the DMK in this election, his wife Premalatha shot it down. So he turned to the People's Welfare Front and expanded its base by including the Tamil Maanila Congress in it He also cut his share of seats to 104, to show his generosity towards alliance partners.
The day Vijayakanth announced his candidature, the PMK also announced that its chief minister candidate Anbumani Ramadoss would contest from Pennagaram in the Dharmapuri parliamentary constituency and that party president GK Mani would stand from Mettur in the Vanniyar belt.
Anbumani chose Pennagaram as it was in this segment he polled the maximum number of votes when he won from Dharmapuri in the 2014 Lok Sabha election.
Though the PMK is fighting on its own, it shares a common objective with the Vijayakanth-led front in that both want to bring an end to the 50 years of uninterrupted rule by AIADMK and DMK in Tamil Nadu.
Such being the case, it made sense to avoid even friendly contests as it would only help the common enemies, namely AIADMK and DMK.
PMK defends its turf
PMK has sprung a surprise by deciding to field its spokesman and lawyer A Balu against Vijayakanth. The suave Balu is a contrast to Vijayakanth who is rustic in his appeal.
The PMK's message is clear - it will not allow any prominent leader to make inroads into its territory.
It did not happen in the previous elections. In fact, both Vijayakanth's DMDK and PMK, as also MDMK of Vaiko, were part of the BJP-led National Democratic Alliance until year ago. Now Vaiko and Vijayakanth are on one side. PMK and BJP are contesting separately.
One reason why the PMK has decided to take on Vijayakanth is the contempt PMK founder and Anbumani's father, Dr S Ramadoss, has for film stars. When he started the Vanniyar Sangham in the 1980s as a prelude to his political outfit (PMK), he faced problems weaning the Vanniyar youth away from stars like MGR. 
Dr Ramadoss believes that part of the reason for the cultural degeneration in Tamil Nadu is the unbroken rule of the two Dravidian parties and the politics of glamour. He is critical of the influence of cinema and its glorification of sex and violence.
He took on Rajinikanth when when Baba released in 2000 because he glorified smoking and drinking in all his movies. Rajinikanth eventually had to buy peace with violent PMK protestors.
Incidentally, Vijayakanth recently mentioned that he faced similar protests against his move Gajendra but he "didn't run away from the battle like Rajinikanth".
Perhaps this is the reason PMK has gone for a trial of strength with Vijayakanth.
More in Catch - Karunanidhi to seek re-election from hometown, Stalin from Chennai
Cheatsheet: Here's all you need to know about the Tamil Nadu election