Swaraj India to test Punjab's political waters and push for a third front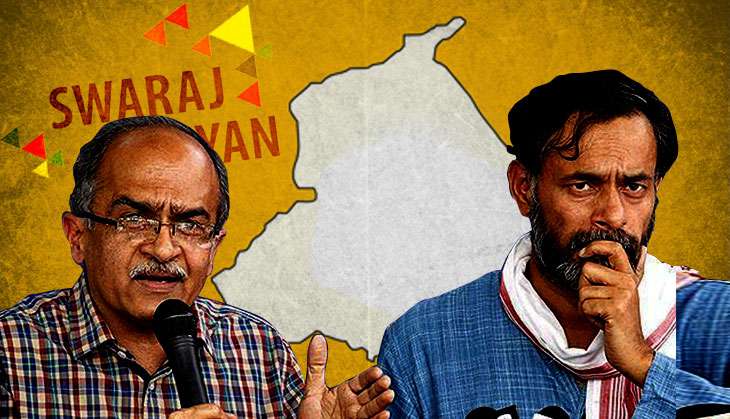 Swaraj India, the political party recently launched by Swaraj Abhiyan leaders Yogendra Yadav and Prashant Bhushan, is getting set to test the political waters in Punjab. After a considerable delay, the party has put in place a preparatory committee that will set up an organisational structure in place over the next two weeks.
Creating a third front
The party will be a component of the third front, for which efforts are on in the state.
Yadav has come out with the stand that since the Aam Aadmi Party (AAP), that had emerged as a third alternative in Punjab after the 2014 Lok Sabha polls, is now going on the way of People's Party of Punjab (PPP), Punjab must have a third front. Led by Manpreet Badal, the PPP had failed to win a single seat in the assembly elections in Punjab despite having created ripples in the political scene ahead of the polls.
He pointed out that AAP has been on the downslide over the last couple of months in terms of its acceptability, credibility and legitimacy. "The space being vacated should not be allowed to go back to the traditional parties, particularly the Shiromani Akali Dal (SAD). For a new political party the journey is either going upwards or going down. It does not stabilise somewhere in between," he said.
Also read - Punjab polls: Drugs, paid news and halqa in-charges main threats, says EC
Yadav has expressed hope that a third front comprising forces like the political front created by suspended AAP MP from Patiala Dr Dharamvira Gandhi, the Democratic Swaraj Party floated by affiliates of Swaraj Abhiyan earlier, the Aapna Punjab Party floated by former state convener of AAP Succha Singh Chhotepur and other Left and democratic organisations will come into existence very soon. He said that Swaraj India would play whatever role required to bring these forces together and form a third front.
But first, an assessment
On the issue of its contesting the forthcoming assembly polls, he has said that firstly Swaraj India would assess itself where it stands in terms of its electoral support base and if required would contest as a component of the third front.
"Initially, we did not want to add to the confusion in Punjab. But after the developments over the last two months, we have decided to be a constituent of the third front. Ours will be a limited selective contest. The priority is to support the third alternative. Our electoral participation would be only as a part of the third force," he said while adding that the third front must have a common minimum programme.
Yadav has clarified that Swaraj India has no ideological differences with the Democratic Swaraj Party (DSP) floated some months back by Swaraj Abhiyan affiliates. "The only differences we had was about the timetable. They thought it was getting late for floating a political party. We gave our good wishes to them right from day one," he said.
He was asked whether Swaraj India being a part of a front with Chhotepur as a member would not amount to compromising on principles of clean politics as Chhotepur was sacked on charges of corruption from AAP.
Yadav said that there is no evidence that has come to light on financial impropriety of Chhotepur till now. He said that he has known Chhotepur since he was AAP's Punjab in-charge for a brief while ahead of the last Lok Sabha polls. "Why is AAP not releasing the sting it claims to have done on Chhotepur? They keep on releasing stings every now and then. He was sacked because he was opposing arbitrariness in AAP," Yadav said.
The problems ahead
There are a couple of issues that would need to be sorted out if the proposed third front is going to become a reality.
The first issue pertains to the status of Dr Gandhi. Till date, he stands out as a suspended AAP MP. His party has not thrown him out and neither has he made any move as yet to quit as AAP MP. Till that happens there is no chance of his being a part of the proposed third front.
The second issue pertains to the role of the mainstream left parties like the CPI and CPM. Till now these parties have not given any signals of their willing to be a part of any alliance in the state.
The third issue pertains to the timing. If the front is to be come a reality, it needs to be stitched soon as the time is running out. The Election Commission of India has carried out its field visit to the state and can impose the model code of conduct anytime soon.
Observers feel that if this front becomes a reality, it will cause maximum damage the prospects of AAP only as the majority of the components of this front are former affiliates of AAP. Observers are also skeptical about the chances of electoral success of the front.
But one thing is for sure - a third front will definitely add a new dimension to the prevailing political scenario.
Edited by Aleesha Matharu
More in Catch - Kejriwal sells Delhi model in Punjab. Congress, Akalis not impressed
AAP brings Sikh farmers from Gujarat to expose Modi-Badal claims in Punjab