Nitish is a better leader than Modi: Student politician Zeeshan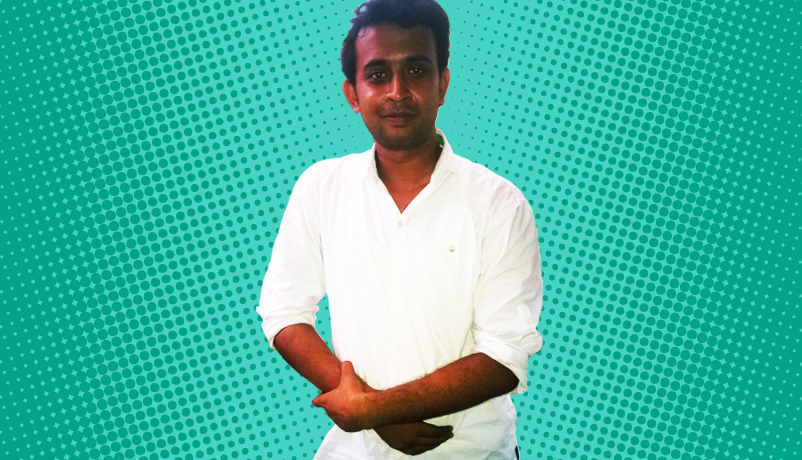 Elections are not just about politicians. They're about people and issues. And what will really drive their vote.
Catch is, therefore, starting a 'People of Bihar' series, which will daily capture what different impact groups across the state are feeling. This is true insight on the Bihar election: up-close and hyper-personal.
The Delhi-returned student politician
It's a trend all of us have witnessed at close quarters. Bihar's youth often had to leave the state due to lack of opportunities in education and employment, and migrated far and wide within the country.
However, that trend is now slowing down, and in an ideal world, should reverse itself.
Zeeshan Yasir, 26, is part of this latter trend. Having moved to the University of Delhi for his graduate studies, the Patna native returned to Bihar. Currently, he is a post-graduate student of mass communication at the open campus of the South Bihar Central University.
As far as the upcoming assembly polls in the state are concerned, Zeeshan is more interested than most of his fellow students. He is a budding lawmaker who has started gaining experience at the level of student politics. The ultimate aim, he says, is to work for society.
Zeeshan spoke to Catch about his hopes and expectations from the next government of Bihar, and who he thinks should head it. Excerpts.
What are your expectations from the next government?
There are three things that the incoming government needs to work on without delay. Women's security, of course, is top priority, but higher education and housing facilities for Dalits/backward classes shouldn't be far behind.
Where has the Nitish Kumar administration failed?
Nitish's government has failed miserably in providing security to women. Rapes used to be a rarity in Bihar, but nowadays, newspapers are flooded with at least two or three reports of rape every day.
In addition, the Nitish government did little to improve the level of higher education in the state. I have myself been a victim of this, since I was forced to move to Delhi for my graduation.
Casteism is deeply entrenched in Bihar's society, and Nitish has done next to nothing to eradicate it. This is another of his biggest failings.
What are Nitish's most significant achievements?
Power in Bihar was concentrated in the hands of goons under the Lalu-Rabri regime. Nitish Kumar gave this power back to the police. I consider this to be his greatest success.
In addition, Bihar's infrastructure has improved in leaps and bounds under Nitish. The roads outside Patna, for example, used to be dotted with potholes a decade ago. They are in much better shape now.
So, between Nitish and Narendra Modi, whom would you choose?
Nitishji is a better leader. Any meaningful change requires time. I believe things will improve further if he stays in power.
Narendra Modi has done little so far. The BJP also does not have any face in Bihar. This is not a good sign as far as the leadership question is concerned.
Modi will impose his stooge upon Bihar, if the BJP comes to power. Nitish, on the other hand, is a self-made and independent leader.
Also read: Modi supporter Lakshmi: healthy democracy needs change
Graduate Azra feels Modi isn't inclusive enough to vote for
Whoever comes to power must create jobs: front-office boy Divyanshu
An ATM guard who's always with a book, and why he'll vote NOTA
Bihar's industry still trusts Nitish, says state CII chief Dilip Kumar
Banka Silk founder Udayan Singh wants a third term for Nitish