SP Mookerjee exhibition: BJP gleefully targets Nehru in his own home
A special exhibition to commemorate Jana Sangh founder Syama Prasad Mookerjee at Delhi's Nehru Memorial Museum & Library (NMML) turned out to be yet another opportunity for BJP to target Jawaharlal Nehru.
Ironically, it was Nehru who had inducted Mookerjee into independent India's first cabinet, despite their sharp ideological differences.
The exhibition and a special lecture were organised on Wednesday by the Syama Prasad Mookerjee Research Foundation. BJP's national president Amit Shah inaugurated the function, while Tripura's Governor Tathagata Roy delivered the lecture. Mahesh Sharma, the Minister for Culture & Tourism and Civil Aviation presided over the event.
Bashing Nehru in his own home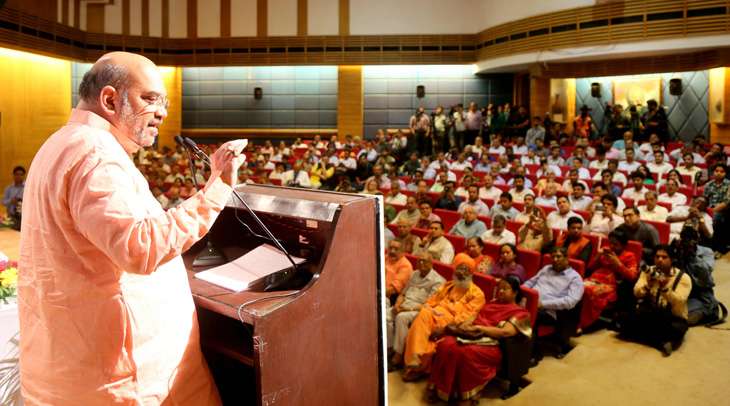 Photo courtesy: BJP
It was a unique opportunity for the BJP to bash Nehru. The glee of criticising India's first Prime Minister at what was once his own home was palpable on the faces of party leaders, as well as workers.
Shah began his address with a blissful smile. The reason for this expression became clear as he delivered the speech. Shah repeatedly reminded the audience about Mookerjee's death under mysterious circumstances.
Recalling the events of June 1953, the BJP president alleged that Mookerjee was deliberately allowed to enter Kashmir, and then incarcerated in jail conditions that made his survival difficult.
He repeated accusations such as Mookerjee was shifted to the hospital in a small jeep instead of an ambulance, kept in a gynaecology ward and denied proper treatment. He stressed that there were valid reasons to have doubts about Mookerjee's death.
Desisting from making a direct insinuation himself, he remarked that Mookerjee, in many people's opinions, was killed.
Historian Amit Shah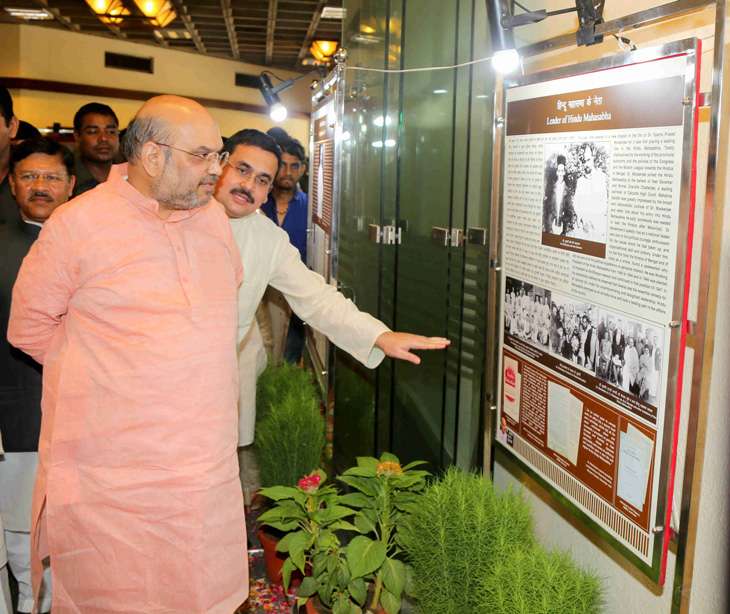 Photo courtesy: BJP
Shah's speech made him sound more like a historian than the president of a political party.
"First, the British rulers tinkered with the history of the country, and then the Leftists did so. It is an unforgivable crime," thundered Shah.
He reminded the gathering about how Mookerjee resigned from the Nehru cabinet owing to his differences with the PM, and sacrificed his life to force Nehru to give up the law separating Jammu and Kashmir from India.
"If Hindus can claim West Bengal today, it is because of Mookerjee. If Kashmir doesn't have posts like Prime Minister and President, if any Indian visits that state without special permission, it is only because of the efforts of Mookerjee. If a party of 10 people and an alternative politics has taken root in this country, it is only because of Mookerjee," he further added.
Toeing the same line as Shah, Roy also held Nehru responsible for Mookerjee's death. The Tripura Governor claimed that Sucheta Kriplani had warned Mookerjee's about Nehru's intentions of not letting him come back from Kashmir. Incidentally, Roy has also penned a biography of Mookerjee.
Roy, the main speaker at the event, only spoke for 20 minutes. In contrast, Shah's lecture lasted for about half an hour. The better part of these 30 minutes was dedicated to hailing Mookerjee as a national hero and denouncing Nehru as a villain.
Nehru and Mookerjee
In reality, the BJP is seeking to win an ideological battle by targeting Nehru in the name of Mookerjee. The party is interpreting modern Indian history as per its convenience, and waging a political battle.
The tone and tenor of BJP during the programme smacked of vengeance against Nehru.
Around 10 ministers and party MPs attended this function. Besides, many thinkers, political activists and other party functionaries also marked their presence. All of them took jibes at Nehru, but none of them demanded an inquiry into Mookerjee's death.
When asked about the possibility of such a probe, especially when a BJP government is in place, both in J&K as well as the Centre, the Indian Council of Cultural Relations (ICCR) president Prof. Lokesh Chandra declined the need for such an action.
"History is not merely a bygone era, it is also the future. We want peace in the country. Such an investigation will only rake up old controversies. The main objective is to maintain harmony," Chandra told Catch.
Chandra was known to be a Nehruvian historian. Now, he is BJP's choice as ICCR president. He even advised to think beyond the Nehruvian idea of nationalism.
"India has to change. It is no longer the world of Nehru," he said.
Was there a personal animosity between the two stalwarts? Did Nehru really mean physical harm to Mookerjee? At least the BJP's narrative seems to suggest so. However, eminent historian Dilip Simeon doesn't believe this to be true.
"Nehru incorporated Mookerjee into his cabinet. He was not intending to form a government of any particular party. He wanted to form a national government. This was the reason Nehru gave an equal opportunity to his opponents in the government. Ambedkar was one of the most vocal critics of Nehru. He even disagreed with Patel on many issues. Yet, he was made the chairman of the Constituent Assembly, and later, the country's Law Minister," Simeon said.
Some other historians also point in the same direction. They cite Selected Correspondence of Patel, (Vol. 6), a collection of letters written by Patel, to prove their point. The correspondence between Patel and Nehru documented in this book indicates how Patel was upset over Gandhi's killing and Mookerjee's defence of the Hindu Mahasabha in response.
Historical perspectives are shaped by facts. However, ideology presents facts as per its view of the world. History is beyond this manipulation.
The BJP is redefining history to suit its objectives. Its vested interests lie in doing the same. It will try to project Nehru as a villain in the time to come, as he symbolises politics more than history.
Edited by Shreyas Sharma
More in Catch
Tampering with Nehru Museum draws scholars' ire
Modi's tribute to Azad part of RSS's Nehru-bashing: Prof. Chaman Lal
Rajnath uses Nehru to be a Vajpayee