SP manifesto promises electricity for all, big perks for youth & farmers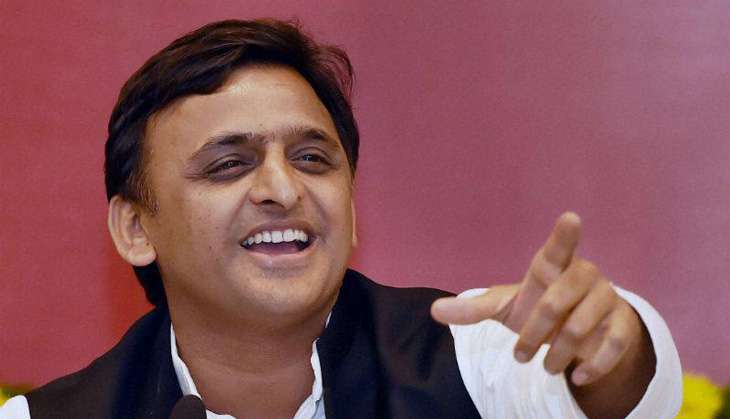 Fact: there are 1.40 crore newly-registered voters in Uttar Pradesh. And Samajwadi Party president Akhilesh Yadav is confident that if all of them exercise their franchise, his party will comfortably win 300 seats in the 403-member Assembly.
Akhilesh released the party manifesto for the upcoming seven-phase elections in Lucknow on Sunday.
Given the recent power struggle in the SP, it was interesting to note that the manifesto bore pictures of Akhilesh and father Mulayam, who was conspicuous by his absence. Another notable absentee from Akhilesh's first big event as party president was senior leader Azam Khan.
Taking rivals head-on
On the occasion, the Chief Minister took on his party's main opponents, the Bharatiya Janata Party (BJP) and the Bahujan Samaj Party (BSP).
He described his predecessor Mayawati's government as a 'patthar-waali sarkaar' (a government of stones, a reference to its propensity to build statues), while also asking Prime Minister Narendra Modi to define what he meant while promising 'achhe din' to the people of India ahead of the 2014 Lok Sabha elections.
Criticising the Prime Minister's Digital India programme and the drive to switch to digital payments, Akhilesh said they were mere slogans, without the necessary gadgets. He said the laptops he gave to students could actually be used for netbanking and digital payments. In that respect, his party had done more than the BJP to promote the use of technology. "Because of our scheme, laptops are now present in every village and mohalla of the state," he said.
The Chief Minister said while he would continue distributing free laptops to meritorious students, free Samajwadi smartphones would also be given to the youth of the state if his party was voted to power.
Done more than promised
Along with the promise of laptops, the manifesto talks of improving the education sector, one of the most neglected areas under this government, with allegations of corruption at every level.
Akhilesh said he had done more for the state's development than what was promised in the 2012 manifesto.
He said that if elected to power again, he would ask his legislators to prepare a road map for the development of their constituencies, to ensure all-round development of the state.
New promises
The manifesto itself is a mix of welfare and developmental schemes, keeping youth, women, and farmers in mind. New promises made by the party include:
- Ambulance service in villages.
- Doorstep care to ailing cattle of farmers, including moving the animal to a veterinary hospital if needed.
- One litre of desi ghee and one kilogram of dry milk powder every month to children, in order to fight malnourishment.
- Free Samajwadi pressure cookers to women from weaker sections of society, to make cooking less of a chore.
- 50% subsidy in bus fares for these women.
- Free rice and wheat to the needy.
- Free medical service to those whose annual income does not exceed Rs 1.5 lakh.
- Copying the Prime Minister's minimum pension scheme, the manifesto promises a pension of Rs 1,000 per month to one crore old people, while also promising to set up old age homes.
- A kisan kosh (farmer's fund) to help farmers in distress.
Infrastructure projects
Among infrastructure projects, Akhilesh especially mentioned the Poorvanchal Expressway and better road connectivity to all district headquarters with four-lane roads.
His government's failure to electrify all the villages of the state had invited strong criticism from PM Modi on Independence Day, and also later at a public meeting. The state government had earlier claimed that all the villages of the state had been electrified, but the Central government had called its bluff by giving out figures of villages where electricity had not reached.
Akhilesh's manifesto claimed that his government was able to provide 16-18 hours of electricity in rural areas, and promised that during his next term, all villages and hamlets would be electrified.
The manifesto also laid emphasis on skill development of the minorities, and entrepreneurial skill development of the youth.
To check migration from villages, the SP promised to build clusters along expressways, to cater to the job demand of rural youth.
Hard-selling his metro project, the Chief Minister said that more cities would be covered by the metro network, and hoped to return to power riding a metro, which was completed before the deadline, setting an example for the world.
Edited by Shreyas Sharma