Simultaneous LS & Assembly polls? Surely PM Modi & our MPs are joking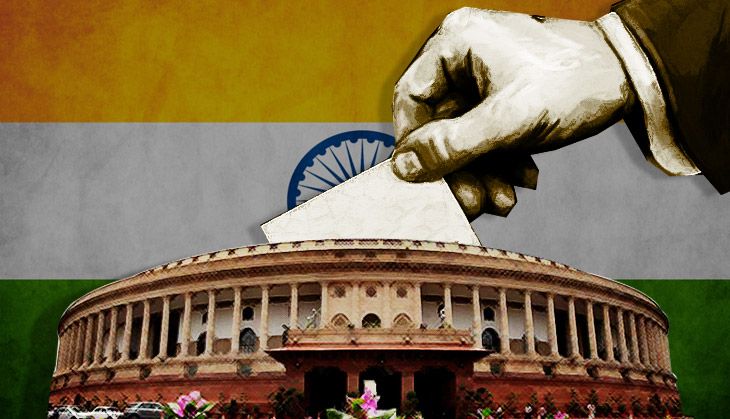 Prime Minister Narendra Modi's idea of holding all elections in the country simultaneously appears informed by recommendations of a Parliamentary panel. However, the panel's report itself is a compilation of elitist presumptions, faulty arguments and wild proposals.
It quotes previous studies on the subject and a couple of international precedents and then goes on to suggest solutions that range from self-contradictory to the impossible.
Read: Can BJP win assembly elections without a Modi wave?
Rajya Sabha's Committee of Personnel, Public Grievances, Law and Justice had studied the subject and submitted a report on "Feasibility of Holding Simultaneous Elections to the House of People (Lok Sabha) and State Legislative Assemblies", in December 2015. The Committee is headed by Rajya Sabha member belonging to the Congress party, EM Sudarsana Natchiappan and comprises 9 other members from the Rajya Sabha and 20 other member from the Lok Sabha, from various political parties.
For the parliamentary panel, rejection is acceptance
Recognised political parties separately gave written submissions to the panel in which most of them rejected the idea. However, the panel came to the conclusion that most of them were in support of the idea, in principle. The panel felt that the parties which disagreed did so as they felt that the proposal was "against the current constitutional and statutory framework". This, when responses of the parties ranged from 'not feasible' to 'unscientific', 'impracticable' and 'anti-democratic'.
The Congress, Trinamool Congress, CPI, AIMIM and NCP opposed the proposal, while parties that supported it included AIADMK, AGP, Indian Union Muslim League, DMDK and SAD. However, they too had objections, with AIADMK saying 'several aberrations' were inevitable if the policy was adopted and SAD raising at least two 'debatable points'.
The committee gave four reasons to explain the need for simultaneous elections to Lok Sabha and Legislative Assemblies.
Elections have become "big budget affairs" and expenditure by candidates are exceeding the ceiling fixed by the Election Commission. Massive expenditure is incurred for conducting separate elections every year, with EC pegging the cost of holding elections for Lok Sabha and Legislative Assemblies of states and UTs at Rs 4500 crore per year.
Elections lead to imposition of Model Code of Conduct in the poll bound state/area, which puts development activities on hold, affects governance and leads to policy paralysis.
Frequent elections disrupt 'normal' public life and impact essential services. Political rallies disrupt road traffic and lead to noise pollution.
Crucial manpower is often deployed on election-related duty for prolonged periods. In 2014, 1077 in situ companies and 1349 mobile companies of Central Armed Police Force (CAPF) were deployed because of Lok Sabha elections and state Assembly elections that were simultaneously taking place in Odisha, Andhra Pradesh, Sikkim and Arunachal Pradesh.
Anti-politics approach to elections
The report doesn't explain how will expenditure by candidates come down if all polls are held together. Neither does it articulate how imposition of Model Code of Conduct leads to policy paralysis, when all it prohibits the party in power from is use of official machinery and staff for electioneering, monopolising public places and government accommodation for election meetings, issue of ads at the government's expense and misuse of official media.
It also prohibits sanctioning grants out of discretionary funds, announcing grants, laying foundation stones, making construction promises and ad-hoc appointments. However, these are all peripheral government activities and can be avoided for a brief period in a limited geography without attracting allegations of policy paralysis.
Also read: Modi's Lok Sabha speech: attack on Rahul Gandhi but little else 
The theory of elections disrupting 'normal' life betrays an elitist and anti-politics approach. Indian elections are a vibrant phenomenon, with music and colour all around and in many ways are equivalent to festivals. Indian elites who use election holidays as vacations over extended weekends need more politics in their life, not less.
Can't club polls? No problem, just extend or curtail Houses
The icing on the cake in the report is provided by the committee's recommendation. It notes that the tenure of Lok Sabha or the state Assemblies can not be extended beyond the due date of expiry at any cost, except when Emergency has been proclaimed. However, the EC can notify polls six months before the end of the natural term of a House.
In that case, the only option left to synchronise polls to the current Lok Sabha and the current State Assemblies is to hold elections in two phases - elections to some Legislative Assemblies at mid-term of Lok Sabha (November 2016) and remaining with the end of tenure of Lok Sabha (June 2019).
The committee forgets its own note of caution about the impossibility of extending the House and goes on to suggest that elections to all state Assemblies whose terms end before or even after six months to one year from a designated election date can be clubbed together. The terms of some state Legislative Assemblies may need to be extended while some of them may need to be curtailed, it clearly explains.
Read more- Where are the Achche Din: 5 promises that have come back to haunt PM Modi
The second phase of elections, the report notes, can be held in 2019 along with the General Elections to Lok Sabha. It also gives a representative table for the purpose -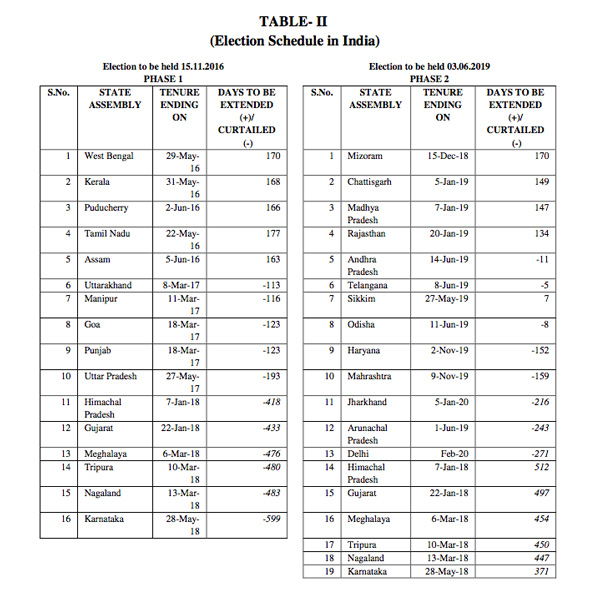 This solution serves to bunch together elections to nearly a score-full of state assemblies in two phases each. However, it still doesn't give the road-map for synchronising state polls with Lok Sabha polls, probably admitting the sheer impossibility of it.
Edited by Aditya Menon
More in Catch:
Shot with bow and arrow over water dispute, teenaged girl dies in MP
Maldives President's visit: why is India hell-bent on helping a dictator?
Great that Modi went to Kollam. Here are 13 other places he should've visited
Emerging contours of the Naga settlement