Sidhu cosying up to Congress, with help from foe-turned-friend Azhar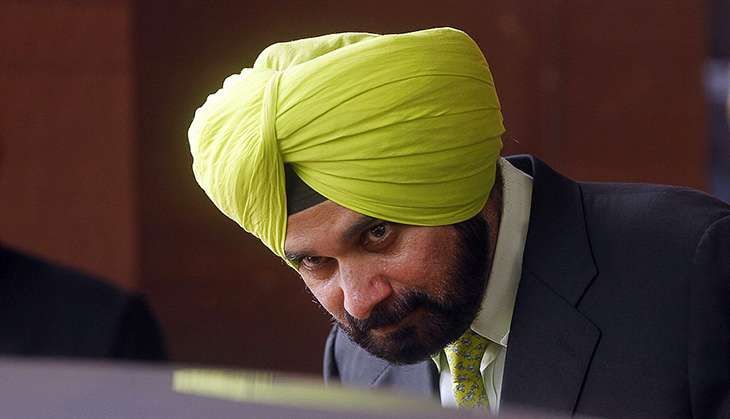 After being snubbed by the Aam Aadmi Party (AAP), cricketer-turned-politician Navjot Singh Sidhu is considering striking a deal with the Congress to remain politically relevant ahead of the upcoming Assembly polls in Punjab.
The irony is that his former teammate and captain Mohammad Azharuddin, with whom Sidhu had a very public spat in 1996, is mediating between Sidhu and the Congress, to ensure some sort of understanding is reached.
Amid all this, there are also rumours of a possible meeting between Congress vice-president Rahul Gandhi and Sidhu to take matters forward.
Alliance versus merger
Sources say Sidhu wants to forge an alliance between his newly-launched political entity, Awaaz-e-Punjab, and the Congress. But the Congress is adamant that Sidhu must merge it with the grand old party.
State Congress chief Captain Amarinder Singh is not in favour of any sort of understanding with Sidhu, which is why the latter has approached former MP Azharuddin to help him strike a deal.
The two have only recently reconciled, having fallen apart on the Indian cricket team's tour to England in 1996. Sidhu reportedly thought Azhar had abused him, and left the tour midway. But recently, while Sidhu was undergoing treatment for acute deep vein thrombosis at a New Delhi hospital, Azhar visited him, and the two buried the hatchet.
But, as things stand, it seems even Azhar won't be able to get his former teammate a place in the Congress fold, considering Amarinder's opposition, which stems from Sidhu's scathing remarks against the former Punjab Chief Minister.
The party's Punjab state in-charge, Asha Kumari, has denied any such negotiations, and said he was welcome to join the party if he believed in the party's ideology. "Not only Sidhu, anyone who has faith in the Constitution and our ideology is welcome to join us," Kumari told Catch.
She also dismissed any possibility of an alliance, and said Awaaz-e-Punjab was not a political party, so there was "no question of an alliance".
"If he is ready to work under Captain Amarinder Singh and has no conditions, we will welcome him," she added.
Even Amarinder had, on Wednesday, said Congress was in Sidhu's DNA, and that he was most welcome to join the party. But, he ruled out any possibility of an alliance with Sidhu.
Amarinder's gambit
Interestingly, tired of Sidhu's antics, the Congress has approached other prominent members of Awaaz-e-Punjab, including former India hockey captain Pargat Singh and the Bains brothers. Sources said Amarinder and Pargat had a closed door meeting in Delhi, and efforts were being made to get him on board.
Amarinder, on Wednesday, appealed to Pargat and the Bains brothers to join the Congress. Similar meetings are being held with the Bains brothers. Reportedly, star strategist Prashant Kishor is closely monitoring the whole process.
Calling Sidhu 'confused', Amarinder had earlier claimed there was no point in holding discussions with the former BJP MP, and that if the high command sought his views, he would reiterate that the former cricketer couldn't be trusted.
Amarinder has his reasons to be worried, as he believes that if the party manages to win a majority, Sidhu might try and arm twist it for political gains.
Congress knows it is his only option
Earlier, after resigning from the BJP, Sidhu had turned towards the Aam Aadmi Party and held repeated meetings with Delhi Chief Minister and party convener Arvind Kejriwal. But nothing substantial came of these meetings.
He then launched Awaaz-e-Punjab, and hinted at forming a new political outfit with AAP's former Punjab convener Succha Singh Chhotepur. Surprisingly, he backtracked at the last moment, forcing Chhotepur to form his own party.
He again decided to knock on AAP's doors, but to no avail, after which talks of him cosying up to Congress started to make headlines.
Left with no other option, Sidhu is now trying hard to cut a deal, but Congress is adamant that any understanding would be on its terms and not Sidhu's.
"Merger is the only option left for him, if he wants to remain politically relevant. If we get a majority in the Assembly elections, then Sidhu will get stronger, and considering how ambitious he is, he would make it difficult for the party to function," said a senior Congress functionary from Punjab.
He went on to add that despite the hype, Sidhu has no real following on the ground. "He can crack some jokes, recite some shaayari and that is it. He can be used as a campaigner and not as a partner," he added.
His skills as a campaigner are what the Congress feels can be put to good use during the next phase of Assembly polls in states like Punjab, UP, Uttarakhand and Goa. While striking a deal with Sidhu, the party doesn't want to be in a position where it can be blackmailed by the former cricketer in the future, and it has spelled out its intent in clear terms.
With the BJP and the AAP out of bounds, Sidhu is trying hard to clinch a deal with the Congress, to ensure the support of one big party before the polls.
For Sidhu to carry on his innings on Punjab's political pitch, he needs the Congress more than ever, even if it means merging his newly-formed outfit.
Edited by Shreyas Sharma
More in Catch
Navjot Sidhu launches Awaaz-e-Punjab, breaks into a Siddhuism-filled rant
Congress' doors open for former Amritsar MP Navjot Sidhu
No AAP, no Congress, Navjot Singh Sidhu floats a new party named Aawaaz-e-Punjab