Siddaramaiah has his way in cabinet rejig, state Congress not pleased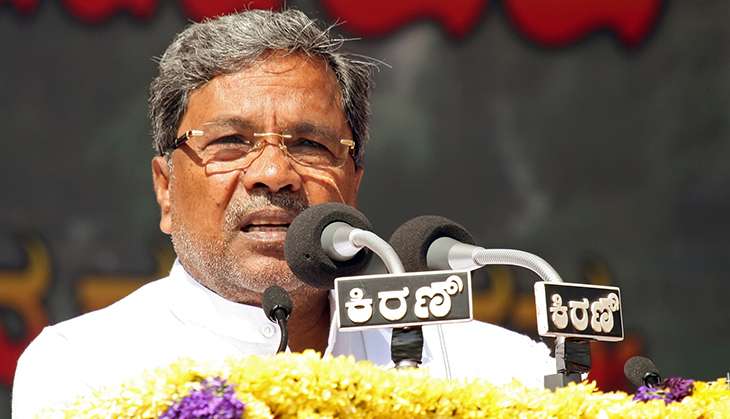 What started it all
Congress high command gave a free hand to Siddaramaiah in the reshuffle
It was a chance for Siddaramaiah to fix his image in Karnataka
What followed
By dropping 14 leaders and inducting 13 new faces, the CM has done the opposite
Violence followed in several parts of the city as supporters of miffed leaders protested
More in the story
Who are the leaders who have been dropped?
What does the Congress high command think?
Major restructuring in the Karnataka cabinet took place on Sunday and went exactly the way Chief Minister Siddaramaiah wanted it.
But wide-spread dissatisfaction followed by violence in parts of the state showed that people were clearly not pleased with Siddaramaiah's choices.
With a little less than two years to go for the next Assembly elections in 2018, the Congress high command virtually gave a free hand to Siddaramaiah to shore up his government's sagging image.
But Siddaramaiah appears to have botched it up.
The chief minister dropped 14 ministers and inducted 13 new faces at a swearing-in ceremony held at the Raj Bhavan, where governor Vajubhai Vala administered the oath of office.
Dissapointment and violence
Supporters of senior ministers like Qumarul Islam, Ambareesh and Srinivas Prasad who were dropped from the ministry as well as failed aspirants like Malakaiah Guttedar and M Krishnappa resorted to vandalism to express their anger.
Six-term-legislator Guttedar's followers set fire to buses and burnt tyres on the street, while hundred's of Islam's supporters blocked traffic by offering prayers in the main square at Gulbarga.
Popular actor-turned politician Ambareesh's henchmen blocked Bengaluru-Mysore highway at Mandya.
Controversial realtor Krishnappa, known as 'layout Krishnappa', who is a legislator from Bengaluru, had his goons barge into a metro train and stop its services for nearly half an hour.
Some of the anger was directed at Congress party leader in the Lok Sabha and a Sonia Gandhi-favourite, Mallikarjun Kharge.
Listing it out
Siddaramaiah's proposed list had met with strong resistance from Karnataka Pradesh Congress Committee President G Parameshwar and veteran leader Oscar Fernandes, who resented at not being taken into confidence.
Sonia had therefore directed the CM to discuss the list with Kharge and party general secretary in charge of Karnataka, Digvijay Singh.
Siddaramaiah had to bargain hard with Kharge, as the latter reportedly questioned the CM's choices for dropping and inducting of ministers.
Siddaramaiah was keen on dropping two 'inefficient' ministers from Gulbarga, Qumarul Islam and Baburao Chinchansur.
Also read: Death to K'taka Lokayukta. Siddaramaiah carves a safe space through the ACB
But Kharge strongly resisted as the duo plays a key role in his own election.
On Friday night, the talks appeared to have reached a deadlock.
Damage control
The next day, Sonia called the leaders to her residence to resolve the issue.
Kharge's Achilles heel was that he was keen on his son and first-term MLA Priyank Kharge, being made ministers. Siddaramaiah agreed on the condition that Islam and Chinchansur be dropped.
Before the cabinet reshuffle exercise, there was even a talk in Congress circles that it would be 'ideal' to replace Siddaramaiah with Kharge to prepare the party for elections.
Kharge, a strong Dalit leader, who has been elected to the Assembly nine times, had been an aspirant at least thrice in the past, but somehow had missed the bus.
But the proposal was nipped in the bud by party high command as Kharge is perceived to be doing a reasonable job in Lok Sabha and neither Sonia nor Rahul Gandhi is ready to take his place.
When the final list was prepared, Siddaramaiah managed to retain all his supporters in the Cabinet, including those facing corruption and other charges like H Anjaneya, Mahadevappa, Mahadeva Prasad, KJ George and Umashri.
The CM forced Kharge to ditch his followers, Islam and Chinchansur, to bring in his son as a minister.
Brewing trouble
In fact, after the swearing-in ceremony, both Chinchansur and Islam openly attacked Kharge and said he had 'sacrificed' them out of 'putr vyamoh.'
They challenged Kharge to win the next election without their help.
The 'koli' community to which Chinchansur belongs and the Muslims together form a sizeable electorate of Gulbarga, which elected Kharge last time.
Adding to that, Guttedar, who has threatened to quit the party after his exclusion, also belongs to Gulbarga.
No method in madness
Two senior legislators, Ramesh Kumar and Speaker Kagodu Thimmappa, who had been constantly sniping at the chief minister, made it to the Cabinet, besides young Turks like Pramod Madhwaraj, SS Mallikarjun and Eshwar Khandre.
But there was little method in the madness.
Also read: BJP swallows bitter pill: Yeddyurappa given charge of Karnataka unit
While Shamanur Shivashankarappa was dropped on grounds of old age (and replaced by his son, Mallikarjun), Thimmappa is one of the oldest legislators at 81.
Dinesh Gundu Rao, one of the younger, better performing ministers, was dropped to make way for another Brahmin, Ramesh Kumar.
Siddaramaiah angers party by bringing in corrupt MPs and dropping those who were performing well
Santosh Lad, who had resigned after his alleged involvement in mining scam being probed by the CBI, made a comeback, though he has been named in a dozen cases still before the court.
Srinivas Prasad, a five-time former MP, who was a Union minister in AB Vajpayee's government, was among those dropped, though he had done a good job in the revenue department, and more importantly, had a clean image.
After being dropped, Prasad attacked Siddaramaiah for his 'mindless' exercise and vowed to fight injustice done to him.
Long-term problems
Prasad's exclusion may eventually hurt the Congress as there is a perception that the Dalits have had a raw deal in the party.
Dalit leaders point out that the demand to make Parameshwar deputy chief minister was ignored.
According to them, Siddaramaiah, an 'outsider' to Congress (he joined Congress only in 2006 after leaving JD-S) was getting all the backing despite his lacklustre performance so far.
It is quite obvious that, after suffering several setbacks in the recent elections, the Congress leadership has decided to stand firmly behind Siddaramaiah rather than rock the boat in the only major state the party is currently in power.
Siddaramaiah, whatever his shortcomings as an administrator, has proved to be a 'highly resourceful' chief minister and is an important attribute in the resources-strapped party.
Edited by Jhinuk Sen
Also read: After Arunachal, Uttarakhand rebellions, Congress worries about Manipur, Himachal and Karnataka