Shivpal's revenge: Mulayam removes Akhilesh loyalists from SP list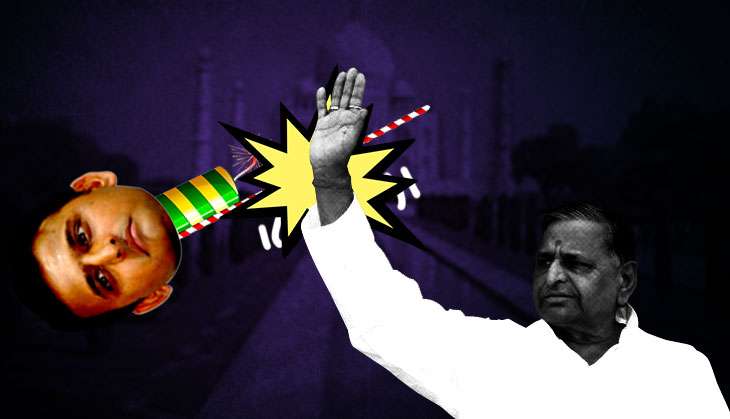 Signs of trouble in the Samajwadi Party resurfaced after Mulayam Singh Yadav chopped off 53 of Akhilesh Yadav's ministers, from the list of 325 candidates for the upcoming Assembly elections.
The list was released by the SP supremo and the party's state president Shivpal Yadav in Lucknow on Wednesday, when the Uttar Pradesh chief minister was away addressing a public meeting in Mahoba.
Those left out included Akhilesh's loyalists like Arvind Singh Gope, Pawan Pandey, Ram Govind Chaudhary and Abhishek Mishra.
Apparently cut-up with the axing of loyalists, Akhilesh said that he will discuss the issue with Mulayam Singh Yadav, his father, and fueled speculation about his future course of action.
That the chief minister's chacha Shivpal had prevailed in the ticket distribution exercise was clear when those whom Akhilesh disliked, like mafia don Atiq Ahmed, were selected as the party's candidates. Another inclusion that would surely have irked Akhilesh was that of Rampal Yadav, MLA from Biswan, who was expelled from the party at Akhilesh's insistence for grabbing land in Lucknow and Sitapur.
A source who is part of Akhilesh group confirmed that those who have been denied ticket were part of the list which the chief minister gave to Mulayam a couple of days ago, while there was no change in Shivpal's list.
Akhilesh earlier had said that he will contest the elections only when he was allowed a say in the distribution of tickets.
What will Akhilesh do?
A member of SP's intellectual cell said that although Akhilesh has given a measured reaction to the setback, he is mulling how to retaliate. "He is going to plan his next step after a meeting with his core group," he said.
He is said to have held a meeting with his loyalists on Wednesday evening. It was attended by many of those who have been denied tickets.
The CM's next course of action would now depend on whether Mulayam and Shivpal agree to accommodate those close to him.
Releasing the list, Mulayam said that names for the remaining 78 seats were under consideration and will be announced later.
Alliance prospects
As the list of candidates led to speculations about a final showdown in the family, talks of any alliance with the Congress took a back seat.
The Samajwadi Party national president ruled out any political alliance for the polls even as his son was keen for a tie-up with the Congress.
A party leader said that chances of any alliance with the Congress were now remote. "The Samajwadi Party is in a position to transfer backward and Muslim votes whereas the Congress had no support base of that kind."
Congress's spokesman Virendra Madan said that the Samajwadi Party had fielded candidates for seats which his party wanted to contest. Without elaborating he said that the party high command has already said that it would go it alone in the Assembly polls.
Based on Mulayam's remark that candidates for 78 seats were yet to be finalised, political observers were hopeful of a three-way pre-poll alliance between the SP, Congress and the Rashtriya Lok Dal. Any such alliance would leave India's grand old party with only 60-65 seats to contest, with the remaining going to the RLD.
Chances of an alliance would brighten if a patch-up bid in the SP fails.
Akhilesh has already expressed his willingness for an alliance. He has also voiced his frustration at not being allowed a say in running the party.
Giving vent to his feelings of being trapped by the family elders the chief minister had said on Tuesday, "Sainiji (FTII director Virendra Saini) kah rahe the unhe ghar me jo cheez pasand nahee thi vo karnee padee. Ravi Kishen ji bhee yahee kah rahe the. Aur log bhee shaayad yahee kahein...yeh baat ab yaheen aadhee adhooree chhod detaa hun (Mr Saini was saying that he had to do what was not liked at home. Ravi Kishen also said the same. Maybe many more say the same but let me leave it at that)."
While laying the foundation stone of a Film, Television and Liberal Arts Institute in Lucknow took an indirect jibe at seniors saying that only the youth can dream. He asked: "Buddhe kaise sapne dekhenge (How would seniors dream?)"