Shiv Sena to go solo. Will it work?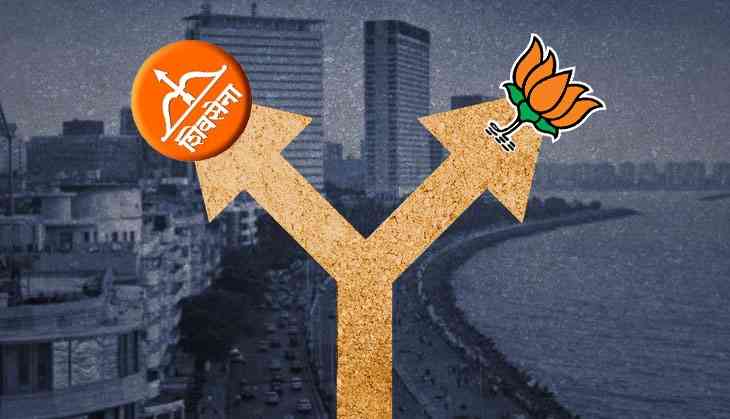 In a major step that will have a long-lasting impact on politics of Maharashtra, the Shiv Sena has decided to contest all future elections on its own. Party chief Uddhav Thackeray announced this decision at the national executive meeting of the party held at Sardar Vallabhbhai Patel Sports Complex in Worli, Mumbai. At the same meeting, Aditya Thackeray, currently heading the Yuva Sena, the youth wing of the party, was elevated to a position of leader in the Shiv Sena. The national executive meeting was organised to mark the birth anniversary of party founder Bal Thackeray.
Going solo
Shiv Sena Rajya Sabha MP Sanjay Raut moved the proposal to contest future elections independently, and the motion was passed unanimously. Raut alleged that the Bharatiya Janata Party (BJP) had been working to finish the Shiv Sena for the last three years, and that it was time to show the party's real strength. He expressed that the Shiv Sena will win a minimum of 25 Lok Sabha seats in the 2019 polls, and 125 Assembly seats in Maharashtra, if it contested independently.

This, however, was only making official what Uddhav Thackeray had said during the campaign for Municipal Corporation of Greater Mumbai (MCGM) elections. At that time, Thackeray had announced that the party will not enter into an alliance with any political party in future.

Addressing the national executive, Uddhav Thackeray came down heavily on the BJP. Taking a pot shot at Modi's 56-inch chest boast, Thackeray said it was not the size of the chest that mattered, as one has to be brave from within. "Instead of doing a road show in Ahmedabad with the Israeli Prime Minister, Narendra Modi should have shown his 56-inch chest by doing a road show at Lal Chowk in Srinagar. The armed forces are real heroes, not the Prime Minister," Thackeray said.

He also criticised BJP leader and Union minister Nitin Gadkari over his statements demeaning the Navy.
Mixed reactions
While the Shiv Sena shows a brave face, other political parties, including the BJP, seem to have written it off. Talking to a news agency, Maharashtra Chief Minister Devendra Fadnavis, who is in Davos, Switzerland, said, "Shiv Sena has been saying a lot of things over the past three years. Still we are in alliance. The government will complete its term of five years."

Senior journalist and political analyst Kumar Ketkar, however, has lauded the decision. "This is a brave move and Shiv Sena will benefit from it. It is likely to emerge stronger in the future. However, the split will not have any impact on the performance of the Congress and Nationalist Congress Party (NCP) even if they form an alliance in 2019," Ketkar said.

Veteran political analyst Ganesh Torsekar, though, feels otherwise. According to him, the Shiv Sena has entered into self-destruction mode, and will pay a heavy price for it in years to come. "It is utterly mindless on the part of Uddhav Thackeray to make the announcement. He should have had a look at the different surveys published over last fortnight. According to them, the vote share of Shiv Sena is likely to come down to 10% from 19.5% in 2014. If true, this is a major loss for a party which is hoping to dominate the politics of the state on its own. In my opinion, it will not be able to even win two Lok Sabha seats in 2019. Whatever it got in 2014 was simply because of the Modi wave, which was seen in Assembly elections held immediately after that, and the MCGM elections last year. Uddhav could not even consolidate his position in Mumbai," he said.

Torsekar criticised the Thackerays for confining themselves to Mumbai. "During the recently conducted civic body elections across the state, despite being CM, Fadnavis toured every city and town for campaigning. On the other hand, Uddhav didn't venture out of Mumbai. It is the biggest disadvantage of Thackerays that they are limited to Mumbai, Pune and Nashik. Uddhav should first gain some ground in Maharashtra, and then aim to spread at the national level," Torsekar said.

Referring to Uddhav's critisism of BJP over its alliance with the Peoples Democratic Party (PDP) in Jammu and Kashmir, Torsekar said, "If there is PDP on one side of the BJP, Shiv Sena is on the other. Uddhav has no moral right to criticise the BJP for having an alliance with PDP as long he is not only with NDA, but sharing the government at state as well as Centre."

Congress spokesperson Sachin Savant said, "Thackerays have lost credibility. Uddhav has created a record of threatening to resign from the government. He only threatens but never executes the threat. As a result, Shiv Sena has become a laughing stock in the political circles of Maharashtra. We will decide our future strategy soon."

Speaking in a similar vein, NCP leader Ajit Pawar said that, though Thackeray has announced that the Shiv Sena will independently contest 2019 Lok Sabha and Assembly elections, he has no courage to walk out of the government at the Centre or state level.

"This is not the real Shiv Sena. If Uddhav Thackeray has decided to contest elections independently, he should ask all his ministers to resign from both state and central governments. But he will never do it, because he doesn't want to give up the perks of being in the government," Pawar said.