Sharad Yadav takes the people's route to defy Nitish Kumar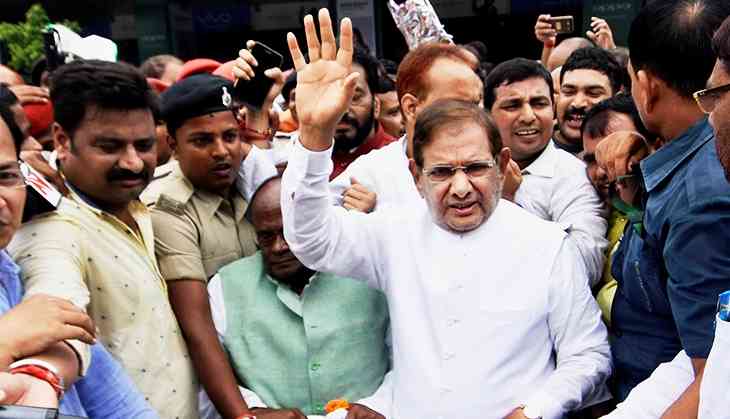 Veteran socialist leader and nine-term Member of Parliament Sharad Yadav raised the hackles of his own party-men Wednesday, as he began his three-day road-show in Bihar. The tour is intended to be a loud no from Yadav to Janata Dal (United) chief Nitish Kumar against the latter's decision to dump the Grand Alliance and re-join the BJP-led NDA.
Yadav landed in Patna and hit the road from the state capital, moving through Hajipur, Sonepur and Muzaffarpur. Stopping at a few places to make brief speeches, Yadav made it clear that he was not happy with Kumar's decision, calling it a betrayal of mandate given by 11 crore people. Staking his own claim over the party which he had led for 14 years, Yadav said while the "sarkari" JD(U) might have joined the BJP, the people's JD(U) was still with the Grand Alliance.
Only one JD(U) leader from the state, former Bochahan MLA Ramai Ram, was among those who joined Yadav, following which reports emerged of several JD(U) leaders who support Kumar calling for action against Ram. However, RJD's support for Yadav was clear from the presence of several volunteers of the party on his route.
भारी बारिश के बावजूद जनता का सैलाब सड़कों पर उमड़ा है। इस प्यार और उत्साह के लिए आपका आभारी हूँ। pic.twitter.com/pkJD5rKDql

— SHARAD YADAV (@SharadYadavMP) August 10, 2017
जन संवाद कार्यक्रम के तहत हाजीपुर में। pic.twitter.com/03tUDmtmlH

— SHARAD YADAV (@SharadYadavMP) August 10, 2017
The Gujarat Rajya Sabha polls have already shown that there is a clear rift within the party following Kumar's alliance-switch. While Kumar had assured support to the BJP, his party's lone MLA in the state, Chhotu Vasava, defied the party diktat and voted for the Congress's candidate, Ahmed Patel. This prompted party's national General Secretary KC Tyagi to fire General Secretary in charge of Gujarat, Arun Srivastava.
Srivastava is a confidante of Yadav, who claimed later in the day that state chiefs of at least 14 of the party's total 22 units in the country are in their camp, against Kumar's decision. Yadav's road-show is all set to precipitate the crisis, with leaders of the Kumar-camp already issuing harsh statements against him on the very first day.
Tyagi said that "the path that Sharad Yadav has chosen leads to the RJD" adding that Yadav was yet to comment on the corruption cases against RJD chief Lalu Yadav and his family. "If he crosses the line, it will be unfortunate," Tyagi warned.
JD(U)'s Bihar chief Vashisht Narain Singh called the road-show Yadav's "personal initiative" and said that the party had nothing to do with it. Spokesperson Ajay Alok advised Yadav to present his views internally and not to the media, warning that there was no in the party for those who defied the party line.
Another JD(U) spokesperson Neeraj Kumar alleged that Yadav's road-show was taking place at the behest of Lalu Yadav's "remote" and that Sharad Yadav had become a rebel. Party will show him its strength, he threatened. Alok also lashed out at Srivastava, calling him a burden on the party who had only drained the party and had no stature to question Nitish Kumar.
These volleys are similar to the offensive launched against JD(U)'s leaders in Bihar against RJD leaders in the run-up to Kumar's decision to call-off the alliance with RJD and Congress. It is quite likely that these spokespersons are speaking with the consent of Kumar, who himself has chosen to be silent on Sharad Yadav so far.
It is speculated that the party will make its stand on Yadav official only when its National Executive meets in Patna on 19 August.