Secret Santa picks out (totally fake) X-mas gifts for Indian politicians
Catch Team
| Updated on: 11 February 2017, 5:45 IST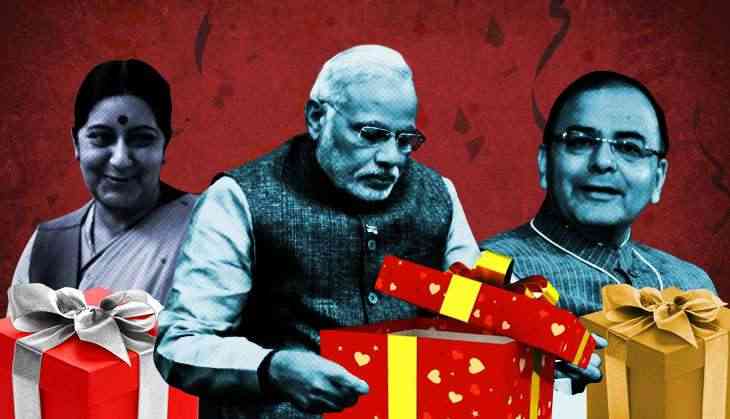 Christmas is a day away.
'Tis the season to be merry, they say. Except demonetisation has managed to keep the less fortunate among us grounded, grounded enough to feel the cold from the hard floor seeping in through our inadequate shoes, filling us with bitterness, hate...
Sorry for the digression.
In order to feel the Christmas spirit again, we decided to play Secret Santa to some of India's well-known leaders. The only difference here is that we'll just announce the gifts, making much noise about it, and in actuality, they'll receive nothing. Much like their joyous hollow promises.
Two can play a game.
1. Narendra Modi
We'll start with the crowd favourite. The most talked about politician in India, the Prime Minister himself deserves nothing less than a gloriously opulent... mirror.
With a suit that spelled out his name in fine print and his selfie obsession, the narcissist in our PM would be most flattered with a mirror. That aside, call us anti-national, but it's about time someone showed him one.
2. Arvind Kejriwal
The most obvious gift for Delhi's Chief Minister would be a lifetime supply of cough syrup. But because we like to do things differently, and because, let's face it, you've heard that joke one too many times.
So as Secret Santa to Kejriwal, we'd like to gift him a role in Rohit Shetty's next Golmaal franchise film. There would be action, there would be drama... Besides, he can always one-line review it later.
3. Sushma Swaraj
The Minister of External Affairs has her fashion on point. So getting her another Fabindia jacket makes no sense.
Instead, Sushma ji could do with more social media assistance. To her, we offer ourselves. We can handle your social media accounts and travel to all these cool places you go to for work. What could be better than to gift someone oneself?
It's all for a noble cause, as long as she's paying.
4. Mamata Banerjee
The Chief Minister and 'Didi' of Bengal has a vibrant personality that doesn't always reflect in her choice of attire. However, we wouldn't want her pristine whites to get dirty with all the maati she so often refers to.
A year's supply of Ujala would ensure that her sarees remain stark and Didi remains sharp. Bas char boond should do it.
Arun Jaitley has been in the thick of things with demonetisation thanks to his position as Finance Minister. Answerable for anything ranging from the PM's changing decisions to the upcoming Union Budget, Jaitley is the go-to man for all our questions.
Perhaps, what the man really needs, is a reality check. Before he makes another pro-demonetisation comment, we'd like to offer him a special tour of every functional bank in the city.
6. Sasikala
Sasikala may not already be a formidable minister in the country, but she's formidable nonetheless. With Jayalalithaa's death, the spotlight has moved to Sasikala and the possibility of her taking over AIADMK reins.
What Amma lacked was transparency, and in our times, a pristine track record is akin to a Twitter account. So for Sasikala, we offer the gift of social media. Besides, why should BJP have all the fun?
7. Akhilesh Yadav
The Chief Minister of Uttar Pradesh is known for making completely bizarre remarks. His comment on retaining black money to help the democracy was perhaps the most twisted critique of demonetisation, also probably the only one that lacks merit.
The Yadav scion deserves some training in Logical Reasoning. We'll send him some tuition options this Christmas. We're sure he can afford to pay in new currency.
8. Mohan Bhagwat
The RSS chief's anti-Muslim, anti-Christian rants are so commonplace that perhaps all he needs is a copy of the Indian Constitution.
We'll send it with a bouquet of flowers and a 'Get Well Soon' card, Munnabhai style.
9. Smriti Irani
Ever since she left the post of HRD Minister, Smriti Irani has been off the news. And honestly, we miss her a little.
So this Christmas, she gets another Balaji Telefilms offer. Because Smriti bhi kabhi actress thi.
10. Najeeb Jung
While the Ex-Lt. Governor Jung's sudden exit has sent the CM and AAP into celebration mode, we imagine he must have a lot of time on his hands now.
A good gift for this suddenly free Jung who wants to go back to his 'first love' academics would be a book. A Chetan Bhagat, because apparently, that's what most of Delhi reads anyway.
Try and enjoy it, Mr Jung.