Seat-sharing: Bihar's grand alliance sends out strong message of unity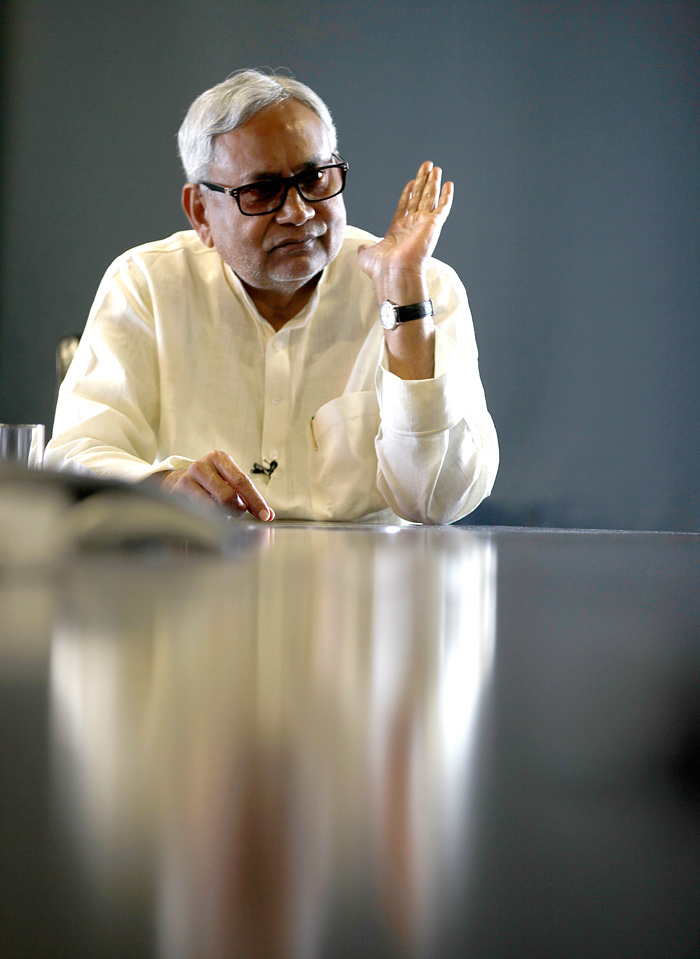 United front
The grand alliance of JD(U), RJD and Congress has released its list of candidates for the Bihar polls
The list has 242 names, with only the candidate for Rajgir yet to be decided by the JD(U)
Unlike the NDA, the whole list was released in one go by Nitish Kumar
There was no public hullabaloo over tickets like there had been with NDA members
Caste arithmetic
Backward castes will contest 55% seats (134) on behalf of the alliance
There are 33 Muslim candidates in fray, as well as 25 women candidates
RJD has not given any tickets to Bhumihars - who have a history of bad blood with Dalits, Mahadalits and Yadavs
This is a clear signal to these communities to rally round the grand alliance
More in the story
The question of rebels that the mega alliances are facing
There was no drama, no cries of disappointment and no unnecessary hullabaloo, which had accompanied the NDA's lists of candidates for the Bihar assembly elections.
Instead, there was just one list, one press conference and one face declaring everything.
The grand alliance of the JD(U), RJD and Congress put its best foot forward on 23 September when Nitish Kumar announced its list of 242 candidates.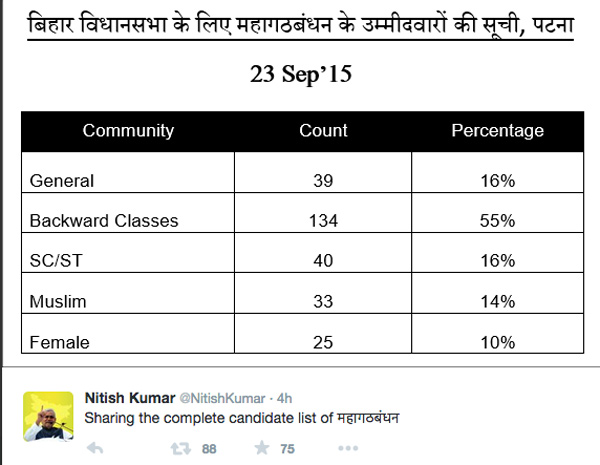 The list
The seat-sharing formula for all 243 seats has been declared. The JD(U) and RJD will each contest 101 seats while the Congress will contest 41 seats.
The candidate for only one seat has not been declared yet. Rajgir, which is set for the third phase of elections on 28 October, is in the JD(U)'s hands, and the candidate will be announced later.
General category candidates are set to contest 39 seats (16%), while SC/STs have got 40 seats. The biggest share of seats has gone to the backward castes. With 55% representation, they have got 134 seats from the grand alliance.
The election is clearly heading down an extremely caste-dominated path
Twenty-five women candidates (10%) are also in the fray, while 33 seats have been given to Muslim candidates (14%). Out of these, 16 Muslim candidates are from the RJD, 10 from the Congress and seven from the JD(U).
As he had announced on 3 August, Nitish's name does not figure among the list of candidates. He is currently a member of the Bihar Legislative Council, the Upper House of the legislature.
Both of Lalu Prasad Yadav's sons, Tej Pratap and Tejaswi, are contesting from Mahua and Raghopur assembly seats of Vaishali district respectively.
NDA's divided house?
The NDA had declared its candidates in different lists, with the biggest partner, the BJP, announcing its own candidates in three lists.
Its allies, Ram Vilas Paswan's Lok Janshakti Party, Jitan Ram Manjhi's Hindustan Awam Morcha and Upendra Kushwaha's Rashtriya Lok Samata Party, were constantly posturing for more seats.
Nitish has released a list of 242 candidates. The JD(U) candidate from Rajgir will be decided later
Manjhi declared his candidates in two lists. Then there was drama in Delhi by disappointed ticket seekers when Kushwaha was declaring his candidates for the election.
On the other hand, the grand alliance has shown great synergy and coordination among the parties, considering that the alliance has been seen as inherently unstable by opposing parties and a lot of common people too.
The rebel factor
This is not to say that the grand alliance wouldn't have squabbles inside its own house. Not everything is alright - there are a few disappointed leaders who were expecting tickets and are now looking for other options.
Some of these leaders could turn out to be problematic for the alliances. Senior journalist Manikant Thakur says: "This damage is not restricted to one alliance. Both major alliances have possible rebels and there will be challenge for both alliances."
However, a JD(U) leader countered by saying: "We have less rebels than the NDA. Both alliances have declared the candidates. So, whether the rebels fight independently or go to other fronts now, it's not a big concern. Most of them will end up campaigning for the alliance."
Caste-oriented approach
The most interesting element of seat distribution is that the RJD has not given a single ticket to the Bhumihar community. This is a very aggressive and caste-oriented approach.
There were indications during the alliance's Swabhiman rally last month, but now it's official: the election is heading down an extremely caste-dominated path.
Lalu has played a wild card through this kind of exclusion. This is a direct message to Dalits, Mahadalits and Yadavs. Bhumihars have a history of conflict with all these three segments of society, and this exclusion is an appeal to all of them to unite and stand in favour of the grand alliance.
"The grand alliance's seat-sharing arrangement is very focussed and strategically sorted. However, this brings back images of the Mandal era and we can sense that conflicts and clashes are coming ," says a senior political analyst.
Tickets 'sold'
There are long queues outside the residences and offices of parties that have formed a third front. Expelled RJD MP Pappu Yadav, Mulayam Singh Yadav's Samajwadi Party and the NCP have not yet declared their candidates, and thus, the people who have not received tickets are knocking on their doors.
Pappu Yadav told Catch that they would welcome "all intellectual and progressive people who have been dropped by the grand alliance."
He said, "Nitish and Lalu have given 40% tickets to criminals. Others have money power. They have sold the tickets on a large scale. People will reject them."