SADist regime in Punjab? Vishwas targetted, Zee taken off air for attacking Akalis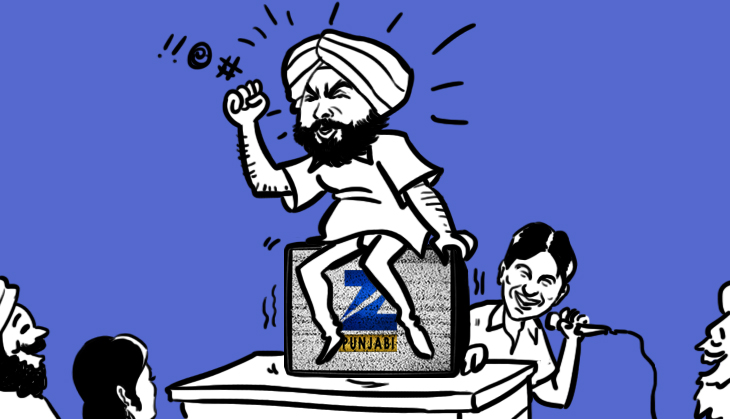 The crackdown
Akalis plan to sue Kumar Vishwas for his song on Punjab\'s drug menace
They say he has insuted Punjab and Sikhs.
Zee was recently taken off Punjab\'s cable network, supposedly for criticising SAD-BJP
More in the story
Are Akalis behind the blocking of Zee?
AAP and Akalis on warpath
What SAD\'s opponents have to say
It seems that in Punjab, you can't even raise social and political issues without drawing the ire of the ruling Shiromani Akali Dal. Aam Aadmi Party (AAP) leader Kumar Vishwas and some television channels have discovered the hard way this recently.
Kumar Vishwas' anti-drugs song 'Nasha' had become the talking point in the state. While the song talks about the plight of farmers who have taken to drugs, there are very clear political undertones to it. Vishwas has targetted Punjab Chief Minister Parkash Singh Badal and his son Sukhbir Badal in the song, which has gone viral.
Also in question is the throttling of television channels that do not subscribe to the 'unofficial code' of showing those in power in a positive light. The latest to face the wrath is Zee Punjab Haryana Himachal that was taken off the cable network. Some other channels have also faced similar treatment.
Chandigarh saw a protest by journalists some days back against what is being described as the throttling of press freedom and free expression.
Punjab government has however has washed its hands off the Zee matter.
During his recent Amritsar visit, deputy chief minister Sukhbir Badal clarified that the Punjab government had no role in the stopping the airing of Zee Punjab Haryana Himachal channel and that this was done by the Union government's regulatory body on media.
SAD vs Kumar Vishwas
While the Akalis are reportedly planning to sue Vishwas for 'maligning the image of Jatts by showing them as drug addicts,' SAD leader Virsa Singh Valtoha launched a personal attack on Vishwas and Delhi chief minister Arvind Kejriwal. Valtoha asked Kejriwal to "stop his open and full-scale patronage to Vishwas who is facing a court-monitored case for allegedly molesting and outraging the modesty of a young and innocent girl".
Valtoha went to the extent of saying that a person like Vishwas must not be allowed to enter Punjab and vitiate the atmosphere in the land of the Gurus. "Punjabis cannot and will not allow such leaders and their patrons to come anywhere near our towns and villages, and certainly not even within miles of their homes," he said.
SAD's Delhi unit spokesperson Parminder Pal Singh accused Vishwas' song of being 'anti-Sikh' and advised the leader to write songs on the 'rave parties that go in the national capital every day'. He said that AAP should first check the rampant sale of guthka and drugs in Delhi instead of trying to defame the youth of Punjab.
Sources say that AAP plans to play this song at its political programmes across the state as the momentum builds up for the polls.
"The Akalis are scared of the effectiveness of the song. It is a heart touching song that will definitely have an impact. They fear that their role in Punjab's drug will get exposed," AAP leader RR Bharadwaj told Catch.
"If this is the reaction that just one song is getting, I wonder how they will react to the upcoming Bollywood movie Udta Punjab which is based on the drug menace in Punjab. Coming from a family of Akali supporters I know there are several apprehensions about the movie as well," said a student from Rampura Phul in Bhatinda district who is studying in Chandigarh.
TV channels blocked
The blocking of television channels on cable networks has drawn strong political reactions from the opposition parties.
The AAP leadership has said that after it forms the government in 2017, it will end the Badals' monopoly and the era of 'cable mafia' in Punjab.
Senior AAP leader and Sangrur MP Bhagwant Mann said that Akali-BJP alliance government has surpassed the Congress in snatching the right to free speech and asserted that a 'media emergency' exists in the state.
He said that it is not the first time that channels raising issues related to the people of Punjab, are being made to feel the heat.
Mann termed the Badals' rule as being worse than that of Ahmad Shah Abdali.
Punjab Congress president Captain Amarinder Singh has also condemned the move. "This is a draconian move by this government. It only betrays their frustration and fear psychosis," he said while reiterating his commitment to finish Badals' monopoly on everything, be it television channels, cable distribution, mining, transport and the liquor business.
"By blocking television news channels, you cannot block the truth. It will emerge in any case. By closing your eyes you cannot escape the doom that is staring you in the face," Amarinder said, predicting that the Akalis won't be seen in Punjab after 2017.
Amarinder said that the blocking of television news channels like Zee Punjab Haryana Himachal, ABP Sanjha, Day & Night and others has only reinforced the public belief that the Badals' are nearing their end. He pointed out that Badals have, time and again, blocked advertisements to make newspapers fall in line.
"Old habits die hard but such habits have to die eventually and these certainly will and I will ensure that," he said.
Now an AAP leader, Kanwar Sandhu was the editor-in-chief of Day & Night channel, whose telecast was blocked on the cable network across the state.
"In Punjab 80-85% of television viewership is through cable telecast while 10-15% is through Direct-to-Home (DTH). Internet television is almost negligible. It is the cable viewership that determines your TRP," he told Catch. He said that he is still engaged in a fight with cable company Fastway.
Referring to the recent blocking of Zee Punjab Haryana Himachal, he posted on his Facebook page, "I now notice that various political parties like Congress and BJP are shedding 'tears' on the blocking of Zee. Make no mistake, they did nothing earlier and will do nothing now. AAP will, and within days. Wait for another few months."