RSS national executive in Hyderabad from Sunday, UP polls to top agenda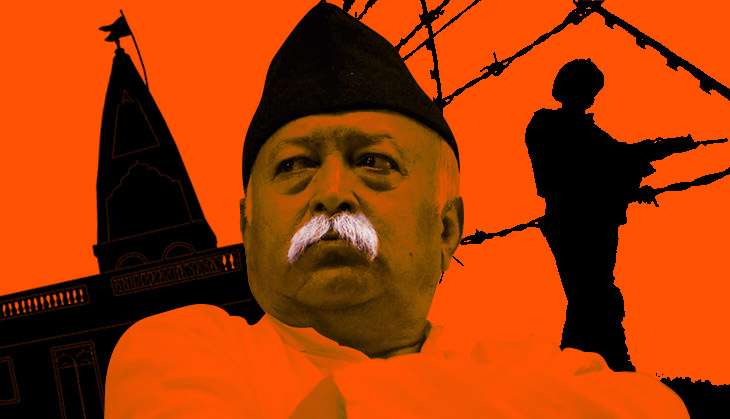 The All India national executive meeting of the Rashtriya Swayamsevak Sangh will be held in Hyderabad from 23 October. Top leaders of the Sangh will deliberate on several issues of national importance during the three-day meet.
According to sources, the Bharatiya Janata Party's poll preparations for Uttar Pradesh and the RSS's contributions in the run-up to the elections are likely to dominate the meeting.
The national executive will also pass several resolutions, including one on Dalits.
The RSS brass will also ask its cadres to intensify the "ek kuan, ek mandir, ek shamshan (one well, one temple, one cremation ground)" campaign in every district.
Echoing RSS chief Mohan Bhagwat's Dussehra speech, the executive is also likely to hail the Modi government for the recent surgical strike along the Line of Control.
Furthermore, the Sangh will also express its concern about the prevailing situation in Kashmir during the meeting. The national executive could also ask the government to take concrete measures to bring normalcy to the Kashmir Valley.
The Executive could also pass a resolution demanding a new law for giving citizenship to Hindu migrants from Pakistan and Bangladesh.
The issue of the recent rebellion in the Sangh's Goa unit, under the leadership of Subhash Velingkar, will also be discussed during the meeting. The executive will focus on containing the damage to its reputation after the events in Goa.
In addition, the national executive will also formalise a response to the Maratha agitation for reservation in Maharashtra. In a meeting held in Rajasthan's Nagaur in February, the Sangh's Akhil Bhartiya Pratinidhi Sabha had termed the Jat quota agitation and Patidar community's stir over the reservation as 'harmful' to social harmony.
The RSS has clarified in the past that it was in favour of continuing the reservation policy. However, it is against providing quota on the basis of religion.
Focus on yoga
The national executive could stress the need to include yoga as a part of the daily routine for better physical and mental health. It could demand compulsory yoga education in school curriculums, while asking its swayamsevaks to adopt yogic practices and spread awareness regarding the same.
Universal education on agenda