Bharatiyakaran: RSS' 8-point guide to saffronise education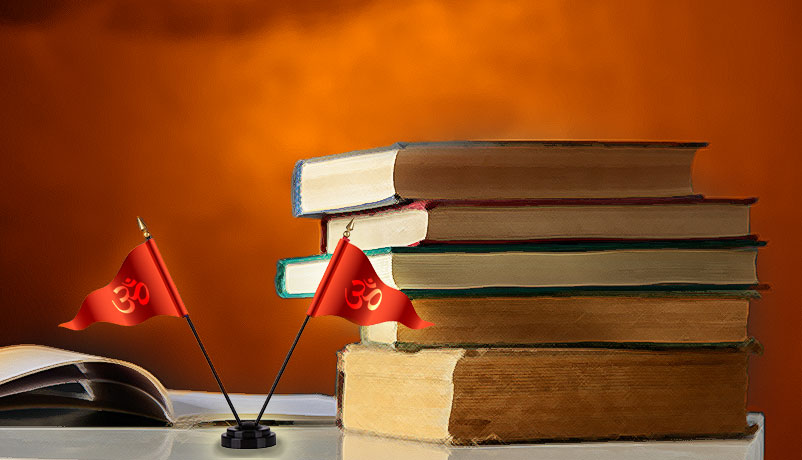 As Narendra Modi and his ministers lined up at RSS' recent conclave with their report cards, the Sangh elders were particularly assessing the work in three areas - Siksha, Sanskriti, Sanchar (Education, Culture, Communication).
That is because education, culture and communication are central to the RSS' saffronisation project, Bharatiyakaran. Of these, education is the top priority.
Indeed, soon after the conclave at Madhyanchal in Delhi, the RSS held a meeting of its sister outfits at the same venue to brainstorm how the Parivar would implement its agenda on education.
It was attended by leaders of the Bharatiya Sikshak Mandal, Akhil Bharatiya Sikshak Mahasangh, Vidya Bharti, ABVP, Itihas Sankalan Samiti and BJP, among others. The RSS sent joint general secretary Krishna Gopal.
More important, education ministers from states ruled by the BJP attended as did some central ministers and MPs.
Senior Sangh leaders have again gathered for the national executive meeting of Vidya Bharati that began in Varanasi on 11 September. And on the agenda is a discussion on the "new education policy".
"The idea behind exchanges between ministers and experts from our sister organisations on framing the education policy is to get a better understanding of the issues," says a senior RSS leader.
"And what is wrong if someone who has been working for decades on issues related to the education helps state and central governments."
But why is the Sangh so concerned about education. "Our education system needs overhauling," says an RSS leader. "Iske Bhratiyakaran ki awashyakta hai (It needs to be Indianised)."
"The past governments have written history and other subjects the way they wanted. It was their history. Now it's time to teach genuine history and take the education system in the right direction."
The Sangh, in effect, wants ownership of the narrative on history, and by extension, the idea of India.
To enable this, it needs to comprehensively saffronise the country's education system. Here are the various ways through which the RSS plans to achieve this goal:
01
Formulate a new education policy
"We are working towards a new education policy," admits a senior RSS leader. "The meeting with the state ministers was called to understand what they are doing and what else they need to do. We feel that a new education policy is greatly required."
But why? "Macaulay," the leader says by way of explanation, "he forced his education model on us. We are a nation that taught the world for thousands of years. Why should we not have our own education policy."
An ABVP leader who attended the meeting with the state ministers says, "We have done 25 roundtable meetings with teachers and students across the country in the last few months. There was a national-level meeting in Mumbai. Another one will be held in Kolkata."
"By the end of this year, we will be ready with a report which will elaborate our new education policy. We will give it to the government."
02
Get more young people to study
The Sangh has asked its sister organisations as well as BJP governments to work on increasing the country's Gross Enrollment Ratio from 17% to 25%.
This, the RSS hopes, would allow it to connect with a vast number of young, impressionable students. They would be easier to teach the "saffronised" curricula to.
[twittable]RSS leader: It's time to teach genuine history and take the education system in the right direction[/twittable]
Besides, getting them to study will leave a good impression about the organisation not only on the students themselves but the wider community as well.
03
Reach out to girls, SC/ST students
More girls drop out of school than boys, particularly in rural areas. To address this, the meeting came up with a slogan, 'Pehle padhai, phir bidaai(education first, marriage later)'.
A similar plan has been drawn up for children of SC/ST families who are forced to drop out of school due to poverty or other social reasons. These are all sections of the society that aren't particularly fond of the RSS. Helping them stay in school may open up an opportunity.
04
Connect with unemployed educated youth
At the Madhyanchal meeting, many participants expressed concern about a large population of youth who are unemployed despite taking professional degrees. "According to a study, about 50% engineering students are without jobs. There is an urgent need for skill development and job-oriented policies," says a participant.
It was decided that the Sangh will work with states to introduce new courses in colleges and help the youth avail schemes like Skill India. It will also help set up ITI like institutes. This will provide opportunities to connect with the youth and introduce them to its ideology.
Also read: 8 RSS think tanks that are competing for intellectual space in Delhi
05
Promote non-Christian heritage of the Northeast
The "rise of Christianity and the western culture" in the Northeast has long rankled the Sangh. To combat this, the Sangh has now come up with a plan: set up study centers in universities to open channels of dialogue among the students from the region.
Also, campaigns will be launched to "promote the history, culture and contribution of these states" to the country.
06
Laying claim to BR Ambedkar's legacy
It's not just the history that the RSS wants to own, but historical figures as well. And Ambedkar is someone they desperately want to claim as their own.
But how would they navigate the ideological gulf between their fantasy of Hindu hegemony and Ambedkar's struggle to dismantle it? By getting Sangh historians to write books on his "positive side for the Hindutva". Already, several books have been launched in presence of top RSS leaders.
The Sangh also plans to celebrate Ambedkar's 125 birth anniversary year "on a large scale". State education ministers as well as central ministers have already been briefed about the plan.
All this, the RSS believes, would help it bring Dalits, particularly the younger generations, into the fold. If this social engineering works, the Sangh would gain formidable political and electoral clout.
Also read: Not just a Parivar matter: why ministers trooping to RSS meet is worrying
Borrowing icons from others won't suffice for an organisation that plans to own the national narrative. So alongside celebrating Ambedkar, the Sangh is planning a series of events to mark the birth centenary of its very own Deendayal Upadhyaya.
Promoting leaders from its own ideological stable will serve the RSS two purposes.
One, wider acceptability of the leaders would likely translate into a greater acceptability of organisation itself.
Two, and this is more important, they will be installed to replace historical figures whom the Sangh isn't very fond of.
"We have to teach students about our history, our science, our language, our heroes and freedom fighters, but the past governments have portrayed people such as Aurangzeb as great icons. Then again, what else could you have been expected from them," says a Sangh leader who attended the Madhyanchal meeting. "Anyway, it's time to correct the things."
Another leader adds, "Aurangzeb is just the beginning. We need to bring down more such looters and raise our real heroes. And we will do it."
08
Promote Sanskrit and regional languages
Lastly, promotion of Sanskrit is an agenda that is quite close to the Sangh's heart. The ancient language, it claims, is a repository of all things great and Hindu.
Now though, the RSS also wants to promote regional languages in order to reach out more effectively to the vast populations that speak and understand only their native tongues.