RSS hated tricolour. Muslims will fly the flag forever, Inshallah: Owaisi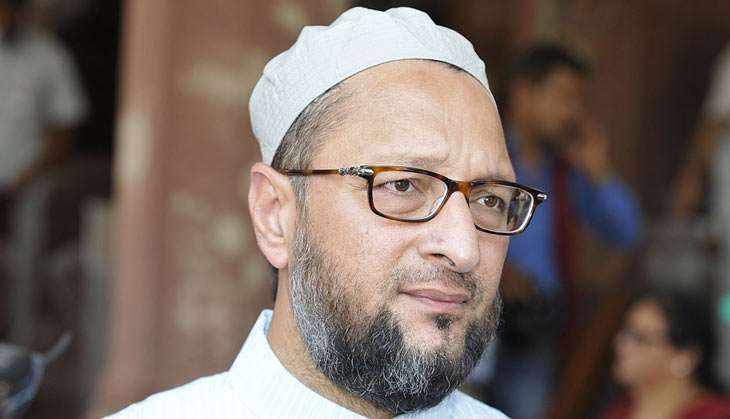 All India Majlis-e-Ittehadul Muslimeen president Asaduddin Owaisi chose to begin his campaign against ISIS a day after Eid-ul-Fitr this year. Now, on the eve of India's independence day, he has put forward his version of Indian nationalism.
Addressing a public meeting in Lucknow on Saturday, Owaisi said, "We (Muslims) will unfurl the tricolour on 15 August and Inshallah we'll continue to do so forever. We will sing the national anthem Jana Gana Mana with pride".
The Hyderabad MP said that the sacrifices Muslims have made for the country are seldom acknowledged.
"Who shed the first drops of blood for India's freedom? Was it someone from the Congress? Was it someone from the Samajwadi Party or the BJP? It is our respected Ulema who gave the fatwa for a Jihad against the British. Lakhs of people came out to fight for India's freedom in response to the call," he said.
"(We told the British). The time has come. We will not be your slaves anymore. This is our country and you cannot stay here. We will be the masters of our own destiny."
This rally also marked the beginning of Owaisi's campaign in the build-up to the Assembly elections Uttar Pradesh. Here are excerpts from what he said.
Questions nationalism of BJP & RSS
"Which was the first act of terrorism in India? It was the assassination of Mahatma Gandhi...12 people were arrested for his murder, those goons," he said, adding that Hindutva icon Savarkar was one of those arrested.
"Do you know, (Jana Sangh founder) Syama Prasad Mookerjee was collecting money for the accused. Why was he collecting money for those accused of killing Mahatma Gandhi? And it is not me who's saying this, Sardar Patel confronted Mookerjee on this," he said, referring to the recent revelation that Mookerjee was indeed complicit in raising funds for the defence of Gandhi's killers and that Patel, the then Home Minister had confronted him for this act.
"And when I say let the courts decide whether someone is a terrorist, they call me anti-national."
"BJP is conducting a Tiranga Yatra. Do they know who designed the tricolour? It was designed by a Muslim," Owaisi said, referring to Suraiya Tyabji, who incidentally was also from Hyderabad.
"Sangh has always opposed India's tricolour....on 29 July, Vinayak Damodar Savarkar wrote, I must emphatically state that the tricolour can never be recognised as the national Flag of Hindustan," Owaisi said, citing a story by Catch.
'Muslims never got their due'
"We belong to this country and it is our duty to strengthen India's democracy."
"We even cut out a part of us so that the country becomes independent. But our sacrifices aren't acknowledged by those who wrote history"
"Since Independence, India's Dalits and Muslims didn't make anyone their leader...First we said Jawharlal Nehru is our leader, then we said Indira Gandhi will solve our problems, then we said her son Rajiv Gandhi will help us."
"Babri Masjid was demolished and Samajwadi Party came up. We said lets hold their hand and move forward. In Bihar we looked towards Lalu, Sharad Pawar came up in Maharashtra and Chandrababu Naidu in Andhra Pradesh. We placed our trust in so many people. What did we get?"
"The literacy rate among Muslims is much lower than the national average."
"Go to a Muslim dominated area, there won't be a school but there will always be a police station."
"Majlis doesn't play politics on the basis of religion or caste. All we ask for is to be given the rights that have been promised to us by the Constitution of India."
On Uttar Pradesh elections
"Congress, BJP, SP and BSP all come together to label Majlis as communal...why don't four of you get together and decide who is secular?
"I can stand in Parliament and speak on atrocities against Dalits in Gujarat, looking Rajnath Singh in the eye. But I am not allowed to speak in Uttar Pradesh. Why are they afraid?"
"I am the most notorious politician in the country. I give the most incendiary speeches. No one did that before me. When others speak, flowers and sweets fall out of their mouths. It's as if there is a ghazal performance going on."
"A girl was raped in Bulandshahr. This could happen to our daughter or sister. The government here does nothing. The only thing they do effectively is prevent me from speaking."
"The police here is busy looking for a lost buffalo, the leader (SP leader Azam Khan) asks where is my buffalo. Sir, she got fed up with you and left. If a buffalo ran away from your house, be assured that Dalits and Muslims will also leave you".
"What the SP does isn't Samajwad, it is Yadavvad...they have deviated far away from Ram Manohar Lohia's ideology."
"BJP calls me anti-national. Congress, SP, BSP call me me communal. They have started shops for giving labels. If we don't follow Congress, SP, BSP, they call us communal. If we don't eat prasad from BJP's hands, we become anti-national."
"I ask those calling me communal, why didn't you let (Muslims) study for all these years? Why is our literacy rate so low. It is partly our fault too, but you were the ones in power for all these years."
Soft on BSP?
Owaisi's crticism was largely reserved for the BJP, SP and Congress and he seemed to be comparatively soft on the Bahujan Samaj Party. Though he did name BSP a few times in the same breath as SP and Congress, there wasn't a single mention of party supremo Mayawati in his nearly 40 minute long speech.
In a press conference in Lucknow on Saturday, he expressed his admiration for BSP founder and Dalit icon Kanshi Ram.
"Kanshi Ram was exceptional, what he accomplished for Dalits is phenomenal," Owaisi said.
Perhaps the Majlis chief's reluctance to attack Mayawati stems from his plan to create a Dalit-Muslim alliance.
In the press conference, Owaisi said that he had no intention of aligning with any of the four major parties in UP but he later added that defeating the BJP is his top priority.
More in Catch
Exclusive: BJP icon SP Mookerjee complicit in raising funds to defend Gandhi's killers
"ISIS are dogs from hell. We'll chop Baghdadi into 100 pieces": Owaisi
Don't be fooled by BJP's Tiranga Yatra, RSS hated the tricolour