RSS chief Mohan Bhagwat addresses karyakartas at Vijaydashmi event, says 'Center should bring law to build Ram Mandir'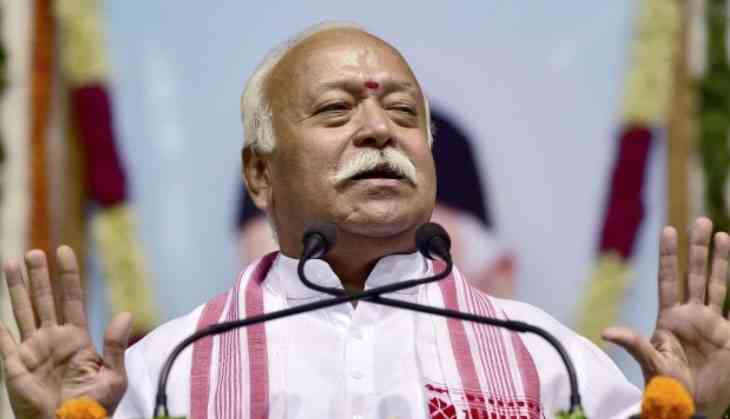 The Rashtriya Swayamsevak Sangh (RSS) chief Mohan Bhagwat, while addressing a Vijayadashami rally at Nagpur, urged the Narendra Modi government to bring a law to construct Ram Mandir at the disputed site of Babri Masjid in Ayodhya.
Bhagwat was speaking at the annual Vijayadashami speech in Nagpur today. He expressed his keenness on the fact that the Ram Mandir should have been built until now and that Supreme Court must take the decision on the matter as soon as possible.
"Both Hindus and Muslims suffered under Babur. He demolished Ram Mandir to trounce our self-respect. We know there is ram temple there, foundations have been unearthed, but case is going on and is getting delayed. But political parties are doing politics over it, it is unfortunate, Ram temple should have been built by now. We need a decision soon," said the RSS chief.
The event was organized in Nagpur and the chief guest was Kailash Satyarthi, the Nobel Peace prize winning social activist, who joined the RSS chief and other functionaries on the stage.
The place of Ram Janmabhoomi is yet to be allocated although evidence have affirmed that there was a temple at that place.The temple would have been constructed long ago if there wasn't political interference. We want govt to clear the path for construction through law: RSS Chief pic.twitter.com/hr9wqdpRCY

— ANI (@ANI) October 18, 2018
Bhagwat later on urged the people to vote in the upcoming state and Lok Sabha polls and weighed upon the side of the BJP, which ended the speculation about RSS being an apolitical outfit.
This tradition had been there for so long & was being followed. Those who filed petitions against it are not the one who will go to temple. A large section of women follow this practice. Their sentiments were not considered: RSS Chief Mohan Bhagwat on #SabarimalaTemple issue pic.twitter.com/lY0ig5yJu4

— ANI (@ANI) October 18, 2018
He said that "People say that their government is in power why don't they build Ram temple. Elections happen. We become kings. But we are kings only for a day. Cast ballot one day and suffer for next 5 years. Voting should be done properly after a lot of thought. 100% people should come out and vote. Who will bring India together and not break it apart?"
Also read: 2019 Lok Sabha polls: Congress to alliance with BR Ambedkar's grandson's Prakash Ambedkar's