RSS calls for Kolkata meet to discuss porous Bangla bordering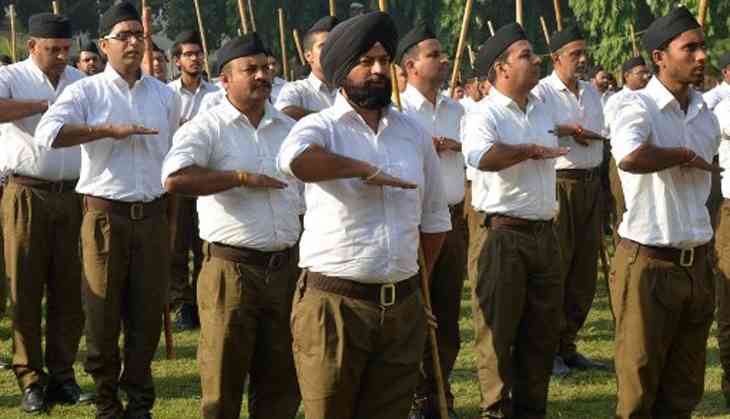 The Sangh Parivar has always complained about increasing illegal immigration from Bangladesh. Now the Rashtriya Swamsevak Sangh (RSS), the ideological fountainhead of the Bharatiya Janata Party (BJP), has called for a conference on the issue.
The meet in Kolkata will discuss illegal immigration, smuggling of cattle and counterfeit notes the need to increase border fencing. RSS district office bearers will attend the conference, scheduled for 10-11 February, 2018.
RSS wing Simanta Raksha Chetana Manch, officials from the Union Home Ministry as well as the Border Security Force BSF officials will be invited to attend the conference. The governors of Bengal an Tripura, central minister from the state Babul Supriyo, Parliamentarian SS Ahluwalia and BJP leader Roopa Ganguly are also scheduled to attend.
India shares a 4096-kilometre border with Bangladesh, 2,216 km of which runs by West Bengal.
as it was felt that the border fencing issue has been neglected by the state government despite instructions from the Union Home Ministry to acquire land for construction of fences at the Indo-Bangladesh border.
"Mamata Banerjee's government has neglected the border issues. As a result, there has been an increase in illegal infiltration," Jagannath Senapati, state organising secretary of the Manch, said.
"After the Khagragarh blast (in Burdwan, 2014) the Union Home Ministry instructed the state government to beef up security in bordering districts, but nothing has been done. We feel Hindus in Bengal are frightened as the government is interested only in appeasement of Muslims," he added.
Senapati claimed fake currency with a face value of Rs 55.66 lakh was seized by the BSF from Kaliachak in Malda since demonitisation. A special task force of the Kolkata Police also seized fake currency of around Rs 14 lakh this year.
RSS sources said Sangh chief Mohan Bhagwat had several meetings this month with RSS Bengal chief Jishnu Bose and others on how to increase its strength in Bengal. The border issue was also discussed then and that's when the conference was conceptualised.
In October, the Union Home Ministry asked the state to urgently acquire and provide land for construction of border fences. It also directed the state to bar cattle markets within 8 km of the border.
The state government, however, passed the ball in the Centre's court. "It is the democratic right of any party to hold a conference. But we feel that Centre has failed in its responsibilities and is blaming the West Bengal government for illegal infiltration," Bengal Parliamentary Affairs Minister Partha Chatterjee said.
"If there has been an increase in illegal infiltration, the BSF should act accordingly. The state government does not have any role to play," he added.
Edited by Joyjeet Das