Roopa Ganguly to raise political violence, women's issues in Parliament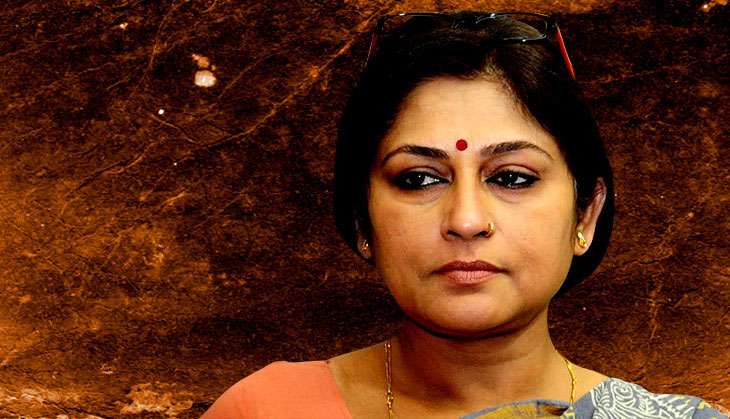 Roopa Ganguly, chief of BJP's Mahila Morcha in Bengal has been nominated to replace Navjyot Singh Sidhu in the Rajya Sabha (RS). Ganguly joins actors like Rekha and Suresh Gopi in Parliament as a part of BJP's posse.
Speaking just after the announcement, Ganguly said that her foremost task is to take up the issue of atrocities against women in Parliament as she feels that it has increased in Bengal during the Trinamool regime.
Speaking to Catch Ganguly said, "Lawlessness and physical harassment against women has increased multifold in the state and so I will take up the issue."
Ganguly, who has been vocal against police atrocities in the past, said, "TMC has created a lawless atmosphere in the state with people always being petrified of police atrocities and I will bring this up."
The way in
It is being said that Ganguly's entry into Rajya Sabha will help the BJP gain inroads in Bengal and will give play as an added advantage for BJP's Mission Bengal.
The 49-year-old actor came into limelight with the 1988 mega-mythological serial Mahabharat, where she played the role of Draupadi. She has also acted in a few Hindi and Bengali films in the 1990s and the 2000s.
Ganguly had joined the Bharatiya Janata Party in 2015 and before that she was an active CPI(M) worker.
Top sources in BJP said that Roopa's close proximity with BJP leaders in Delhi, especially Kailash Vijayvargiya and Amit Shah, brought her the opportunity to apply in the national forum.
Sources also added that her nomination in Rajya Sabha has earned the wrath of some of the senior BJP leaders in the state as she was promoted within a very small period of joining thr party.
A senior BJP leader said, "It is to be seen whether Ganguly can come out with strategies for attacking TMC on the national forum without participating in any internal feud."
Ganguly has been vocal against Mamata Banerjee several times in the state. She has also challenged the officials of Election Commission of India (ECI) that they are indulging in ragging during the Assembly Election 2016. But it is to bee seen how vocal she continues to be in the Upper House.
So how will Ganguly be raising the ante against the TMC in Parliament?
The issue of violence
Ganguly has mentioned specifically that she will be bringing up the issue of violence and lawlessness in the state that has allegedly increased multifold in the TMC regime.
Ganguly has experienced violence in the state herself and therefore it is no surprise that this is one of the issues she wants to bring up in the RS.
She has also been targeted many a times by the ruling political party, but she continued to meet political victims and tried to remain vocal against the ruling TMC government.
In April during the Assembly Election 2016 ,Ganguly was caught on camera slapping a Trinamool Congress women supporter on Howrah (North) constituency, where she was contesting from, as she was allowed to go inside a booth to check on alleged mass rigging going on there.
A few days ago, Ganguly's convoy was targeted at Diamond Harbour near South 24 Parganas, allegedly by members of TMC. Ganguly, who suffered head injuries, had been admitted to the district hospital and later discharged. The attack took place while Ganguly was returning from Kakdwip in South 24 Parganas where she had gone to meet victims of political violence.
BJP has used her 'fearless' attitude to pitch her as a competitor against TMC supremo Mamata.
Facts & figures
According to the latest National Crime Record Bureau report, highest crime against women is reported in Uttar Pradesh followed by Bengal..
While, Uttar Pradesh reported 35,527 cases in 2015 or 10.9% of the total such crimes in India, Bengal came in close behind with 33,218 cases, or 10.1%of the total crimes against women in the country.
With numbers such as these, it is also not a surprise that Ganguly will field the issue of crimes against women in Bengal.
What's next?
Overwhelmed after her nomination, Ganguly said, "I am proud that within my political career span of one and half years, BJP has given such a responsible position and I will try to follow the directions."
When she was asked whether she is going to Delhi to meet with party president Amit Shah , Ganguly said that she has not decided yet, but she will definitely visit Delhi within a few days.
Edited by Jhinuk Sen
Also read: New role for 'Draupadi': Govt nominates Roopa Ganguly to Rajya Sabha
Also read: Roopa Ganguly nominated to replace Navjot Singh Sidhu in Rajya Sabha