Rogue MP! Mallya's membership comes back to haunt Upper House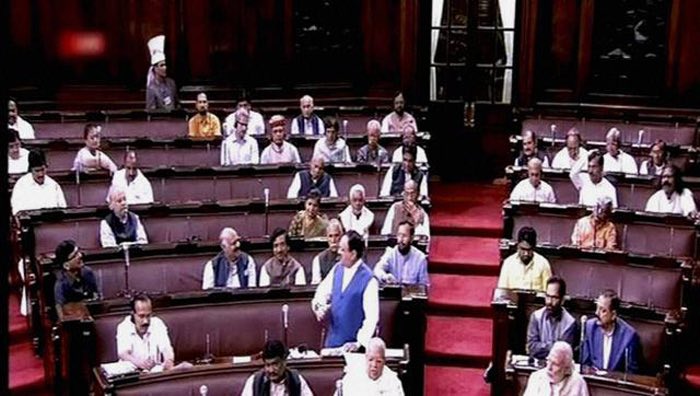 The ethically questionable practice of sending industrialists with dubious reputation to Parliament haunted Rajya Sabha on Thursday morning.
As House proceedings started on 10 March, Naresh Agrawal of Samajwadi Party raised the issue of UB Group Chairman Vijay Mallya essentially "absconding" from law. Should he continue to be a Parliamentarian?
According to Agrawal, the issue deserved consideration since Parliament membership rules require candidates to not be declared insolvent or absconding from law.
Read: Liquor barren Vijay Mallya flees to London; Can India get him extradited?
Article 102 of the Constitution of India lays down reasons for disqualification of a person from the membership of either House of Parliament. While these reasons do include insolvency, they are silent on bolting from the law.
Nevertheless, Deputy Chairman P J Kurien agreed with Agrawal and said the issue would be recommended to the Ethics Committee of the House.
Vijay Mallya was elected to Rajya Sabha for a six-year term in June 2010 from Karnataka as an Independent member. He was backed by the BJP and Janata Da (Secular). The liquor baron defeated Congress nominee, TV Maturhi, one of the state's biggest silk merchants.
This is Mallya's second term in the Upper House. His first stint started in 2002, again as an Independent. But his current conduct has become a source of embarrassment for the Sabha.
The Parliamentarian is facing charges from Enforcement Directorate as well as the Central Bureau of Investigation (CBI) for misusing funds allocated for his businesses.
State Bank of India has declared Mallya a willful defaulter and he is on the verge of losing his personal assets for not paying dues.
Also read- King on the run: did Vijay Mallya leave India without repaying his debts?
But, with action pending against him, he is believed to have fled the country.
Agrawal's concern was taken forward by Leader of Opposition Ghulam Nabi Azad, who accused the government of being complicit with the industrialist in his escape.
Saying Mallya was "not a needle that he couldn't be caught", Azad asked why was he not arrested and his passport seized.
Defending the government, Leader of the House Arun Jaitley said while the CBI was looking into the matter, the important point to consider was that Mallya was given banking facility for the first time in 2004, under the UPA, even when his account "was not in order". Why that happened was something that CBI is also looking into, Jaitley added.
Congress MP Jairam Ramesh took up the challenge and said the question was not about who gave loans to Mallya but why was he allowed to leave. "Why did banks not file a case against him until 5 March, when they were already in a position to do so on 28 February?"
Mallya was mentioned in the Lok Sabha as well, where several Opposition leaders gave an adjournment notice on the issue. Jaitley reiterated his allegation there too, after which Congress members walked out, led by party President Sonia Gandhi.
Outside the House, Congress Vice-president Rahul Gandhi told reporters that while Jaitley gave a long speech, he did not answer the question that how did Mallya flee from the country after stealing Rs 9,000 crore: "They talk about bringing back black money. Then how did they allow this?"
Edited by Joyjeet Das
More in Catch:
NGT committee member CR Babu disagrees with approval given to AOL event
Comrades, don't waste Kanhaiya in WB & Kerala. Unleash him in campuses
Trinamool fights dissent after declaring candidates
Fanatics take over: these anti-Kanhaiya YouTube videos are insanely chilling